When Sean Flowerdew (of Pama International) reinstalled the London International Ska Festival in 2011, his vision soon caught fire in the global Ska community. The idea behind it: Use the unique status of London as the city where it all comes together (from Jamaican culture to 2Tone) to compile a weekend of Ska music that knows no equal and is only possible in London Town. To all of us it means: If this annual event becomes a long-term success, it can serve beautifully as a lighthouse for mainstream media recognition of a scene that is overlooked too often. In this light, if you like Ska you should support the London International Ska Festival. Note: We're not saying this because Sean gives away some tickets, but because we mean it.
Thanks to Sean for letting REGGAE STEADY SKA give away 1×2 Festival tickets. All you have to do to win is: 1. Share this post on Facebook or Twitter, AND 2. Tell us about it in the comments section to this post at REGGAE STEADY SKA. A simple "Done" is enough. The deadline is March 10th 2013, the lucky winner will be informed on March 11th, they receive their free tickets at the festival.
Like to listen to a preview playlist of The London International Ska Festival 2013, while reading the interview? Go for it here.
Pete posted some questions to Sean, and now without further ado, we hand the mic over to Sean Flowerdew.
RSS: 12 events for the LISF 2013! – do you still sleep?
SF: Not enough! This year has been the hardest to pull the festival together, for loads of different reasons, but I'm really happy with it. Hopefully I'll get a holiday in April!
RSS: Seriously, the fest must have been a massive event to organise when it was all held in one place (or two/three last year). But this year, there's a variety of venues in different parts of London including a boat trip and an opening event at the V & A museum. What are the reasons behind this new strategy? Surely, it would have been easier to just go for one venue for all events.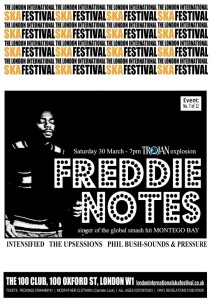 SF: Yes, that definitely would of be the easier option, but it's our 25th anniversary year and I wanted to put on the best festival yet. A truly world class event. It's become very apparent over the last two years that a huge number of our audience are flying in from abroad. Again this year we've sold tickets to Brazil, New Zealand, USA, Venezuela, Mexico, Dubai, Australia, Russia and all over the rest of Europe. I think one of the big attractions is the city itself, so I wanted to enhance that experience for people travelling by showing them iconic and historic London venues and sights. Hence using the 100 Club on Oxford Street, the Dixie Queen paddle steamer where they even open Tower Bridge for us, the Victoria & Albert museum which has got to be up there as one of the worlds best art and design museums, The Dublin Castle in Camden (famed for being Madness' old stomping ground), plus places like Dingwalls, The Garage and The Jazz Cafe which all have long histories with Ska & Reggae.
Also by creating multiply events at different venues it meant we could be much more flexible with ticket prices. Creating two free events in amongst the 12.
RSS: Do you not fear people might be exhausted after two or three days?
SF: I remember looking round the audience on the last night at 2011's festival and everyone looked beat! What we've found is a lot of people can't afford to come for the whole festival so hopefully we've made it affordable for people just to come to one or two days with the events ranging from being free up to £30 something for our Studio One Thames Cruise. Hopefully something for everyone and no one excluded.
RSS: Again, you have managed to include a number of Jamaican legends in the line-up. I know that some of them, like Freddy Notes or Owen Gray, are based in London. But how difficult is it to get people like Ken Boothe or BB Seaton over to London?
SF: BB lives in London as well. Ken is flying into Europe for some other festivals so that tied in nicely. In the last couple of years we've spent a fortune on flights for artists and in all honesty don't often see a return on the expense. Add in the cost of hotels and visas and it's very hard to breakeven.
RSS: Can you tell us who the backing bands will be for the Jamaicans, especially for Rico and the Studio One Tour?
SF: Rico's put together a phenomenal Brixton band. There will be a few surprises there, but you can expect it to include the likes of his long time brass partners Tan Tan and Bammie Rose. For Ken and the Studio One sets we're using pretty much the same line up we used to back Ken and Marcia Griffiths in 2011. Some of the best players in London.
RSS: Especially the Friday night show at the Garage includes a few wild cards, who might be popular in their native countries but are relatively unknown in England or other parts of the world. How did you discover acts like Razika or PASO?
SF: I love introducing new bands to the audience. Razika I read about in the Guardian newspaper here. They were band of the day. Really like what they're doing with their indie/ska/pop. It's wonderful to see their new album go in at number 4 on Norway's national charts. PASO I discovered on line. I think my brother (Kev-Do The Dog) turned me onto them.
We're also looking at introducing a lot of new music at the festival with a compilation featuring new tracks from Freddie Notes, Sidewalk Doctors, Ed Rome…. some previously unreleased tracks from 100 Men… infact we're launching the festival's own label called Hotshot & Scorcher. The first 3 albums should be from Freddie Notes, Sidewalk Doctors and 100 Men.
RSS: Think anytime Ska has crossed over in the mainstream (apart from the odd one-off hit) it's because there's been a scene… a number of bands working together… like with the whole 2 Tone movement and even in the late 80s with Potato 5, Deltones, Loafers, Forest Hillbillies, original Hotknives, etc. We don't have that in the UK right now.
RSS: The festival also marks the return of your own band, Pama International. What made you decide to come back?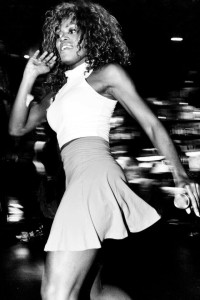 SF: Sorry to say that due to ill health Pama International aren't going to be able to perform. I'm having to ease up on some work at the moment, so simply don't have the time to
launch it to the level I need it to be. There will most certainly be something happening later in the year but I need to get the festival out of the way and then take a break.
I always intended on bringing Pama back when the time was right and I had the right people to do it. I ran the band pretty much everyday for 10 years and by the end of it I really wasn't enjoying it. So needed to step away for awhile.
RSS: Will it be the same line-up? How far has the process of recording progressed?
SF: I've been looking for a star female singer for 3 years for it. Auditioned over 2000 singers and finally found an amazing one! So there's her and me. Then nearly everyone else played with Pama at different stages throughout the first 10 years… Lenny Bignell on guitar (from The Sidewalk Doctors/Lord Large), Ernie McKone on bass (from Galliano/Candy Staton), Gary Alesbrook on trumpet (from Kasabian/Noel Gallaghers band), Karl from Intensified on sax, amongst others.

RSS: I think you said somewhere on Facebook that the new songs will be more Soul than Ska. Can you already tell us a little more about the new sound we can expect?I've written a bunch of songs I'm really pleased with and Lenny and Juanita (the new singer) have also done bits. We're demoing tracks this month.
SF: Yeah, there's no Ska on this record. It's an out and out Soul album. We always touched on soul with Pama. I think every album apart from the one we did for Trojan has a soul song. It's nice to be doing a whole record of it. It's very Stax/southern soul/rhythm and blues inspired. Al Green, Otis, Ike & Tina and mixing it up with stuff like the Stones, the Band. Hopefully though we'll put our own stamp on it.
RSS: If you could pick five artists, dead or alive, money not being anything to bother about, to play at LISF, who would your dream line-up be?
SF: Only five! That's to hard. I'd love to have these on the line up… Phyllis Dillion, The Specials, Toots, The Skatalites (original line up with Jackie Mittoo, Don Drummond, Tommy McCook, Roland Alphonso, the two Lloyds, Cedric Brooks, etc), Jackie Opel, Hugh Godfrey, Ken Parker, Alton Ellis, I Roy, Madness… in fact all the original line up s of the other 2 Tone bands, Dead 60s, The Untouchables.
I'm truly honoured to say we've already had some of my dream line-up already perform at the festival… Ken Boothe, Marcia Griffiths, Prince Buster, Laurel Aitken, Dave & Ansel Collins, The Pioneers, Hotknives (original line-up), Potato 5, Owen Gray, Rico Rodriguez, Jerry Dammers.
Here's a shortened overview and running order:
THE LONDON INTL SKA FESTIVAL 2013 (28-31 March)
25th Anniversary  |  50 acts  |  12 world-class events housed in famed and iconic London venues
This Easter The London Intl Ska Festival returns to the capital with headline acts including the legendary trombonist, member of The Specials and Jools Holland's Rhythm & Blues Orchestra, Rico Rodriguez MBE performing his classic 1976 Man From Wareika album,  The Specials/2 Tone founder Jerry Dammers (DJ set), a Studio One Thames Cruise starring BB Seaton founder of rocksteady sensation The Gaylads, Owen Grey (one of the first artists on Studio One) and Vin Gordon aka Don Drummond Jnr, singer of the 1971 global smash hit Montego Bay – Freddie Notes and Jamaican superstar Ken Boothe, famed for his 1974 number 1 hit 'Everything I Own'.   Other highlights throughout the 4 days include;  the exclusive comeback of 100 Men starring Mik Whitnall from Babyshambles (their first in 2 decades), a preview event at the Victoria & Albert Museum on Friday 22 March 2013 and much more!
From its birth in Jamaica, Ska has come a long way – morphing and inspiring every generation and reaching all corners of the world. The festival showcases all Ska has to offer from its roots in rhythm and blues, mento and calypso, to the Jamaican originators, the progression through rocksteady and reggae, 2 Tone, ska-punk and right up-to-date with 21st century sounds.  Originally launched in 1988, The London International Ska Festival proudly celebrates it's 25th anniversary and the wonderful world of Ska in all its irrepressible guises.
THE LONDON INTL SKA FESTIVAL 2013
THURSDAY 28 MARCH 2013 – 7pm-2am
Rico Rodriguez MBE performs Man From Wareika
The Sidewalk Doctors & DJ David Katz
followed by Jerry Dammers (The Specials/2 Tone) DJ set only (11pm-2am)
at The Jazz Cafe, Parkway, Camden, London NW1
GOOD FRIDAY – 29 MARCH 2013 – 12.15pm
Studio One Thames Cruise
BB Seaton (The Gaylads), Owen Gray (one of Studio One's first artists), Vin Gordon aka Don Drummond jnr, DJ Chris Peckings (Peckings Studio1) & more
onboard The Dixie Queen, Tower Hill pier, Thames.  Kids welcome.
GOOD FRIDAY – 29 MARCH 2013 – 7pm
International Ska Revue
Buster Shuffle, Pannonia Allstars Ska Orchesra (HU), Ed Rome, Bombskare (Scotland), Razika (Norway) & DJ Little Diane (Ace Cafe)
Skylarkin Sound System ft. DJ Derek & Count Skylarkin and Cellos Coast To Coast w/ Kris Tebbutt
at The Garage, Highbury Corner, Islington, London N5.
SATURDAY 30 MARCH 2013 – 7pm-11pm
Freddie Notes (Trojan Rcds/Montego Bay)
+ Intensified, The Upsessions (NL) & DJ Phil Bush – Sounds & Pressure
at The 100 Club, 100 Oxford St, London W1
SATURDAY 30 MARCH 2013 – 10pm-4am – all-nighter
Tribute to Duke Vin starring legendary sound men
Metro & Eddie Regal (Metro Sound), Gladdy Wax, Ras Digby (Sir Jessus Sound), Jumbo (Java Hi-Power), Tighten Up Crew
Mungos Hi Fi & Wrongtom
at Islington Metal Works, 7 Torrens St, Islington N1
EASTER SUNDAY 31 MARCH 2013 – 2pm-6pm
Do The Dog Special
Cartoon Violence (offical album launch party), The Splitters & Robb Blake (from Whitmore)
at The Dublin Castle, Parkway, Camden, London NW1
EASTER SUNDAY 31 MARCH 2013 – 7pm-11pm
Ken Boothe
+ 100 Men starring Mik Whitnall & Potato 5 DJ set
followed by closing party 11pm-2am
The 2 Tone Disco: Rhoda Dakar (The Bodysnatchers/Special AKA) & Time Tunnel crew
at Dingwalls, Camden Lock, London NW1