Boss is back. And in record time. Only last year (2013), Dutch singer, songwriter and producer Boss Van Trigt had introduced a wicked side project: Boss Capone. Recorded at home on the cheapest available equipment, his album "Another 15 Dance Floor Crashers" had freed him from any expectations that would have accompanied a new release of his main project, the kinky early reggae matadors The Upsessions. The Boss Capone record got lots of recognition, even securing second place in the "Album Of The Year 2013" jury votings at Reggae Steady Ska.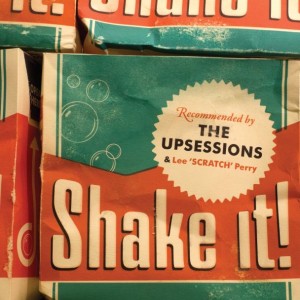 Now back to the present, let's introduce "Shake It!", the fourth album of his main project The Upsessions. The holidays have done the band incredibly good. Not wanting to "beat around the bush", let me say: It's a masterpiece.
The lyrics may not hold as many surprises, with sexual overtones omnipresent, overtones that – although I think I get the irony – still make me feel uncomfortable sometimes. But musically and sound wise, the band has never been as versatile, playful and creative. From the calypso styles in "The Big Bamboo Treat" through the catchy smash single "Shake It!" (accompanied by a colorful video), to the sick vintage riddim "Sweet Pussy Bad Cat." And so much more in between.
With all this in mind, it is no wonder that the "producer of producers", the incomparable Lee "Scratch" Perry, could be won to add some comments to the mix. "Shake It!" will sure be with us this summer and many years to come.
The Upsessions albums are available at Moskito Mailorder, or if you prefer amazon, just click the links below:
Shake It! (Grover Records, Excelsior Recordings, 2014)
Below The Belt (Grover Records, Excelsior Recordings, 2011)
Beat You Reggae (Grover Records, Excelsior Recordings, 2009)
The New Heavyweight Champion (Moon Ska Europe, 2006)
Have a look at our list with All Reggae Steady Ska Albums Released in 2014. It's searchable and being updated constantly.