When the album "Introducing … King Zepha & The Bluebeat Renaissance" dropped in 2015, it won a spot on my go-to, weekend-long playlist. With the release this month of Northern Sound, King Zepha again rules my sound system. Sam Thornton is the power behind that throne. From his home in Leeds, West Yorkshire, Sam and a small handful of excellent musicians create your new favorite music. I reached out to Sam, who had just wrapped up a busy week. "They're all busy to be honest," he says. "We've got three young children, including 18-month-old twins!"
RSS: Who, or what, is King Zepha?
Sam: King Zepha is actually my tenor saxophone! It's a 1960s "Zephyr" model made by the King Company, originally of Cleveland, Ohio. I use the alias King Zepha on all of my recordings and also when I tour with my band. I changed the spelling to avoid any potential legal issues. My real name doesn't sound badass enough!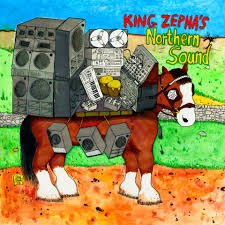 Tell us a bit about your recording process—who writes the songs and how you capture that vintage sound.
I write, arrange, record and mix all of my music at home. I've currently got an eight-track tape setup. There's not a great deal of space in my living room, so the maximum number of musicians I can comfortably get in there at a time is three. Four at a push, but it's a squeeze!
I usually get the rhythm section in and we track the drums, bass and piano live. I like to record as many instruments as possible, live in the same room, to get that old-school sound, with a bit of bleed. If it's bass guitar I'll do it myself but, if upright bass is required, I get my good friend Adam Richards in because he's better than me! Parts are notated and sent out, along with very rough guide recordings, a few weeks before the session. We usually do a quick rehearsal on the day and then get down to business.
Afterwards I overdub all the guitars, organ, saxophones and the odd bit of percussion myself. If a horn section is required I also like to track this live, with all the musicians gathered around one ribbon microphone. I do the same thing with the vocals, as most of my music is four-part harmony. I'm very lucky that all the musicians I work with can sing.
I have a five-piece band who tour with me: Adam Richards on bass, Ric Colley on drums, Chris Lloyd on keys and Andy Morgan and Jonny Hick on guitars. I play saxophone on the live shows and we all sing. It's been the same personnel in the touring band for about three years, although I sometimes use different musicians in the studio.
There's a wonderful R&B/Soul vibe to many of the songs on the new album. "You Let Yourself Go" sounds as if it could be a long-lost Louis Jordan number. Who were/are your inspirations?
I'm hugely influenced by R&B, especially the jump blues of Louis Jordan and Louis Prima and vocal harmony groups like The Coasters and the Mills Brothers … and jazz. I love jazz! I've played in big bands since I was 12 years old and the arrangements of Neal Hefti and Sammy Nestico, originally written for the Count Basie Orchestra, have always been firm favourites. One of the instrumental tracks from our new album, "Tin Man," is a nod to Basie.
When I was a teenager, I discovered ska first via the British 2-Tone bands like The Specials, The Beat and The Selecter. I wanted to find out where these kind of sounds originated, thus began my obsession with Jamaican music. In those pre-internet days we had to rely on local record shops and the first two albums of interest that I managed to find were "The Best Of Horace Andy", on Studio 1 Records, and another compilation called "The Upsetter: Essential Madness From The Scratch Files". I was blown away by Lee Scratch Perry and he's still, to this day, my favourite record producer of all time. I particularly like his rocksteady and early dub productions from his Black Ark studio.
I had your two albums playing on random and "I'll Be Home", the first song on your debut release, came up followed by "Mother of All Hangovers" from the new release. That got me thinking: is "Mother of All Hangovers" the unofficial sequel to "I'll Be Home"?
Haha, it definitely should be! It would present a nice moral to the story, like Aesop's Fables. If you choose to behave like this, that's fine, but here's what happens! We have quite a few songs about boozing. It's something we've done a lot of, whilst on the road!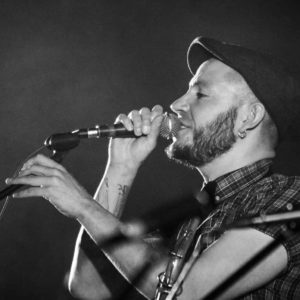 "Catalunya" is a beautiful ska-jazz number. Were you inspired by the region?
We did a series of concerts in Catalonia three years ago and I wrote this melody whilst relaxing on the roof of our apartment in the sun. We don't usually get much downtime on tour, so that was a rare treat. In that beautiful and relaxed setting, I couldn't resist doing a bit of composing. Catalunya, as the locals call it, is under Spanish rule, but has its own language and strong identity. Rumba Flamenca is the most popular style of music there, the most famous exponents being the Gypsy Kings.
What led you to cover Doris Troy's "Just One Look"? Were you a long-time fan of the song or was it something you recently rediscovered?
My drummer, Ric Colley, actually suggested that one. He started singing it in the van in the way to a show, and the whole band all joined in with the harmonies. We put it in the set that night and it's proved to be an audience favourite ever since. It's the only cover that we play live and it's the only song that I don't sing lead vocals on.
Any chance we'll see you in North America anytime soon?
We'd love to cross the Atlantic and do some concerts over there. We haven't performed outside of Europe yet. If any of your readers can make that happen, we'd love to hear from them!
King Zepha's "Northern Sound" is available now on CD and 12″ vinyl, or as a digital download from Happy Records—just click here.