[dropcap]T[/dropcap]his is the story of Keith & Tex. And it is quite a story, even by Jamaican standards. Kingston, Jamaica, 1967. It's the height of the rocksteady era, when two young teenagers, Keith Barrington Rowe and Tex Dixon, enter Derrick Harriott's studio. They are about to record a bunch of self-penned songs – which today are considered some of the finest rocksteady tunes ever. Two of them – "Stop That Train" and "Tonight" – have been covered, re-cut, overdubbed and sampled so many times that every reggae fan knows them by heart. The two singers themselves do not have much time to revel in their success, because both have to leave the country soon after as their families emigrate to the USA and Canada.
More than 45 years later, they are suddenly back and about to play their very first show in Europe ever. On the night before this – already legendary – concert at Hamburg's Knust Club, we had the chance to meet them for an interview.
RSS: Let's start from the beginning: How did you get to know each other?
Keith: Soccer!
RSS: Soccer?
Tex: Yeah, man! We used to go to the playfield. Of course he couldn't play! [chuckles] So I taught him how to play. At first we were casual friends and we found out that we had mutual interests in music. He and those other guys we were playing football with thought they could sing. They used to meet and rehearse some of the classics of the age. I heard about it and decided I want to go and listen. I went by and heard them singing the Platters and The Drifters. I couldn't keep still, so I joined in and we became a five-man group. We did this for a few weeks until we thought that we were really good and ready to go for an audition.
At the time the people who were really powerful were Coxsone, which was Downbeat, Studio One, and Duke Reid at Treasure Isle.
RSS: Which year was that?
Tex: Most likely 68….
Keith: No, it was earlier. It must have been 66 or early 67, because we already recorded in 67.
Tex: It must have been early 67 then, because I had just come out of school. Anyway, we had heard one or two negative things about Coxsone, that he was a rough customer. So we decided to try Duke Reid.
One Sunday morning the five of us went down to Duke Reid's studio and found out that there were a lot of youths who had the same idea. There was this guy doing the audition, just reeling them in and reeling them out.
Keith: Yeah, that was Gladdy Anderson, the keyboard player. He was doing the interviews.
Tex: The way things unfolded, it was very intimidating. Gladdy kept shouting: "Next…, next!"
Keith: We were standing outside, listening, and we thought some of these guys were really good, but he just kept kicking them out.
Tex: We were very nervous and made a few mistakes. We had about five songs but after the first three, Gladdy said: "You guys sound okay, but you need to rehearse some more." We came out very discouraged and some of the guys didn't want to continue. But fortunately Keith and I stayed together. Round the corner from where we lived there was a man who had a piano. He encouraged us to come and rehearse and so we did. We spent a lot of time there working out choruses, writing new songs.
Eventually we had our stuff together and made a tape recording. One evening we took it to the playfield and tested it on our friends. They asked: "Is that you really you, guys? You sound good! Try and get recorded." So we started the audition route again, this time with our tape.
We didn't want to go to Duke Reid again, so we went to Beverley's. They had Desmond Dekker and Pioneers and all these top guys.
When we got there, it was closed. We didn't want to go home, so we went looking for other places. There was Randy's at 17 North Parade, but the guy wasn't in. Somebody suggested we should go to Derrick Harriott`s shop up Kings Street. He wasn't in either but he had a girl there, working behind the counter. Her name was Cherry. She said: "Derrick will be back soon but as you have tape recording, let me hear it!" We put on tape and she called out: "You guys sound good. Don't move, Derrick soon come!" We were there from about two o'clock to…
Keith: Six!
Tex: The girl wouldn't let us leave. Eventually Derrick came and she said: "Derrick, these guys sound wicked. Check them out." Derrick listened and told us, "You are lucky. We are having a session this week."
Keith: That was on a Thursday. We went down on Tuesday and the session was on Thursday. The timing was right.
RSS: Was it that session which turned into the album you did for Derrick in the end?
Tex: No, that was just the beginning. We had lots of sessions after that.
Keith: In that first session we did "Tonight" and "Stop that Train".
Tex: At the time, Derrick had these fabulous musicians, Lynn Taitt on lead guitar and Hux Brown on rhythm. He was really good, too. So the session came out really well.
Keith: In those days we used to record live, a band playing all together and the only overdubs were vocals. We were young guys, I was 16 and he was 17. It was a different world for us. Everything was fabulous, new and so pleasant.
RSS: How long did it take until you realised that this would be successful?
Tex: I never thought in those terms. I simply enjoyed the ride. It was good to be around Derrick Harriott, because he was a really good singer. Through him we met other great artists working there at the time like Dennis Brown. And then we went on to Byron Lee and the Dragonaires and met big artists like Toots and the Maytals…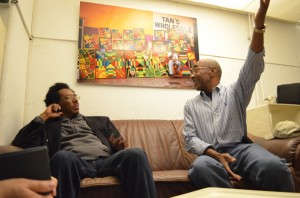 Keith: … Roy Shirley, Sparrow … all the guys who we admired. We toured the entire island. By doing that tour we made our reputation. It was an eye-opener – for us and for the fans. Needless to say, the kids our age loved us.
We didn't record too much at the time because about three years later we emigrated. But the work we did as teenagers was really gratifying. You heard your songs on the radio and all your friends listened to you.
RSS: Were there any more recordings than the songs that are on that one album Derrick Harriott released at the time?
Tex: Hm, that's a good question.
Keith: I think it was about 13 songs, total. But for all the other artists that Derrick recorded at the time we did the backing vocals. Like Bunny Brown or Rudy Mills, who was married to my cousin. She said, "My husband can sing", and she wanted me to introduce him to Derrick. I said let me see what he's got. We liked it, told Derrick about it and he recorded him, too.
We harmonised everybody because harmonising was our thing. We had a five-man group in the two of us. [laughs]
Tex: We also harmonised a lot of Derrick's most popular tunes, like "Walk the Streets", "Standing in", "Born to Love You".
RSS: I read that he didn't really pay you at the time. So how is your relationship to Derrick nowadays?
Tex: I don't really want to go into that kind of stuff. It is what it is. He's not really unique in that respect. Other producers even threatened artists when they asked for money. We never experienced that with Derrick. He's a diplomatic guy.
Keith: He uses words to put you off. You have to keep in mind, we were 16 and 17 and had no idea about the music business.
RSS: And money was probably not the most important thing?
Keith: Right. We would've done it for free at a certain point. And we did. [laughs]
Tex: Until you realise that someone was making money and you didn't get any.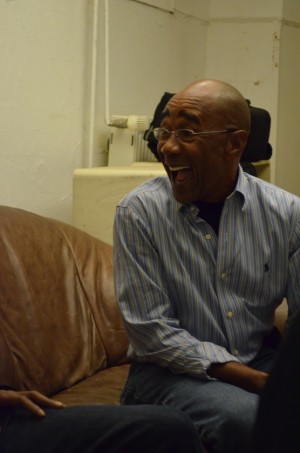 Keith: I was angry, for a long time. "Stop That Train" and "Tonight" have been redone by so many artists… So for a while I was angry, I admit it. We went back in 1994 and had a meeting, the three of us. We said: "All right, Derrick, we're grown men now. Let's come to terms and do what's right." And he admitted, "I owe you money, but I have to do the paperwork." Ha, ha!
Tex: He's still doing the paperwork.
Keith: For 40 years he's been doing the paperwork.
RSS: Did you record for anybody else at the time?
Tex: Not me. Keith did. We emigrated. I went to Toronto, Canada, and he went to Brooklyn, New York. I was fed up with singing. I had just started a new family, a new lifestyle. I never thought we would get back together again. This was it!
Keith: I always played music and was in bands, because I play the guitar too. In New York I played with three different bands over a ten-year period. I played with some of the best musicians, the boys from Alpha. Lester Sterling was in my band, Glen Adams, Ron Wilson played the trombone, Pat Satchmo and Sparrow on drums – who plays with the Skatalites now.
We played whatever was popular, Top 40, Jamaican, American music, Soca.
RSS: Did the band have a name?
Keith: "Realistics" was the name, the best band I ever played in. I was always into music. Even when I was in the military. When I was in Germany I had a band, playing the military circuit. We went from "Kaserne" to "Kaserne" to "Kaserne"! We played mostly American music and a little reggae every now and then.
RSS: Where in Germany were you stationed?
Keith: Fliegerhorst-Kaserne in Hanau, near Frankfurt in the 1970s and later, in the mid-80s in Stuttgart.
RSS: What are your memories of Germany that time?
Keith: Oh I loved Germany. One of the reasons is that I like cultures. I like the differences people have. I enjoyed learning your language and visited all the castles and the historical sites. When I went to college I studied sociology, the study of people, places and things. I travelled a lot. Every weekend I went to different places, Austria, Switzerland, France and even took a trip with the ferry to England. I really enjoyed that and I'm a fan of your country! My experience is if you try to learn about German culture people reciprocate. If I try to speak German and people hear that I'm trying, they will reciprocate in English and help me out.
RSS: How does it feel to be back now?
Keith: It's good! The first time since '88. I ask questions about Hamburg. I enjoy the train system. I remember travelling from Hannover to Frankfurt and the train left at six o'clock. Don't get there at 6:01. You want to be there at 5:50.
RSS: It's funny that everybody thinks that our trains run on time – except for the Germans themselves.
Keith: Really? Well I have really good memories of Germany. My wife worked here for the German government. My first son grew up here, his babysitter was German.
RSS: So did you two stay in touch over all these years?
Tex: While Keith was in the Army, there was no way of getting in touch with him. But one day my wife went to New York and saw a mutual friend from back home who said, "you know I saw Keith the other day." I wanted to see him again, I got his number and we started talking together again.
Keith: I think you came and visited.
Tex: He lived in New Jersey and had a mini studio in his basement. We did a couple of songs but nothing else materialised because we didn't have the time. A few years later, when he had retired from the army, Keith suggested we'd do something. I was semi-retired myself, so I said, "Sure!"
Keith: We did an album called "Back Together Again".
RSS: Is that available anywhere?
Keith: It was released only on cassette!
Tex: We still have it, so we want to remaster it and put it out.
Keith: There's some nice original stuff on it. We recorded a little here, a little there, so if we get all that stuff together, we could probably release a couple of albums. And we are currently working on a new album.
RSS: Who do you work with on this new album?
Keith: We have different producers. We have a guy in England, Thomas "Mellow T" White, and our long time producer and friend Carl "Stereo" Fletcher in Atlanta.
RSS: So will you be able to release something for the tour in spring?
Keith: Probably so! That's our plan, to produce a new CD and keep it rocksteady. We're not interested in anything else. That's what we were good at and that's what we are still good at. Some songs are songs we wanted to do back in the 60's and others are new songs written exclusively by Keith and Tex.
RSS: This concert in Hamburg is quite a bold venture. You've only come over for this one gig. How did this come about?
Tex: We had started rehearsing a while ago and one day somebody phoned Keith and asked if we were interested in performing again. And that's how we got back into business.
Keith: I have a radio show and so I have a presence on the Internet. Nathan from the Delirians was looking for us on the Internet, he found me and sent me an e-mail: "Hey, we would like Keith & Tex to come and play in California. Are you interested?" Sure, we were. And so we went and played a show at a place called "Los Globos" in LA. The reception people gave us was a great experience. The Delirians showed so much love and respect for our music. It turned us on. It flipped the switch. We automatically shot back to Jamaica, when we were kids – the joy you had, wanting to do your best.
We came out on stage and started the first song, Tonight. [Starts singing:] "Why won't you come on, tell me that you love me"- and the whole audience sang "tonight, tonight, tonight." They knew all the words, I just moved the mic and they sang. It's such a turn-on!
That's how it began. We had such a good vibe with Nathan Rankin and his lady, Queen P. So we told them, "You know what? You handle Keith and Tex!" So we put it in their hands.
One day they called us and asked us, "Hey, would you guys like to go to Germany?" Sure! So here we are.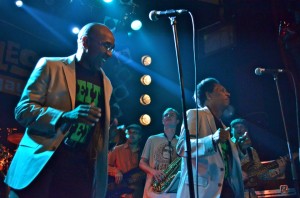 RSS: What do you expect for the concert?
Keith: We're gonna do our best. We don't know what we'll get, but we hope that will get the same reception we got in California. We appeared at the Sierra Nevada Festival and the vibes were terrific – seriously! I think we sounded the best that we had in years. We want to duplicate that and bring it right here to Hamburg.
Tex: We simply hope that people will appreciate us. It's the first time ever that we play in Europe.
Keith: This show means a lot to us, because it's the beginning of the European thing. We would like to reintroduce ourselves to a European audience, so we can come back next year. You can imagine that we are going to take it very seriously. We want to be on top of our game and give 110%. Whatever we've got we are going to leave it here! When we leave on Sunday, we will be exhausted.
Tex: But we'll be back on19th April next year, starting the tour at the London Ska Fest and and finishing it on 3rd May at the Freedom Sounds Festival in Cologne.
Keith: We're looking forward to that. We have a story to tell. It may only be a short story, but I think that we have added value to the rocksteady period.
RSS: Will you have other people's songs in the set as well?
Tex: Yes! We will pay tribute to some of the groups that were around when we started out like the Blues Busters and The Clarendonians.
Keith: Those were the guys we were admiring. We wanted to sound like them and Sam and Dave, the American equivalent. It was dynamic, it was harmonious, both voices taking turns leading… The Blues Busters, they were so professional. Oh my God! I used to go to stage shows and watch them, Philip and Lloydie, to see how they played, their harmonies, their dancing. I said to myself, we can do that! All it took was practice, so we began learning all the dance steps and harmonies. So we're going to incorporate a medley that represents our influences. And we'll also play "It's a Long Story" by Rudy Mills.
RSS: You two are American, respectively Canadian citizens now, so do you still feel Jamaican?
Keith & Tex: You never lose it!
Tex: I will always be Jamaican. Toronto is safe, it's clean, it's a lovely city, but Jamaica will always be home. And although I spent much more time of my life in Canada, I get homesick every time I go to Jamaica, remembering the streets I used to walk, the things I used to do.
Keith: Things have changed. I go to Jamaica every year, because I have a lot of family there. My father took me with him a few times before he passed, so I know where all my family is. Now I do the same thing: I take my own kids and show them around. So when I'm gone, they will still know where their family is. To me that's very important. I think that my Jamaican accent now is stronger than it ever used to be when I lived there. When you become older you just want to hold on to your roots.
Tex: When you live in Jamaica, they try and discourage you from speaking Patois. They want you to talk more like the British or the North Americans. But our heritage is Jamaican. We should treasure it as part of our culture.
RSS: Nowadays you even have German artists singing in Patois.
Keith: Yeah, like Gentleman. He is good. He has redone music from Treasure Isle. I play his music on my radio show. I'd like to meet him one day, maybe next year when we come back!
So this is the story of Keith & Tex. And it is far from over yet, with a new album, gigs in New York and a full European tour coming up.
Keith & Tex European tour dates 2014:
18.04.2014 London/England, London International Ska Festival
19.04.2014 Eeklo/Belgium
24.04.2014 Genova/Italy
25.04.2014 Schaffhausen/Switzerland
26.04.2016 Unterwaldhausen/Germany
30.04.2014 Berlin/Germany
03.05.2014 Cologne/Germany, Freedom Sounds Festival more coming soon.
live & interview photos: Sven Trapp