There is no band more important to the development of ska, rocksteady and reggae than The Skatalites. Sure, something new, exciting and original would have bubbled up in Jamaica—there was simply too much talent there for something not to have happened—but it wouldn't sound like what we have today. And while only Lester Sterling and Doreen Shaffer remain from the original band, The Skatalites are still on the road and still recording new music. The non-original members of the band were each picked by a cadre of the original members to join the band. In addition to playing (and dancing, at 1:24), Ken also serves as band manager and unofficial band historian. With the band enjoying a quick break after a short U.S. west-coast tour and before they start the 2020 touring season, I made a quick call to Ken to for a band update and to chat about his own musical journey.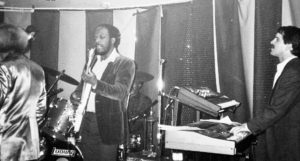 We could start anywhere, so let's start with where you learned to play the piano.
My training—the actual studying—was just with a woman named Florence Flanders from Needham, Massachusetts, which was where I grew up. From when I was eight to 13, which is about how long I took lessons. She was mostly about classical. My mom would always come up with a book of the pop tunes that I needed to learn for her, so Florence would help me along with that. My dad is a jazz tuba player and my first memories are waking up in the middle of the night with my father listening to music with some of his musician friends in the living room. I always had that music in my head and in my ears. Ragtime, Scott Joplin, all kinds of artists like Lu Watters and a lot of traditional jazz stuff most people have never heard of.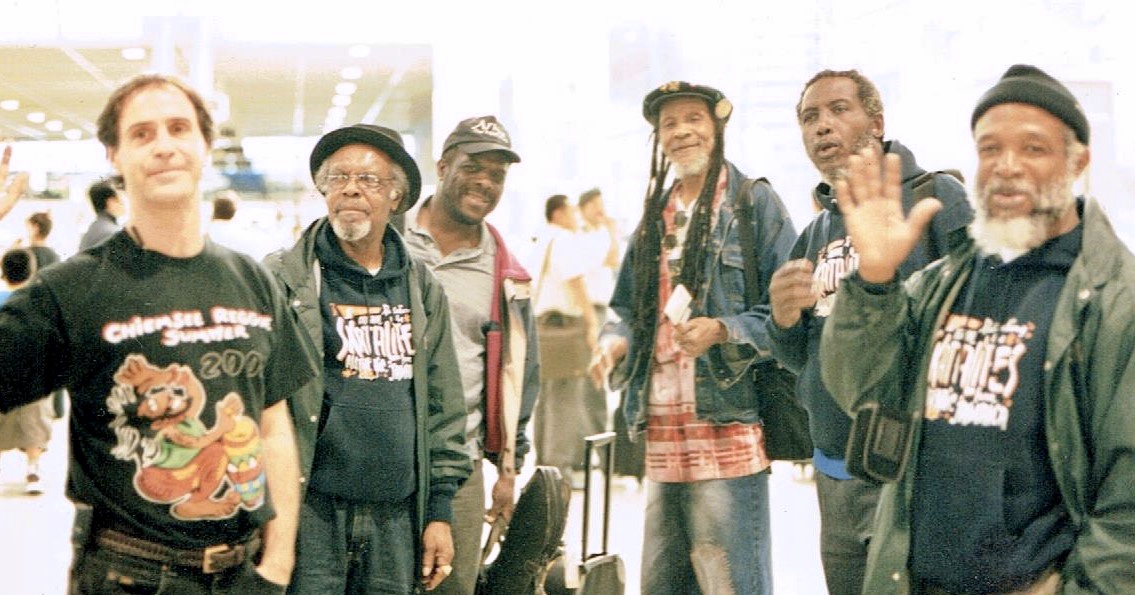 The first time I ever heard jazz fusion, I really fell in love immediately. The first album I ever heard was called Chain Reaction by the Crusaders. It was early 70s and an old friend of mine who was a couple of years older than me, he had more access to different music, I guess. He turned me on to that and I was like, "Man, this stuff is great." I had always liked mainstream jazz, like bebop and Miles Davis, Sonny Rollins, and Herbie Hancock, all that stuff. Then when I started listening to fusion and those guys were starting to play it out, and then Chick Corea … I was living in Boston, Massachusetts all through the mid-seventies when that stuff was just flourishing.
Everybody was around here. You could go out any night in Boston or Cambridge and see anybody and everybody even in one night. It was really, I think, the mecca of jazz in the mid-seventies. I saw a lot of stuff, but I never really got the opportunity to learn because I always had a day job. I really was mostly involved in music as a hobby.
I played in a couple rock bands when I was a teenager. Actually, my first band was just the kids in my neighborhood found out that I play keyboards, but I was only in fifth grade. I had a bunch of like seventh and eighth graders come to my house, ask my mom if I could be in their rock band. She was a little weird, but she was pretty hip. She was the one pushing me to even playing rock. We started playing out of a Let It Be book. It was 1970, so they were playing The Beatles and couple of originals, which are like two chord jams. I started to learn how to improvise and all that stuff. Again, I had a lot of influence from music at camp. It was another place where I was exposed to people older than me, and I could play with them musically. Camp had a Hammond organ. Again, when they found out that I could play keyboard, they had me playing rock and Jimmy Hendrix stuff that they were jamming out on. It was the late 60s and the early 70s. I was kind of stumbling through a lot of it, but yeah, I've always had a pretty diverse influence. I never really took it seriously, and I had a day job in health care that took me away from it for a while.
You've been with the Skatalites for decades, but at one point in your life you heard them for the first time.
When I heard the Skatalites, I was like, "Oh my god, this is like Dave Brubeck went reggae." Back then they played a song called Tough Talk, which is actually a Crusaders tune back when they were called the Jazz Crusaders, the song called Tough Talk and Skatalites covered it. They played it at Night Stage when I saw them in '87. I was like, "Holy shit man, this is crazy." Little Jah Jerry with his little beard. Nobody really knew who they were, so not a lot of people came. It didn't even sell out. It was only like a 200 person venue. I was like, "Why is nobody here?" My god, it was incredible. I said to my buddy, "Man, if I could be in any band in this genre … this is the band is incredible."
You'd played in rock bands, but you saw the light and landed in a reggae band. How did that happen?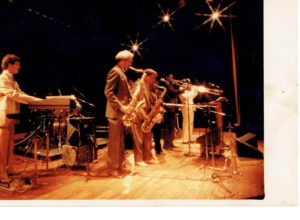 The secretary in my wife's office called me. She was going to an audition of a reggae band. She asked me to accompany her mostly for safety, and I laughed because she was black and she's asking me, this scrawny little white guy, to come with her into the ghetto in Roxbury for this audition. I was like, "What do you think I'm going to do for you?" She said, "They're looking for a keyboard player." I was like, "Now you're talking." I went just for yucks, basically, and sure enough, I liked it. I've been playing it since 1986. The first band was named The Coswell Jackson band. After that I was with Wilson Blue and the Blue Roots out of Rhode Island. I played a lot of shows with Blue in a short time and he was a great singer and could play and teach every instrument on a rudimentary level but it was good training. One day his manager said to us that Lloyd Knibb was going to fill in for our drummer, the it turned into Lloyd Knibb si coming to live in our house and be our new drummer ! It wasn't even six months after I had seen the band and all of a sudden Lloyd Knibb comes traipsing up to me. He sits down on the drum stool next to me. I just couldn't even believe it. I was in shock. I was like, "What the hell are you doing here? Why aren't The Skatalites touring the world?" I found out that it just wasn't happening for them yet. I had kind of got into the band [The Skatalites], and I was scratching my head for about a year. We only played about 10 shows in a year, but we had the same managers as Toots and Third World and all these other bands that were touring like crazy. I was saying, "What's going on here? Why aren't we playing more?"
Your friendship with Lloyd led to a new music venture with a double Skatalites connection.
We started a band in Boston called Lloyd Knibb and Supersonics. At that time when we named that band I did not understand the history of the Supersonics. Tommy was not at all pleased with Lloyd for stealing that name. I was a little bit embarrassed myself, but it was pretty much Lloyd's fault because we asked him, "What name can we use and nobody's going to get mad?" It was a band he used to play in because it was a great name. Just like the Skatalites, The Supersonics was also a fantastic name for a ska reggae band, a band from that era, period.
The new Supersonics first show was opening for the Wailers which was the first tour for The Wailers since Bob had died. It was at Boston's biggest alternative music club that was called The Channel.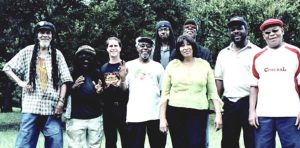 It was actually my connection to the people at The Channel in Boston [legendary club, now closed—CB] that led to us being on The Liberation Tour with Bunny Wailer. They had been talking to Peter Tosh and Bunny Wailer. Then Peter got shot in '87, but they kept the conversation going to '88, and that was when I was close friends with this guy, Kevin Ayllmer, who was promoting all of the shows, the reggae and African shows at the Channel. He made me aware that they were talking to Bunny, and they had suggested that we come out with him and all of a sudden it materialized. I was kind of shocked because it seemed like it wasn't going to. Then it did. Unfortunately turned into a major fiasco, financially. But we did get to go across the country and back in tour buses and played in some major venues including radio City Music Hall.
The most promising thing that I saw, that came out of it was seeing all these kids like 10 years old even with pork pie hats and black and white suits. I knew nothing about any of that, knew nothing about the whole [70s] ska thing. I didn't even know that The English Beat and The Specials were called Two Tone. I knew I liked that stuff, that reggae crossover as I was calling it that was coming out a lot. Even Sting had put out an album, and I'm like, "That sounds like reggae, like what they're doing, the keyboards and that. That sounded like reggae. What is this?" I just started to take an interest in it.
And it was around this time you joined The Skatalites.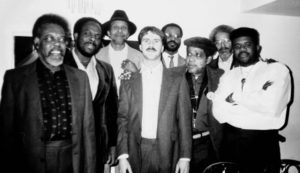 Yeah. I started in March of '88 originally. I went to my first audition and they said that I could play my first shows in late April. It was backing Owen Grey in Trenton, at the West Indies Club in Trenton.Then about a year later we did the Bunny Wailer tour, and then we did the first headline tour ever for the Skatalites in 1990. Tommy and I had a little bit of a falling out after that. I left, technically. I guess my last show was the Church House video, which was the first video the band really did.
Then I came that late '98, the year that Tommy and Roland both passed away. The band was feeling a little bit disorientated though some of them had been pushing me to come back for a while before that, actually, even. I did, and I've been pretty much been here since. I did take a little break because I've been the manager of the band since about a year after that, sometime in 2000, I actually became officially the manager. They took a little hiatus between 2010 and 2013, I guess, I took a little hiatus. I was just managing the band and not playing keyboards. I was just kind of tired of being on the road all the time et cetera.
One of the things I really dig about the Skatalites is that you regularly release albums of new material, and some of my favorite Skatalite tunes like New York Minute, Lalibela, Hot Flash or the song you wrote, Marguerita's Lament, are from these later releases, specifically "Walk With Me" and "On the Right Track." Yet I seldom hear you play them.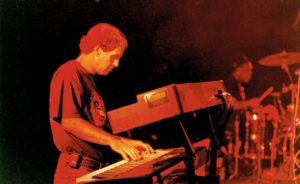 That's been the case ever since, really. I guess in the 90s. Tommy was trying to play some of the newly released material more, but then after that when Lester and Lloyd Brevette were calling the tunes, they pretty much stuck to the set list of "Ball of Fire", which is kind of like a greatest hits album. It happened to be the one that they had recorded most recently before Tommy passed. It was just that they were kind of used to playing as what they wanted to play and so that kind of got stuck. We get stuck in that routine, Jesus, what, 15 years? We were playing like nothing but the songs from "Ball of Fire" and Doreen, I suppose, came and broke it up a little bit, but it's always been a problem. I've been saying it since I came back to the band because we've recorded a lot of stuff since. We did an album called "Bashaka", which was recorded at the Hit Factory Criteria Studio in Miami, which is where Eric Clapton cut "Shot the Sheriff." Huge, huge. We had a 96-channel board. This place was newly renovated, and we saw Julio Iglesias up in there.
We've been talking a little bit—some other bands that picked this up, especially some of the older ska bands—of playing the album concept where we maybe come in and just play an entire album. We are always recording new material we had hopes to release something for the 55th anniversary. Actually, the band started in June, so we still got another six months left. It's still probably not going to make it out into the market by then because we've just had a lot of delays. We've got a lot of high hopes for it, but there's a lot of things in the fire right now that I can't state officially, but you should be hearing a lot of stuff about us very soon. Good stuff!
I recently reread Heather Augustyn's book on Don Drummond and I'm assuming that that's the Margarita that you're referring to in Marguerita's Lament.
Yes, that is true. I guess I didn't spell it the way that some people spell it. I'm not sure what it was on her birth certificate or whatever. Don was one of my favorite writers in the band. When it was time for me to write a song for the band, I just thought, it's got that a little bit of a Spanish vibe to it because of the name. I know she wasn't Spanish. I believe actually, they were Syrians. I'm not sure why they named her Marguerita, actually, because it doesn't seem to be much of a Syrian name. [* See the footnote below from Heather.]
I always find it surprising when I run into ska and reggae fans who know nothing about the Skatalites. What do you want everyone to know about the band?
Over the years it's become something like, "Yeah, The Skatalites, that was a Studio One band, it was a backing band for so and so." No, man. You don't understand. These guys were the cream of the crop session players that actually came together and formed this band to play live shows so that people would understand and appreciate who they were.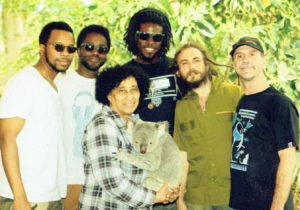 Now most of them have passed on. What we're doing on stage is, to some people, questionable. We're not a tribute band because most of us were the guys that were asked to replace the last guy in our seats by one of the original Skatalites. It wasn't like we came together as a bunch of guys like Western Standard Time, for instance—those guys are fantastic, man—who came together and said, "All right, we're going to play this music. We're going to get a bunch of people. We're going to play this music in the studio. We're going to make a record." That's not the way this went down. We're kind of like football replacements. We were called in one by one. Lester Sterling is still alive and able to perform, but he's just not particularly interested in coming out there much under the conditions that were presented quite frankly. Most of us want to carry on the tradition that was laid in our hands—particularly me who got to play with all the originals except for Don Drummond—and we're just trying to carry the torch, especially because Doreen is still here with us. Val Douglas is one of the most recorded bass players in all of Jamaican history and he's very much interested in carrying on the tradition like myself, and Sparrow and all of the members of the current lineup. We're just trying to keep the thing going. Most people all over the world thank us for that.
*A note from author and music historian Heather Augustyn
There are multiple spellings of her name, as is common in Jamaican record keeping, or lack thereof. Newspaper advertisements for her rhumba shows spelled it Margarita or Marguerita, so both are correct—after all, it was a stage name. Her real name was Anita Mahfood. She was Lebanese. Her father, Jad Eid Mahfood, was from Beirut, Lebanon, her mother, Brenda May Virtue, was a white Jamaican.
Ken's Spanish vibe is a beautiful interpretation for this tribute because Margarita was an exotic dancer. This term "exotic" has been erroneously confused with the contemporary connotation of "exotic," but it contextually meant from a foreign country, so an exotic dance was one from other country—in Margarita's case, the rhumba from Cuba. Her name is also a nod to the Latin roots of her performance, so Ken is spot on.
Extensive research on Margarita can be found in Don Drummond: The Genius and Tragedy of the World's Greatest Trombonist, and a chapter on her crucial contributions to Jamaican music can be found in Songbirds: Pioneering Women in Jamaican Music, and the forthcoming Women in Jamaican Music from McFarland this summer. Also, readers can find more on Margarita's rhumba performances and other groundbreaking rhumba dancers in Jamaica in my article "Rhumba Queens: Sirens of Jamaican Music" in Volume 38 of Jamaica Journal, now on magazine stands.
Further reading
Don Drummond: The Genius and Tragedy of the World's Greatest Trombonist (shop the book, affiliate link)

The Skatalites albums currently available on vinyl
Platinum Ska (2019)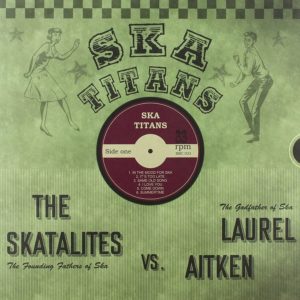 Ska Titans (The Skatalites vs. Laurel Aitken) (2019)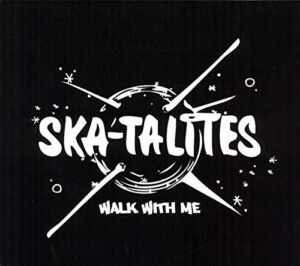 Walk With Me (2013)