Comic Strip is fighting the good fight, helping keep the ska scene alive in Singapore. With the release of their new CD, Finally…The First Album, the band is starting to attract attention from ska-fans across the globe. Big thanks to Sri (AKA: Nerdska) for handling things on the Singapore-side logistics.
RSS: How did the band originally come together?
Sri: I was taking my diploma in Film, Sound and Video in a local polytechnic, majoring in audio. For my final year project, I had to record a 30-minute album. I specifically wanted to do ska because I wanted to record a horns section. Unfortunately, the band that was supposed to record for us couldn't make it at the very last minute. I then approached a friend of mine, Kamal, and told him of my group's situation. Kamal introduced me to Hendra and a few others, and the next thing I know, we were a band. Kamal became our first drummer. After the project, we decided to stay together as a band.
RSS: You have an eclectic sound that's part ska, part reggae, part pop and part jazz. Did you start out with that sound in mind or did the band evolve to it over time?
Hendra: We started out with ska and reggae, playing covers from Save Ferris, No Doubt, and Reel Big Fish. After that we chanced upon The Cat Empire, a band out of Australia. We started to experiment with elements of Latin and jazz and added the pop feel for easy listening. Slowly, our music evolved to what it is today.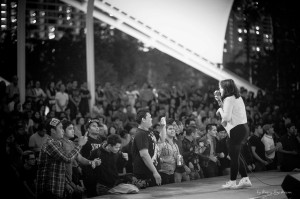 RSS: Clearly, you've drawn inspiration from many sources. What bands played a role in that evolution?
Ajip: No Doubt and Save Ferris, obviously, because of the female vocalist. We're also influenced a lot by Tokyo Ska Paradise Orchestra because of their polyrhythmic elements. And The Cat Empire.
Rizal: But we also listen to a lot of other genres. We don't restrict ourselves to solely ska and reggae.
Sri: Swing Solitude [the closing song on their debut CD] started because a friend of mine played a riff, and I'm like, "What if there were horns, like Zoot Suit Riot or Superspy kinda feel," and then the ideas got passed to Hendra. And that was it.
RSS: A female singer in a ska band is rare—and it's even better when she has a great voice. Shidah, what's your background?
Shida: I started singing at a young age. In primary school I had gigs as a wedding singer. At 14, I was on a local Malay singing competition on TV. Right after that I joined Comic Strip. I try to find my own range, whether I'm singing traditional Malay songs, R&B, soul, jazz, pop or ska. And I'm still learning all the time.
RSS: You have a strong songwriting team in Kazhendra and Sri. Tell us about your song writing process.
Hendra: I usually start with a vocal melody and a horn melody that compliments it. Then Sri writes the lyrics.
Sri: There were times when I had a simple melody, or some lyrics. I told Hendra about it, told him what kinda feel or emotion I wanted to express, and Hendra does the magic. I'll then just work out the rest of the lyrics to fit the music.
RSS: You've been around since 2004, and you've just released your first CD, appropriately entitled Finally…The First Album. What's the story?
Ajip: My problem arh…My story… [He switches to Singlish as the band laughs—obviously it's an inside story.]
Shida: The process of rearranging of music, changing of members, and finding the perfect sound.
Khai: There were commitment and financial issues faced by the band. All of us have different jobs. Some work 8-6, some work shifts, some work nights. It's really hard to coordinate. We pushed and tried our best and pulled through.
Naz: We finally decided to take turns to record our parts. Some of us come in during weekends, after work, before work. I recorded some of the parts at home.
Shida: Big ups to Hendra who sat in with the engineer day and night to finally produce the sound.
Sri:  When we first started out, we were still quite young, and making an album seemed like a faraway dream. After a while, it began to materialize slowly, but we've never gotten around to completing it because of all the issues Khai mentioned. All we needed was an extra push.
RSS: What's the ska scene like in Singapore?
DZ: There's not much of a ska scene here. There used to be much more ska gigs years ago, and a lot of young aspiring ska bands. [DZ is also the trumpeter  for Cesspit, a legendary Singapore ska band.]
Hendra: Right now, only a few remain. The ska bands here play here and there, but there is no fixed avenue for ska bands to play.
Rizal: Recently, there have been attempts to revive the Singapore ska scene. Most of the ska bands know each other, and sometimes we borrow players as well.
Naz: Not only ska bands, the local music scene is still really small if compared to our neighboring countries. It feels like there's not really much avenue for local musicians to shine.
RSS: You never know who's reading this, so if you could tour the world with one band, who would you want to share the stage with?
Hendra: No Doubt. No doubt.
Ajip: Very PUNny.
Sri: Tokyo Ska Paradise Orchestra.
RSS: What do you have on tap for the rest of 2013?
Sri: Some of us have personal side-projects we're working on, but as a band we intend to start working on our new album. We have a few ideas here and there, and I have some songs that are still raw. We're waiting for Hendra to work his magic.
***
Connect with Comic Strip at www.facebook.com/comicstrip.sg or follow them on twitter @gogocomicstrip.
Listen to "Finally … The First Album"