Reggae Steady Ska's 2013 Album of the Year list put the spotlight on great new releases from bands from around the world. One band on the list that received a lot of attention was Toulouse Skanking Foundation, a seven-piece outfit from the southwest of France. Their debut album, VOODOO TRAIN, was my top pick for album of the year. TSF drummer and vocalist, Ugo Guari, fielded a few questions for the band.
Reggae Steady Ska: How'd the band come together?
Toulouse Skanking Foundation: We started the band with 3 people—Simon Chouf and Luc Debehogne playing guitar and myself on drums and vocals. We tried several forms with more or less people. Since the summer of 2011, our lineup has been Damien Guisset on the contrebasse et basseon [upright bass], Julien "Youl" Branlarian on the saxophone [also a member of the Branlarians] who was recently replaced by Camille Humeau, and Fabio Binard on trombone and lead vocals. Fabio writes most of the songs for the band right now. VOODOO TRAIN is the result of these 3 years!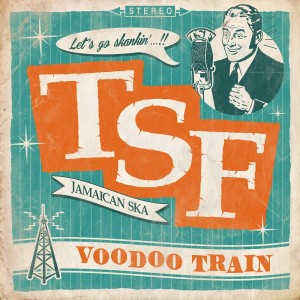 TSF: We all have different backgrounds, some from French pop, some from Latin music, straight jazz or New Orleans-style jazz. However, we all meet around the love and spirit of the Jamaican music of the 60s and 70s.
RSS: What's the ska scene like in Toulouse?
TSF: The Toulouse ska scene is very active, at the center of which are three bands—Mampy, The Branlarians and TSF. There are also some sound systems like Eskale Quilombo, Black Market and Bring Back the Sound who is the newest on the scene. We have festival, too, called "la semaine du ska" (the ska week) organized by some of the Branlarians, some of the TSF and ska lovers in Toulouse. Last year The Toasters played our festival and this year we welcomed The Slackers.
RSS: Why no vocals in French?
TSF: When we started TSF, we wanted to come close to the original Jamaican style. A lot of French groups were singing in French, so we wanted to stand out and do something authentic. This music was born in English and the English tone fits better than French, even though it would be easier for us to write in French.
RSS: What bands inspire your work?
TSF: Obviously the great stars of Jamaican music, first and foremost the Skatalites, and then Ken Boothe, The Maytals, The Blues Busters, Rico Rodriquez. We are not very original for a ska band! In general we love everything related to the 60s and 70s like rhythm 'n' blues and soul. For more recent bands, we listen to a lot of Dr. Ring Ding, Tokyo Ska Paradise Orchestra for their energy.
RSS: VOODOO TRAIN has a great, classic, stripped-down sound. Tell us the recording process and why you chose that approach.
TSF: We recorded at Alambic Records, in our trombonist's (Daniel "Dr. Dru" Dru) home studios. We choose to make it there because we wanted to take the time to do it right. The idea was to keep a maximum acoustic sound. We started by recording the rhythm section together (guitar, bass, drum), then the brass and finally the vocals. Then Daniel spent a lot of time mixing it so we have to give the credit for the sound to him. We started the first takes in November, 2012 and finished the album in May, 2013.

RSS: There's a strong New Orleans jazz vibe on VOODOO TRAIN, especially in your solos.
TSF: It's funny that you mention that, but yes, it's true! Four of us from the band went to the carnival in May, 2013. This trip was truly magical for us and we have great memories from that experience. Back to the roots of modern music. And generally, we love that old sound, the same sound that influenced the Jamaicans in the 60s. Our trip was in February, we finished the album in May, so there must be some influence in the air.
RSS: Despite your old-school sound, you incorporate some modern touches such as the movie clip intros to No One and Do the Rocksteady  and the train sound effects in St. Petersbourg Express.
TSS: That's because that is what we are, the old with the new! TSF also stands for French Wireless Transmission, the ancestor of our current radios. This is what we are and what we want to defend. We're not trying to revolutionize the ska, we just want to take part in it. These samples have allowed us to illustrate our songs or boost it to other places and make VOODOO TRAIN even more fun to listen to.
RSS: Damien, your bass has a great classic sound and it really ties everything together. Did you start with an upright?
TSF's Damien Guisset: I actually started music with an electric bass, and I've played an upright for 3 years. In TSF, I mainly use the upright bass, always with a view to get as close as possible to "old school" ska with that round and woody sound you can hear in old recordings like the Skatalites. However we're trying to expand to reggae and early reggae, so I use the electric bass. In terms of my sound on VOODOO TRAIN, credit for that goes to Dr. Dru!
RSS: Which groups would you like to tour with?
TSF: Anyone, as long as we get around the world! But we'd really love to tour with The Upsessions or The Aggrolites. Their tour makes us jealous and we're listening to their stuff nonstop.
RSS: What are your plans for the future?
TSF: We hope to play many concerts and have the chance to spread TSF good vibes. And maybe a new album for 2015.
Special thanks to Delice Marie Hill for the two-way translation.