Respecting the old, bringing the new, and keeping it together when things fall apart – An interview with Rafael Frías of Ska Jazz Messengers
Leading a band is a lot like herding cats. They ignore your calls, won't play when you want them to, won't stop playing when you need them to leave you alone, scratch up the furniture, steal the food off your plate and, when you're not around, piss on your stuff. Cats are known to act like this, too. But no matter how cat-like their bandmates get, band leaders lead on because making music together is so damn fun.
It must be really fun for Rafael Frías, current head honcho of the Ska Jazz Messengers. Not only does he get to deal with the typical band leader stuff, he gets to do it in Caracas, Venezuela, a vibrant city in a beautiful country that's spent the last decade dealing with a crippling series of economic and social crisis that has left the whole country battered and exhausted. Naturally, it's had an impact on the band. Some members left over political disagreements, others left the band—and their county—in search of a better life. Food shortages, electricity shutdowns and an overall lack of money made it hard to focus on music at the very time people needed it most. The good news? Not only has Rafael and his bandmates held it together, they've somehow found a way to record an upbeat, joyous and totally danceable album. It's due out this spring so it's the perfect time to hear from the head SJM cat himself.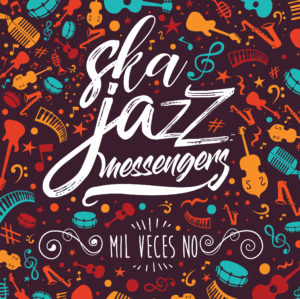 Let's start at the beginning. How did the band come together and what inspired you to start a ska band?
SJM started in 2009. At that time Venezuela had better days than today and Caracas and other cities of the country had very good bands in the alternative scene. At that time we had a fever for making ska-jazz. Venezuela had approximately six ska-jazz bands in those years—Mr Swing & The Bongo Clan (the pioneers in our country and one of the first ska-jazz bands in Latin America), 5ta Avenida Ska Jazz, El Arca, Jungla Boulevard, La Big Landin among others. Even Desorden Público, our legendary ska band, had their affair with ska-jazz. So we did it!
Ska Jazz Messengers was formed by César García Solís (pianist and great composer, he at that time played with 5ta Avenida Ska Jazz). Initially, the band started as a band that occasionally played some jazz standards and some ska versions, not only Jamaican but others from our favorite bands like Jump With Joey. But then we begin to see the group in a more serious way. I'm not an original member—I joined the band for the third show. The band at that time had musicians from the ska and reggae scene in Caracas, some played together before. Shortly after being in the group, I proposed to include a female vocalist. I think that was the moment when the band began to evolve.
As it says in your name, you're just as much jazz as you are ska. Tell us about that creative decision.
As I said, there was a good mood in our city to make music. There were places to play, festivals, good night clubs and a good ska scene, especially in Caracas. I don't know why Venezuela had that ska-jazz fever—maybe because since 1993 we were seeing many great international bands in the country like The Toasters, The Scofflaws, Maroon Town, New York Ska Jazz Ensemble, The Skatalites, The Slackers. Maybe for many musicians it was attractive to play instrumental ska with jazzy tastes. César and me—and other musicians from the first SJM formation—love the Jamaican music and bands like Jazz Jamaica, Jump With Joey, Hepcat, New York Ska Jazz Ensemble, Tokyo Ska Paradise Orchestra and more, so basically the idea was not only try to play a sound like the bands that we love, but try to add more to the jazz language.
In 2013, César left the band and I'm the lone survivor of the first group formation. With the passage of time, the band added other sounds, things from soul, R&B and Afro-Venezuelan taste, especially when a girl came in to sing with us. The name Ska Jazz Messengers is inspired by Art Blakey and the Jazz Messengers, and curiously we didn't play a jazz standard by the Jazz Messengers, although in the first years of the band we played songs from Lee Morgan, one of the "Messengers" from Art's band. SJM is a group with many influences and tastes in black music and we will always have jazz as an ally, to learn and enhance our compositions.
You also bring a large dose of soul to the mix. What inspired that choice?
I always felt restless about trying to get our own sound. I was searching for a sound like the ska recordings from Studio 1 or a sound like a Big Band Ska Jazz—I love bands that have an amazing work trying to make an older sound for the ska and rocksteady and, too, the amazing bands that play finest ska-jazz. I think in my search I felt a fun mix of the black music that I love, not only Afro-American music, but Brazilian music, and of course keeping a jazz taste. When I proposed to include a girl in the voice, I was thinking of giving the band a more "pop" and more "fresh" sound, a cooler sound. Immediately, all those musical influences enriched our sound.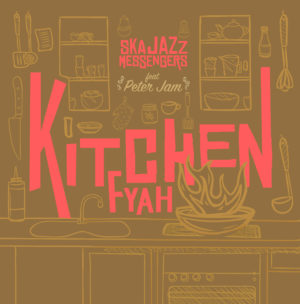 You list a lot of diverse influences. Narrow it down for us: 1 ska band, 1 jazz band and 1 soul artist that are your key influences.
A hard question!
Jazz: The Jazz Messengers and the Hard Bop era
Ska: The Skatalites and the Jamaican recordings of Ska and Rocksteady, Jump With Joey and Jazz Jamaica with Tokyo Ska Paradise Orchestra (especially when their not rockers)
Soul: Impossible! Everyone from Stevie Wonder to Marvin Gaye, Al Green, Smokey Robinson and of course the wild James Brown.
Things really took off for your band when you released your cover of "Happy."
Yes! "Happy" was a song I proposed because I liked it so much. The first time I heard it, I couldn't get the chorus out of my head, so I thought it would be fun to make a versión of it and work in a new arrangement for it. It was like a kind of lottery. I knew that the song could really take off and that in other countries people could find out about our existence, but there was also another way things could have turned out: that our version could be ignored. Fortunately the first thing happened! It was recorded in a home studio and was produced in two rehearsals. At that time, the band had good momentum so I think all that energy was a help for our versión and our time rehearsing it
Venezuela has been experiencing some challenges. How has that reality helped shape the band and your music?
Great question. As surely many people know, Venezuela has been having really hard times—a deep crisis in the economy, politics and, of course, in all our social and cultural aspects. Many of those aspects hit us as a group. Several members left the country searching for a better life, others left the band because of disagreements. Many things began to fight within the band: frustrations, the vision of some musicians, the lack of money to produce things, and of course what happened in our country
For about a year the band wasn't playing. Some members left and the energy in the streets of Caracas and Venezuela wasn't the best for playing music. It was a hard time for me trying to get the missing musicians that left the band to make the record of the album. Venezuela had a deep exodus of people and there are only so many musicians. Still, I needed to maintain the energy of SJM and ultimately start recording the first disc. With new guys on drums, bass, sax and a new powerful voice, I selected the songs for the album and we had four months in a little room at home, playing to record the rhythm base and my guitar, trying to savor how the recordings were made in the 60's.
Soon after the recording session, our drummer and our saxophonist left Venezuela. The founding member, César, recorded some songs of the álbum and also left our country, so again we went through a complicated time. I remember at that time that things were hard. There was not enough food on the street, there was no transportation due to fuel crisis, electricity and water services were constantly interrupted, all that things were happening in the recording session of our first álbum. For that reason we decided to call it "Introspection" because it not only made us learn a lot during the process of the album, but it even made us see many things that we didn't see before the band was formed. For example, we recorded a debut álbum in 2012 with great guests like Fred Reiter [New York Ska Jazz Ensemble], Mr T Bone and Javier García from The Oldians, but due to bad executive production and bad decision making, the disc could never be released.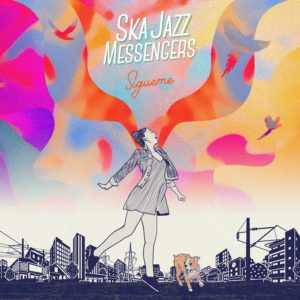 It's been 10 years since SJM started—11 years in July, 2020—and now we feel happy and grateful for the time that has passed to achieve this record. All these years have taught us many things and the reflection of what is lived is in our debut album. In addition, this album has many guests who are practically a dream come true for us—Joey Altruda, Victor Rice, Hakase Sun and Emerson Kitamura, the awesome and legendary musicians from the Reggae-Ska Japanese scene, Esteban Descalzo, Angel Salgado from The Delirians, Joseph Quinones, Prince Fatty in a DUB version, Ga-Pi from Thailand and many more.
Tell us more about what we can expect to hear on "Introspection."
The first single from our álbum is "Mil Veces No" and this is available in Liquidator Music in a limited colorful and beautiful 7-inch versión with an exclusive Instrumental DUB versión. This is a versión from an old Venezuelan group called "Las 4 Monedas," one of the most famous and one of the pioneers of the Jamaican Rhythms in Spanish in Latin America in the 60's. They played songs like "007 Shanty Town" in a Spanish versión and other Blue Beat/Rocksteady songs.
Our second single is "Kitchen Fyah," an original song with a nu-soul, funky, rocksteady, rub-a-dub style. A funny and sticky song about those we love getting "lost" in spices, ingredients and recipes and those of us who love to cook in our free time. We have special guests like Peter Jam, an amazing MC Dancehall-Reggae Singer in the Venezuelan Modern Reggae scene, and Luciano Espinosa, a great producer and guitarist from Argentina, a bandleader of a wonderful band called Sessiones Reggae Instrumental.
And our most recent single is "Sígueme" (Follow Me), a colorful and bright song about all those little things that are always there but that many times we don't see—the sky, laughing without embarrassment, singing, dancing, lying on the grass to see the clouds, learning new things and have fun with them, enjoying more time with our pets and getting away from all this digital world that sometimes shows the frivolous and false side within people. This is a song inspired by the mood of "Fuck You," by CeeLo Green and Bruno Mars. Well, sometimes it's called "Forget You," and in fact we play that version. "Sígueme" is a mix of pop-soul with ska, gospel chorus and a little jazzy surprise at the finale of the song.
Surely many people could think our three singles released from our album are "too much Pop," and it's ok—we're trying to make a fresh sound in the ska music, respecting and maintaining our love for old sounds but also adding modern things.
The Ska Jazz Messengers are:
Ruthsy Fuentes—Vocals and background vocals
Rafael Frías—Guitar
Ronald Alvarado—Trumpet
Javier Pinto—Tenor and Baritone Sax
Omar Viloria—Bass
Giovanny Berroterán—Drums