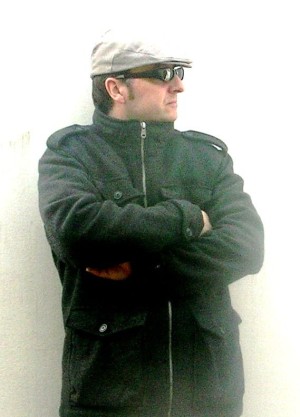 This is part 3 of our series to accompany the release of the debut album "The Benevolence Sister Mary Ignatius" by Lee Thompson Ska Orchestra. Go here to find the album news report or the interview about with Lee Thompson. Part 3 now is an interview with Darren 'Fordie' Fordham.
RSS: Darren, your facebook profile says "Dancer with LTSO". Is that how would you describe your role in the band?
Darren Fordham: No. That's just a tongue-in-cheek thing (like when Liam Gallagher called Robbie 'the fat dancer in Take That'). I do like to move around a bit. I don't know if everyone would agree that it's 'dancing', but I have fun with it. I would say I'm the backing singer/percussionist and Louis' (keyboard) chauffeur.
RSS: How did you get involved with the band?
Darren: After a couple of pints with Thommo. He mentioned this 'Ska Orchestra' idea he had and I said "you'll need a backing singer". I think it took three more pints (me buying) to talk him into it!
RSS: How do you know Lee?
Darren: Lee is married to my sister Debbie. They've been together for almost as long as I can remember, so he's always been around. He's my big brother!
RSS: I see… Have you been in other bands before?
Darren: Yeah. I was in a great pop rock band called Reece. I played the bass guitar and sang a few of the songs. I also wrote quite a few of the songs as well. We came very close to getting signed at one point, and I had the great pleasure of supporting Madness with them.
I was also in The Natives, with Kevin Burdett (LTSO and sometimes Madness' guitar). I was lead singer/song writer in that band.
And, of course, some of the side projects that Lee has been involved in have, from time to time, invited me along to sing for them (Damaged Goods, etc).
RSS: It would be great if Lee got round to making a compilation of some of these side projects, because most have never released anything. Are there any plans?
Darren: I did talk to Thommo about that actually, kind of a 'where do you see LTSO going from The Benevolence…?' conversation. I think we both agreed that he had quite enough of a 'back catalogue' if we wanted to make another album of 'originals'. Who knows? It would be great if it happened, but the priority at the moment is to enjoy this album and the gigs we're doing to promote it!
RSS: How is Lee as bandleader, dictator or democrat?
Darren: Lee, as a 'leader?' He is very much a Democrat, ha ha ha. Too much of one at times! Sometimes I just want him to make a decision. He likes to ask everyone and their mother EVERYTHING, to make sure everyone is happy. A very nice way to be, of course, but it can be painful for me because I'm impatient! A great front man though. One of the best around.
RSS: On stage, he sometimes comes across as being a bit moody. He definitely looked that way when I saw the band at the London Ska Fest in 2011. Or is that just me?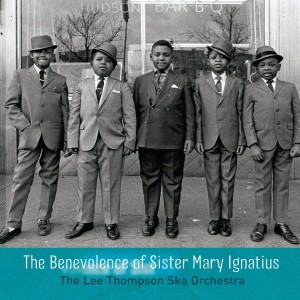 Darren: I certainly would never describe Lee as 'moody'. I think he likes to play a character when he's on stage. He may wear an eye-patch, cover himself in talcum powder, something like that. He's not playing 'Lee'. Maybe he was just playing the part of a moody front man at that gig? The only time Lee gets moody is when it's his turn to get the drinks in!
RSS: Who made the choices of the covers? Was that Lee or did everybody suggest titles?
Darren: I think the song choices were done by a few of the lads. It was mostly Thommo, but I think Seamus, Louis and Bedders chucked a few ideas about. I'm pretty sure Kevin would have come up with one or two as well. He's got a great knowledge of songs from that era.
RSS: It's a pity Many Rivers To Cross didn't make it. Is that you singing on the EP version?
Darren: Yeah, that's me. Mark (Bedders) mentioned that he'd like to play it, so we gave it a crack. I think most of the recording had been done by then. It seemed to go down
well, and I think Lee liked it. He put it on the EP, so he must have! I don't know if we'll play it on the tour as it's not on the album, but if I'm asked, I'll sing it again. It's a fantastic song!
RSS: How did Bitty McLean get involved? Any chance that he might tour with you?
Darren: Dave Robinson (Stiff Records) suggested Bitty as a guest vocal on Fu Man Chu. They recorded Bitty's vocal and sent it back to us, and I must say, I was blown away by it. I think he's done a cracking job on it. It gives the album something different as well. A lift? A change? I don't know what you'd call it, but it's just a great song, and with Bitty, a stunning vocal. I don't know what the plans are for the live set. It would be great if Bitty came along to sing with us. It is the single after all! I'm sure he'd love to do it as well. Who wouldn't want to hang out with the LTSO? ?
RSS: What does a 'single' mean nowadays? Will there be a physical release or just an extra download or does it mean radio stations will play it?
Darren: A few radio stations have already picked it up. Radio 2 and Radio 1xtra, for example. As far as I've been made aware, it will be a download and a physical CD release. It is a bit confusing for us 'older' folk, but I think we'll always know it as a 'single', won't we?
RSS: I guess so. Thanks, very much. Hope to catch you live soon.
Darren: All the best mate. Thank you, and any time!
Peter Clemm
Lee Thompson Ska Orchestra tour dates 2013:
May 16th Under the Bridge ,Chelsea
May 20th The Fleece, Bristol
May 24th Band on the Wall, Manchester
May 25th Think Tank, Newcastle
May 28th Dublin Castle, Camden Tow
Aug 11th United Colours Fest, Sheffield
Aug 16th Brussels Summer Fest, Belgium
—
We recommend you to help great Ska get into the charts and pre-order the brilliant album "The Benevolence Of Sister Mary Ignatius" (Release Date: June 11th 2013), for example at Amazon. It can also be pre-ordered at Itunes, Sainsbury, Virgin Media and CD Universe. Lee Thompson is giving away a free download (a live version of "Soon You'll Be Gone") to you if you like and share this post or the interview with Lee's brother in-law and band member Darren Fordham, out here on Friday 10.5.2013) via your social media channels. Just drop us a line at leethompson@reggae-steady-ska.com with "Liked And Shared" in the subject and we'll send you the download link.
"The Benevolence of Sister Mary Ignatius" is on the shortlist for our "Album Of The Year 2013" competition. You find a German translation of this interview in issue 16 of Rocking Steady magazine.
Follow Lee Thompson on Twitter @leethompsonska, Darren Fordham at @officialfordie.