Heather Augustyn is a familiar name to readers of this website and for good reason. A journalist (the last to interview Kurt Vonnegut), ska-blogger and educator, she's also the author of four must-read books on the history and allure of ska including her comprehensive 2013 biography of Don Drummond. Her latest book, Songbirds: Pioneering Women in Jamaican Music, is a celebration of the women who played critical roles in shaping the music and culture of their country.
Listen to Heather's ten song "Songbirds" playlist while reading on.
You profile more than 25 diverse women in your book. Besides talent, what things did these women have in common?
Well, they had a passion for the music. They loved it so much they wanted to be a part of it. In the face of all of the opposition, having such a strong passion really says something. They didn't give up. They didn't back down. These were strong women.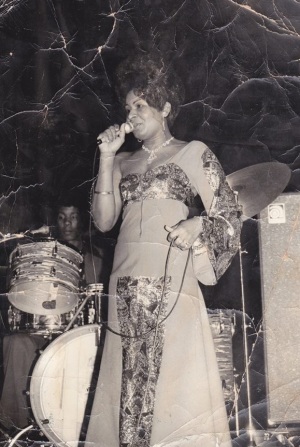 The early recording industry in Jamaica is famous for many reasons, including how unfairly it treated musicians. In what ways was it even more difficult for female performers?
Female performers certainly got no pay either, or very little. But unlike the men who many times didn't care for their children, or claimed no children, the women needed that money to support their children. Take Hortense Ellis, for example. She had nine children to feed, clothe, school, and raise! So when producers like Coxsone Dodd withheld her pay, she had a reputation for getting loud and cursing, and rightly so! But then producers didn't want to hire her because of her reputation. Not fair. These women also had to endure fewer opportunities, of course, and they had to deal with the sexual advances from male producers, some very overt, and these situations produced more children and therefore more challenges! Women had to then balance raising a child with touring, if they had these opportunities, and some took their babies on the road with them, others left them to be raised by family members. Other chose to have no children and/or chose not to get married. Talk about rough and tough! It was a man's world through and through.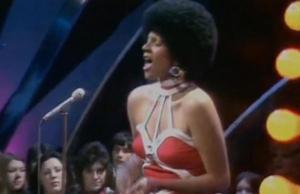 Your comprehensive biography on Don Drummond turned out to also be a biography of Anita Mahfood, the exotic dancer who was killed by Drummond. To what extent did her story influence Songbirds?
Margarita inspired me to see that women were more incredible than I ever thought. As a member of the female species, I got that they were trying to balance all of the aspects of life that women do, but until I discovered Margarita, I had no idea that without these women, the men may have never had a career at all. I could easily argue that without Margarita there would be no Bob Marley as we know him today. He may have just been a welder. That intrigued me, and so when I started looking at the lives of all of these other amazing women—guitarists and producers and vocalists and mothers and wives and partners—it made me realize just how critical they were to the big picture, and it astounded me that no one ever talked about it! Over 500 books on Bob Marley and none on these women? That was a crime and I had to correct it.
I won't put you on the spot by asking who was your favorite woman to interview, but I will ask you to share a few of your favorite memories from writing this book.
Well, talking to Millie Small again was a real joy for me because I'm such a little fan-girl. I love hearing her voice and she so rarely grants interviews, so it is special to me that she would give me the time of day. She is sweet and charming and everything you'd imagine! But then I really cherish what I feel are discoveries. People may remember Janet Enright, but there just isn't much known about her save for a few of her friends. I feel really good about having her tell her story because she was, and is, a very special lady—her contribution to music is profound. And then I feel that I have made some emotional connections with some of these women. There was just a bond, a warmth of spirit that I hope comes through in my writing. Women like Yvonne Harrison and Norma Fraser and Althea & Donna and Enid Cumberland, and the list goes on and on, opened themselves up to me as interviewee to interviewer, sure, but more than that. They became friends, comrades, sisters.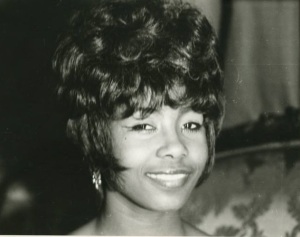 You've become the go-to expert on the history of early ska and reggae. Where do you go to get your information?
My go-to place is the Jamaica Gleaner archives, which are a wealth of information! I am a kid in a candy store when I just riffle through digital scans from the 1950s and 1960s and I've found some real gems. I am headed back to Kingston in February, my third visit, and this time will comb through the Jamaica Star archives which are not digitally cataloged, and as I understand, they had more content on music during this era, so I'm very excited. Then, of course, I interview. I'm all about primary sources.
What is your approach when writing a history of Jamaican music?
I know that there are many people out there who do a wonderful job of cataloging records, matrix numbers, who performed what on which recording, and I leave that job to those experts. For me, I choose to tell the story behind all of that, to complement that information. I like the narrative. I like to hear from the artists themselves, or if they are no longer with us, then their relatives, fellow musicians, or friends. By talking to enough people and weaving that together with the archival material I find in newspapers or photographs, I can put together as accurate a tapestry as possible.
In addition to your Foundation Ska blog posts, what are you working on now?
I am working on a biography of Byron Lee called The Dragon. I am working with his widow, Sheila Khouri Lee, and his family and friends to put together a look at this man's life and the critical contributions he made to music and the industry. He is essential to the crossover between classes and the spread throughout the world.
Songbirds: Pinoeering Women In Jamaican Music by Heather Augustyn is available at Amazon. (editor's note: Looks like a great christmas present)
Her other books on Jamaican music are:
Don Drummond: The Genius And Tragedy of the World's Greatest Trombonist
Ska: An Oral History
Ska: The Rhythm Of Liberation
Heather's annotated, 10-song set list

1. "Woman of the Ghetto" by Hortense Ellis. Although this song was composed by Marlena Shaw, it says so much about Hortense Ellis's life and the politics of Jamaica–"How do you raise your kids in a ghetto / How do you raise your kids in a ghetto / Do you feed one child and starve another / Won't you tell me legislator." Powerful.

2. "The First Cut is the Deepest" by Norma Fraser. Her voice is just so amazing. I can't say more, except beautiful.

3. "We'll Meet" by Millie Small & Roy Panton. To me, this is the Shirley & Lee of Jamaica, and Millie's voice truly captures Shirley's little baby doll quality on this track. It's such a sweet love song, classic boy/girl style where they are having a conversation with each other in their verses, sharing their own perspectives and wants. Gorgeous.

4. "Meekly Wait" by Yvonne Adams (Harrison) and Derrick Morgan. People assumed Yvonne's last name was Adams because she was Glen Adams sister, so it appears as Adams on many recordings, but her last name was actually Harrison, and here she sings this classic song with Derrick Morgan, her cousin. Today she is married to her other duo partner, Roy Panton, and they still record and perform all over the world.

5. "Pata Pata Rocksteady" by Patsy Todd. This song is a version of the classic song by South African vocalist and activist Miriam Makeba so it has even more meaning, sung in the original Xhosa language and it tells of a vicious stick fight, an important event in South African culture, as well as African-Jamaican culture and ska culture.

6. "Uptown Top Ranking" by Althea & Donna. What can I say—fun, fun, fun. This song was written by Althea & Donna as a retort to their friends, members of Inner Circle, and they were teasing them, laughing the whole way. These two ladies are the same way today—thick as thieves, giggling little teenagers, full of love.

7. "Woman A Come" by Marguerita. This is Anita Mahfood. It is a strange song, a bit off key, and that to me really captures the essence of this story. But it is a song written to her love, Don Drummond, penned by Mahfood herself. It is her voice and it gives me chills every time. Without her tenacity and strength, Jamaican music would not be the same and here she is speaking from the grave.

8. "Stop That Train" by the Spanishtonians, or that's the credit. It's Winston Jones and the Tonettes, or the Webber Sisters, I have discovered. It is a catchy tune and I prefer this one over the Keith & Tex version because I like the faster tempo. In my book, you can read the story of how these artists actually wrote and recorded the tune and why it was incorrectly attributed to a group called the Spanishtonians.

9. "Hurt So Good" by Susan Cadogan. This song is the epitome of Lovers Rock. Susan is sexy and sultry and the story behind this song is fascinating. She recorded it for Lee Perry who instantly fell in love with her voice and he double tracked it for that cool dubby echoey effect, quintessential Scratch.

10. "Perfidia" by Phyllis Dillon. Doesn't get more classic than this! What a sparkling voice Phyllis has, pitch perfect, sweet and strong. This song was originally made popular in 1940 by Xavier Cugat who performed in Kingston at the Glass Bucket Club. A number of other Jamaican artists also covered this beautiful song. "What romantic fools we mortals be. Sock it to me baby!"
You can also listen to all the songs on the setlist here.