One of the coolest parts about writing for Reggae-Steady-Ska is introducing little-known and/or up-and-coming bands (The Ska Vendors, The Hometown Hi-Fi, Comic Strip) to a wider audience. Cooler than that? An interview with someone who needs no introduction. I caught up with Dave Wakeling before The English Beat took the stage in Lewiston, NY (just outside of Niagara Falls) and got an update on his much-anticipated new album, Here We Go Love.
NOTE: As you read this, randomly add in bursts of laughter, self-depreciating barbs and snippets of songs from The Beat, General Public and the new album since, that's pretty much what Dave did the whole time. And, ever the gracious host, he made me feel welcome.
RSS: So, about the new album …
Dave Wakeling: First off, let me start off by saying thank you very much for your services to ska.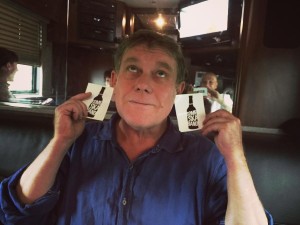 Thanks, but if you heard my ska band, you might take that back.
Makin' up for it, are you? [A few polite questions about my band and the songs we do.] Well done for even taking on Mirror in the Bathroom! Most bands don't, it's got an odd 2/2 shuffle to it—1,2-1,2-1,2-1,2—and the lyrics are a bit dark. I used to like very much the contradiction between that happy cheery up-full music bed and balance that with dark, dark lyrics. You could get away saying more dark things if it's cheery underneath. I thought it's a pretty good reflection of life if it's both happy and sad at the same time.
Sounds similar to what they're doing on the new album, the title track, for instance.
Here we go love, God only knows, who gives a fuck …

You couldn't have done that 20 years ago. It seems that now you can say more of what you want to say.
It's almost like the old guy left in the corner of the bar, you can say what you fancy now, it doesn't matter. Having said that, there's some freedoms to it, as well, because you see things in less of a party/political way, so you don't necessarily rail against the prime minister or the president or something. It's just as strong a message to say that if killing worked, it would have worked by now. Sometimes I think it takes you 30 years to condense and distill your thoughts down, hopefully like a good whiskey at the end of it!
You chose to go the crowd-source route to fund the album. What prompted that decision?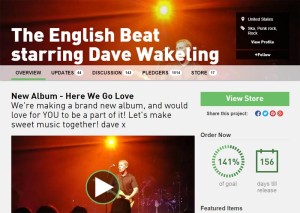 Let's be honest—it was really the lack of other options to start with. I tried record companies, but the advances they wanted to give in return for what they wanted … well, there wasn't really enough money to make the record! And there was no point in bringing it out if you weren't going to see anything of it ever anyway. It was just a catalogue deal for them to have 20 songs that they might stick in films and adverts for the next few years or sell as part of their catalogue. It didn't seem like there was much incentive for them to sell a lot of records, and so I got stuck and people started telling me about Pledge Music and Kickstarter and stuff like that—and I was surprised at how much fun it was! And how easy it turned out for us. We got I think about 140% now. The other thing I wasn't sure of, and it must have been there, but in my excitement of ripping open the Christmas present I never noticed you only get half the money [up front] and the other half when the album's finished. So after I had run out of money, I was like, "I need some more money," and they were like, "No, you get that when you're done." And I was, "No, that's how much money I needed to do it." So we missed something in translation there! That's ok. If I'd only known. If you go that route, keep your sense of humor!
In addition to the expected pledge rewards—downloads, signed CDs, T-shirts—you had some unique incentives. For example, the Jam Session with Dave …
Yeah, we've done three of them now.
How are those going?
They're too nervous to start! We spend the first half hour saying it's OK, then at the end it can get really good. Or they bring their guitar and say, "Nah, it's OK, we can sit and chat." No, no, no, come on, you have to coax the guitar out of the box! "Come on, you signed up for this!" And at the end, it's fantastic. Some people have chosen to just come to the studio and hang for the afternoon. They have an option of singing on the chorus if they wanted, and some of them go, "Nah, nah, nah, you don't want me singing in it."
Singing on the new album. That's pretty gutsy.
Yeah, but they like it.
No, I mean gutsy on your part.
Oh no, I did warn them, depending on how good you sound is how loud it's gonna get! On a couple songs, like, If Killing Worked, where we want a Chumbawamba, big-crowd sounds … there's parts where tuning's not necessarily the main stay! If killing worked, it would have worked by now … it's better shouted, really. Chanted as it goes down the street!
Another reward option was the opportunity to ride on the tour bus.
Yes, and ride in the van. One person bought the ride in the tour bus with no intention of riding on the tour bus. It was just that it was the highest pledge and they wanted to pledge. I could have sold that one twice!
I went with the handwritten lyrics option.
I've only just started that. What I didn't realize was that I Confess is three full sheets of paper the size of this laptop, and you have to take a break four or five times because your hand hurts! I haven't written anything by hand for ages other than a shopping list or an idea of a song or signing a check. That's it. Everything else is on the computer.
Last winter, at your gig in Buffalo, you finished singing Jeanette, then offered some advice for young songwriters: Don't write songs with lots of lyrics because you're going to have to remember them all one day. But from what I've heard of the new album, you didn't follow your own advice.
Well, most of the songs are succinct, but yeah, a few go on a bit. There's a couple that didn't make it that are more like small novels without the music! They may need to be edited down in time for the next one. Here We Go Love … yeah, there's a lot of lyrics in a short space of time. And You're Stuck maybe … and Dem Call it Ska … Oh yeah, you're right. It goes through your head in slow motion, and the poetry gets more ornate, and you try and make a more and more subtle a point. And then it comes to the music and it sounds like an auctioneer's song! Na-na-na-na-na-na-na-na! So you gotta find a balance. I've been doing that with the vocals. You don't have to sing every word that's there—like the, and, no, but—you can just sing it as if it's images in phrases. I listen to that and sometimes that's more effective than singing it in sentences with commas.
The new album brings in the singing style you use in live shows that wasn't there in the original Beat songs.
It's a real challenge. How do you make something sound familiar to people who liked you 30 years ago and sound fresh to people who like you now, or who never heard you before? It's been an interesting challenge. We haven't gone about it too scientifically—we've let the music lead the way—and every now and then I'd play the songs for people and say, "What do they sound like?" [Someone will say] "Well that sounds like The Beat, don't it?" and I'm like, "Oh, thank god!" [Someone else will say] "Sounds a bit like Gary Numan, Dave." And I'm, "Oh, hang on a second, put some more skanks in it—chank-a, chank-a, chank-a, chank-a—sound any more like it now? Brass section—bamp-a, bamp-a, bamp-a, bamp-a!" You've also got the question, Which Beat? You've got the post-punk first album Beat, or the New Wave pop album—the third album—Beat, as well as somewhere in between the two. Most people over here [North America] heard the third album first and worked their way backwards. It was more part of the New Wave/MTV thing than the skinhead ska movement. So you gotta be careful when you say you're gonna make it sound like The Beat. Well, which one? If you got all the original members of The Beat together right now and made a record, it probably wouldn't sound like any of those three. And in some ways, it probably shouldn't. There's been some water under the bridge, and that should change things. For me, particularly, I live in America now—California—and you want where you live to reflect your music and to be true to your roots a bit. And we play primarily to American audiences—touring in England, but primarily we play to American audiences—and that's got to mold the band. What goes down well, that gets accentuated, and if something bums three nights in a row, you don't do that anymore—"You know that bit? Yeah, don't do it!"—and it slowly edits itself down. And that's gotta be reflected in the record, as well. So it's like the American English Beat, just to make it less confusing for the English fans. "It's the American English Beat from England!"
I've talked to bands who say they don't like to play new songs live since as soon as they say, "This is off our new album," people head to the bar. Yet many fans came specifically to hear the new stuff. How do you find the right balance?
You've got to be really careful. People who like deep album cuts would like to hear new songs, people who are not sure Is that a General Public or a Beat song? have got enough on their plate without me throwing in songs that are neither. Two or three [new songs] are the best. You can get away with two, and depending on how those two go, you can be more or less certain whether to risk a third or not. Have they got anymore trumps?! We did three last night and it went pretty good.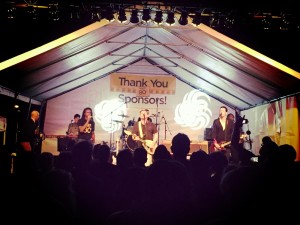 It makes it harder when you have so many songs people want to hear.
Probably my favorite feeling coming off stage is playing a show for two hours and you'll just be getting on the bus and someone will tap you on the shoulder and go, "You didn't play Jannette, you didn't play Ackee 123, you didn't play End of the Party, you didn't play Sugar and Stress … fantastic show!" And I'm like, well, if it was a really great show that went on for two hours and you still have a list of songs you wanted, I suppose that's a compliment. I'll take it as a compliment! We're not doing an encore!
Yeah, you don't do encores. At least I haven't seen any.
I don't know, maybe I should put them back in! I just got bored with encores. I'd rather play an extra 15 minutes than waste 5 minutes freezing my nuts off on the side of the stage. What really finished it off for me was the really horrible Dick Van Dyke semi-run you have to do back on stage. When they come back on bands are always breaking into this horrible pretend run—Hey! Whoa, you guys!—and I just can not do that shit! Now, how we got started in [not doing encores] is, I said I find this whole encore thing really corny, and I said if it's all right with you, get your script, can we just skip to Page 17—Dave and the lads return to the stage for a triumphant last three songs. So we did a deal. You still get some more—only they're usually that loaded that they don't want the night to stop!
There are some great music autobiographies by 2-Tone era musicians—Horace Panter, Pauline Black, Neville Staple, Suggs … when's the Dave Wakeling autobiography coming out?
That's what the songs are for. I'm not really all that keen on a book because it's too much a matter of perception. Depends how you were looking at things at the time. I've read bits of some of those books—and I've heard some of the jokes behind them! I got asked a couple of times and really, what they're looking for [the publishers] are some controversial bits so they can set it off in the press between people saying, "That isn't how it happened at all!" The only money in it seems is if you're willing to drop the dirt on people, which would naturally get them to do the same back to you, and rightly so. A lady doesn't tell!
Videos
New song –Every Time You Told Me and a live version (clip) from the show I saw in Lewiston – I didn't film it though)
New song—Never Die
I'll Take You There from the show I saw – in fact, is that me in the porkpie hat?
New song clips
If Killing Worked
You're Stuck, Dem Call It Ska and The One and Only