In the US, it's possible to live your whole life and never hear a ska song on commercial radio. Maybe—and it's a big maybe—you'll hear one of the two Bob Marley tunes they sometimes play during a mid-day "workforce block" or a "T.G.I.F. party-starter" (Buffalo Soldier, I Shot the Sheriff), and you'll probably hear—way too many times—the latest "reggae hit" by a non-reggae band that pops up every couple years. But other than that? Good luck finding reggae on commercial radio. And forget about ska.
Fortunately, there's the internet.
Google "ska internet radio stations" and you'll get over a quarter-million hits. Even if 1 in 10 are any good, you still have a lot of options, and every fan will have favorites that they're sure are the best. I have my own long list, but there are two 24-hour stations that I click on the most. The first is Alpha Boys School Radio (read the RSS interview here), the student-and-volunteer run station out of the legendary school. The other is Bob's Ska Radio, the one-man station run out of the home of Chris Trent of Tacoma, Washington, USA. What BobSkaRadio.com lacks in bells and whistles, it makes up in non-stop ska from every era and corner of the globe. Chris took a break from spinning the tunes to answer a few questions.
RSS: What was the song/band that got you hooked on ska?
Chris: It wasn't really just one band. It was the mid 90's and I started finding bands like Dance Hall Crashers, Save Ferris, Aquabats, Rancid and the other popular 3rd wave ska and punk bands on the internet. It was music that in our area had never been (and is still not) played on mainstream radio. When buying or listening to songs from these bands online, I would get  messages saying, "If you like No Doubt, you may like Sublime … If you like Goldfinger, you may like Less Than Jake … If you like The Specials, you may like The Skatalites." It made it easy to find more bands. Then it did not take long to start going further from 3rd wave back to 2Tone and then back to traditional ska and rocksteady. Even today I'm happy listening to the newest song from a 3rd wave band, then a 50 year old song I copied from a 7 inch record just last week.
How did Bob's Ska Radio get started?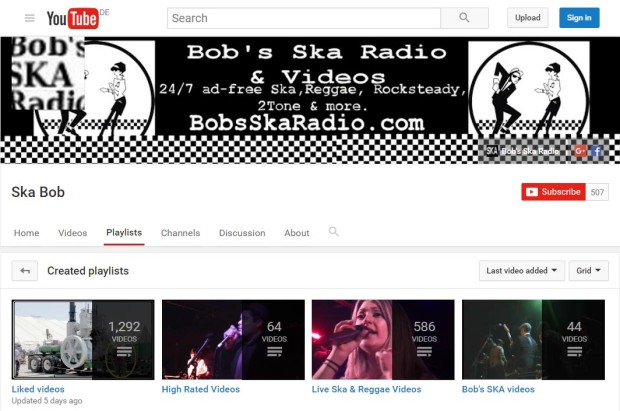 I decided to start it after XM radio dropped Fungus 53. It was the only national outlet that regularly played ska and even featured an all ska show twice weekly and an all ska and punk cover song show. There were some internet ska stations that came and went, but at that time they were unreliable (they may be broadcasting one day, then off for a week, then back for a few days) or the sound quality was poor. I wanted a reliable internet radio station that would always be there when a listener tuned in. I wanted good sound quality and an excellent mix of music. I have a main broadcast computer plus an always ready backup computer I can use if there is ever a problem, so the station is nearly always up.
How would you finish this statement: "It's the mission of Bob's Ska Radio to …"?
Get bands more fans from all over the world. There are so many excellent bands that no one has heard of, I just hope I can get their music out to people who appreciate this style of music. Bob's Ska Radio is just the middle man, I hope people hear new music, go follow those bands on Facebook, buy their album and can then go see them play when they come to their town on tour.
How do you decide what to play?
I basically play what I like and hope others want to listen along. My station isn't run from the cloud or just a collection of songs played randomly, I can actually be at the controls saying what song will play next. Many days I am actually adding songs to the playlist in real time, maybe a classic Maytals song plays, so I add in five or six other songs from The Gaylettes, Derrick Morgan, Symarip and Lynn Taitt & The Jets. All 14,000+ songs are rated from 1 to 100, the higher they are rated the more likely it could play at any time.
Where do you get the music from?
Bandcamp is probably the biggest resource of new independent music. I may buy five albums per month plus several singles. Also many bands put their music up for a free download or name your own price. I also receive several single songs per week that bands email me tracks from upcoming albums, plus several full albums per month. I have also gotten cd's and records mailed to me from all over the world. I also have had live concert broadcasts from local shows.
And the hardest question of all: Bob's Top 5 Ska Songs
That could be a hard question—I do have over 14,000 songs on the station. Maybe one of my favorite songs, for this week, from each era would be easier to answer.
My Daily Food—The Maytals with The Skatalites
I Like Your World—The Gaylettes and Lynn Taitt & the Jets
Runners up: Reel Big Fish and Bad Manners.
Bands can contact Bob's Ska Radio via his website or through Facebook. You should also check out the Bob's Ska Radio YouTube channel for more than 500 ska videos featuring many live performances he's recorded. Great audio and video quality!  And as an added bonus, lots of videos of in-line speed racing competitions.