In part 1 and part 2 of the interview with Babylove & The Van Dangos (May 2011), Mikkel and Daniel talked about political and artistic views and motivations. Part 3 is dedicated to the making of the band's first three albums.
RSS: When you think about your first three albums "Run Run Rudie" (2007), "Lover's Choice" (2008) and "The Money & The Time" (2011). What situations come to your mind? How would you characterise them?
"Run Run Rudie"
Daniel: Of course they are very different. With "Run Run Rudie" the songs came really quickly. Because the old band, that me and Mikkel had before, quit. After the bassplayer had decided to leave, the band just collapsed in one day. And I didn't want to take a long time getting back on the horse again. So, I had to write a lot of songs in a short period of time. It was a new style of writing. Going more to the roots of the stuff.
Mikkel: And we were a new band and a lot of us didn't know each other before. The first album was something new and exciting. We didn't know what to do, we just tried.
Daniel: And also how to record.
Mikkel: We recorded it in a summer house.
RSS: Did you record it yourselves?
Daniel: We borrowed a small vacation house and put mattresses on the windows. We were there for a week. So, it was trial and error with everything. And also mixing it ourselves, which was maybe a bad idea at that time, I don't know.
RSS: But the album was received very well, wasn't it?
Daniel: Pretty good for a self-made album that sounds kind of rusty.
"Lover's Choice"
Mikkel: And then with the second album we were like: "Okay, now we made a little money. We can rent a big studio. This time we are not going to save on anything." We had enough time in the studio, a good expensive studio. And Daniel flew to Brazil to mix with Victor Rice.
Daniel: The mixing was good, though, in my opinion. But the recording session was …
Mikkel: We didn't feel comfortable in the studio. The bassplayer quit the band two days after we had been in the studio.
RSS: Because of tension?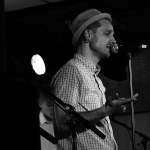 Daniel: He had already made his mind up. He was always like: "I gotta go." We had all this stuff there, but we had no chemistry. I think it sounds good, though. But when you were there it was no good experience.
Mikkel: We had a whole album and we didn't listen to it for six months. We were not satisfied with it. We tried to re-record some things.
Daniel: Yeah, we did some background vocals, some vocals, percussion and stuff. We rented a venue, like this concert place in the daytime cause they never used it. And set up there and played around a bit.
Mikkel: That helped a lot, and then Victor Rice mixed it.
RSS: And it was released in the USA, too, then?
Mikkel: On Megalith. But it's difficult when you have a bad feeling about something. And the process. You can't hear it on the album of course. It's only the seven of us. When we listen to that song we say: "Oh, that was that night at the studio and we spent ten hours trying to …"
"The Money & The Time"
RSS: One thing you also did with "Lover's Choice" was invited guests such as Doreen Shaffer and Coolie Ranx. Let's talk about them later. On "The Money & The Time" you had no guests. Was it a conscious decision?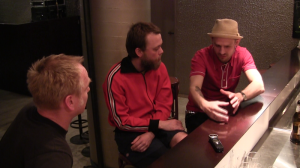 Mikkel: You see we had some bad experiences with the second album "Lover's Choice". Those had nothing to do with the guests of course. But with "The Money & The Time" we wanted to go back to doing everything ourselves. With all the experiences we had gained within the first five years.
When the band was on tour in May 2011, some of the songs for their fourth album "Let It Come, Let It Go" had already been written and arranged by the band.
RSS: Do you play the new songs already on tour?
Daniel: That goes really quickly. Some of the songs we rehearsed one time. And then we play them live. I think it's a good thing to get them out there pretty soon, so you can see what works, what doesn't work. You can make some readjustments.
Mikkel: A lot of bands don't play new songs before the album comes out. For us it's almost the other way round. A lot of the people learn the songs by going to the concerts first. And then they can pick them up on the album two years later.
Daniel: I don't know whether it's a good or bad idea. But that's the way we do it.
In part IV of the interview details about encounters with Victor Rice, Doreen Shaffer, the late Amy Whinehouse and others will be shared.
Babylove & The Van Dangos' fourth album "Let It Come, Let It Go" will be released  on April 27th 2012 (Pork Pie Records).
You can order it now at The OfficialReggae, Steady, Ska Shop. (Affiliate Link)