In our series HOT MIC we talk to podcasters and internet radio guys about their shows.
---
Your name … Gian Piero Gigante (Gian X)
Name of the show… La Brigada del Ruido 
How can we listen to it?…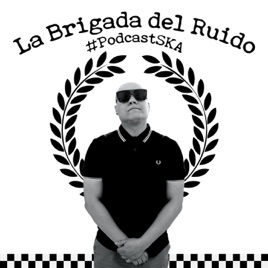 Spotify
Apple Podcast
Tune In
Ivoox
Country, language, I'm from Venezuela but I live in Orange County, California. My podcast is in Spanish.
Since when, how many shows? Since 2013 (6 years)144 show total for now
Which musical styles do you play Ska, Rocksteady, EarlyReggae, Balkan Ska, Reggae, Punk, Surf
Do you play new / old /both Both
What formats do you use (vinyl, mp3, cd, streams)? Wav or mp3
How do you get your records? Buy disc, some band send me their Cd's, Free download from Bandcamp and many friends send me the files
How to reach you?
www.labrigadadelruido.com
labrigadadelruido@gmail.com
www.instagram.com/labrigadadelruido
www.facebook.com/labrigadadelruido
How do you promote your records? whatsapp, facebook and instagram (tagging the bands)
If you like, post a short info text about the show
La Brigada del Ruido is a Ska podcast that began broadcasting in 2013 in Caracas Venezuela but since May 2015 it is broadcast from SantaAna California.The podcast is dedicated to Ska, Rocksteady, EarlyReggae, Reggae, Punk, Balkan and Surf.
It is produced and conducted by Gian "X" Piero Gigante, Ska guitarist of bands from Venezuela such as Big Mandrake, Skabiosis, Los Pasajeros, Judy Buendía and Los Impostores, Chencha Berrinches (California )and has been invited to play with bands such as Desorden Público and Papashanty Sound System.
5 all-time favourite albums
Let's Face it – Mighty Mighty Bosstones
And Out Come the Wolves – Rancid
Ball Of Fire – Skatalites
God bless Satan – Mephiskapheles
The Specials –  The Specials
5 all-time favourite tunes
Gangsters –  The Specials 
Guns of Brixton – The Clash
Guns of Navarone – The Skatalites
5 days of tequila – Tokyo Ska
Two tone Army – The Toasters
What's your no-1 challenge concerning the show? Try to spread all the ska that is done in the world so that it does not remain an underground genre.
Other ska-related activities? I have played the guitar ska for 30 years with my different bands (Skabiosis, Los Pasajeros, Sin Sospechas and Big Mandrake)and with Chencha Berrinches from Los Angeles, CA