As much as I think I know about ska, I'm always learning something new. And that's true every time I pick up one of Heather Augustyn's books. From her historical overview and oral history of ska to her profiles of female pioneers of ska, her definitive biography of Don Drummond and the encyclopedic work on Alpha School alumni that she co-wrote with Adam Reeves, Heather's well-researched and clearly written books give fresh insights on ska's formative years. And that's certainly the case with her latest and most-controversial book, Operation Jump Up: Jamaica's Campaign for a National Sound.
As a ska fan, I found something to love (and to track down and listen to) on every page. And as an ad man, I found the marketing and public relations strategy behind Operation Jump Up fascinating and surprisingly ahead of its time. If you think you know the story of when they brought ska to America, get ready to be surprised.
RSS: In the first line of the first page you start with the thing everybody always talks about, the whole Skatalites vs. Byron Lee argument. Was that a conscious choice to start there?
Heather Augustyn: Absolutely. When I tell people about this book, the first thing out of their mouth is, "Oh, the World's Fair!" Then the next thing is, "Oh yeah, Byron Lee was chosen over the Skatalites." That's just a narrative that exists. In fact, I know now that word has kind of gotten out about this book, and that that's going to be the controversy because there are some older Jamaicans who feel very sensitive about this still. The fact that Byron Lee was so aligned with [former Prime Minister and Jamaica Labor Party leader] Edward Seaga and with politics means there's that whole layer in there that still exists. It's as fiery as politics in America, or any other country, but in Jamaica it's attached to music. So not only do you have history's account, but you have the current political climate of a very divisive nation, a very divided nation, much like ours, where people align themselves with politics. So they align themselves with bands, and it's kind of like Bryon versus the Skatalites. That's the narrative that's been constructed, and I don't think that's accurate.
You note that the Skatalites were not officially formed when Seaga and others were creating the public relations and marketing plan that would become Operation Jump Up. Anybody who knows anything about basic marketing knows you don't put together something like that in a weekend. That's months and months in the planning, and when they were doing that planning, the Skatalites as a known, independent, working band didn't exist.
Exactly. And we can get into the minutia about whether or not they recorded a song or two in the months prior or something like that. That to me is irrelevant because, like you said, from a marketing standpoint, which is what this was, you want a polished band that has been playing together for years, one that is tight, that can sound American, as American and as Jamaican as possible. It has to be that blend because it had to be whatever would sell in America. I mean, that's why Bob Marley was tweaked by Chris Blackwell, because they didn't want him to sound too roots. Can you imagine? And this [Operation Jump Up] was a decade earlier. They wanted something that would sound good, sell well, catch on and be the next Twist, all without it being too foreign, frankly. That was, in fact, part of the criticism that the bands and some of the vocalists faced when they went, that the lyrics couldn't be understood.
You chronicle Seaga's early and passionate interest in Jamaican music, but Operation Jump Up was far more than an initiative to promote Jamaican music. It's primary goal was to promote Jamaica.
Exactly! He said that too. It really was to promote Jamaica. It's two years after independence. I mean, look at the quote that I put on the back cover, "We cannot attain independence without a music to call our own. You cannot attain sovereignty with other people's music." This was the way to identify, to give Jamaica an identity so that people would come. It was part of a bigger package. That same year, he was doing things like hosting craft expositions in the U.S. and the jump-up music—really the mento—that they were part of the whole big package too. So ska was one component that I think was embraced by the American record producers, and that's why they kind of led with that foot.
It could have been basket weaving—whatever would have caught on with the outside world, he would have promoted that.
Absolutely, especially as minister of culture and welfare. It was all kinds of culture, absolutely. But I want to be careful. He did love ska, and the reason why he thought ska would be more successful than basket weaving or whatever, was because ska was dance music, and this was a time in America where people were dancing. The Twist was the rage, and for him to be able to take a dance with the dance steps and make all these dances so popular … I mean it was genius.
You bring a very excellent point in the book about the musicians that Seaga did bring to New York. When you get Jimmy Cliff, and Monty Morris, and Prince Buster, you can't say it's just the uptown crowd.
That's why I think it's such a false narrative. History blurs things. Politics blurs things even more. So this is the narrative that we've been left with. But I think that if you really go back and look at the facts, how could you argue that Jimmy Cliff was uptown? Byron Lee was the uptown. He was well to-do, but the members of his band were not necessarily well to-do. Bryon Lee put together a band based on the musicians that he thought were a good fit. They were good musicians—very good musicians—but they also were "presentable" musicians. In 1964, that was very important.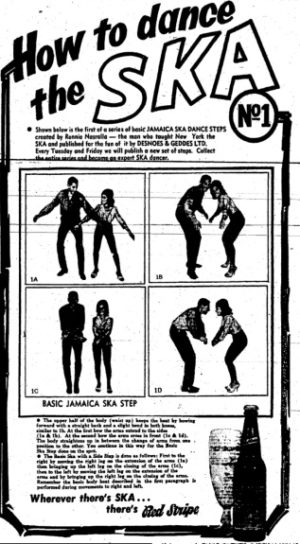 Brian Epstein cleaned The Beatles up for mass consumption. They wore suits, they bowed, they were told not to swear …
That's right. That's the same thing with Byron Lee.
Some of guerrilla marketing tactics that Seaga did were far ahead of his time. Unauthorized balloon drops, flashmob-esque ska dances. As you note, some of it may be apocryphal, but there was a clear strategy to reach the widest audience possible.
I think that, too. Seaga surrounded himself with all kinds of movers and shakers. For example, [record producer, dancer] Ronnie Nasralla. He owned his own ad agency. He was really, really crucial. And he had big accounts, too. The Red Stripe account was his account. It's natural then that he would put out this step-by-step how to do the ska sponsored by Red Stripe. And the whole thing with Miss World, too. I mean, talk about synergy. [Carole Joan Crawford was crowned Miss World in 1963 and served as a Jamaican cultural ambassador during Operation Jump Up – CB] Seaga tried to capitalize on everything that he saw had potential to get his message out. Everything just kind of dovetailed and it looks like a nice neat package. It did kind of go that way, but it wasn't as strategic as it would be today. I think things kind of fell into place.
I'm always impressed with how far you'll go to research your books. What was the most challenging or rewarding source you consulted for this book?
The World's Fair records. Those were hard to find because they're literally in boxes in the New York Public Library and they have them cataloged by box, so you don't know what's really in them, just a box that's labeled Jamaica. There is a website for 1964 World's Fair aficionados Through that site I met Craig Bavaro. He knew the box number. He knew what was in there, and he even went into his basement because he had copies of these things, and so he could tell me exactly what to ask for because nobody else had cataloged this. I'm really thankful that I came across him, and I thank him in the book's acknowledgements.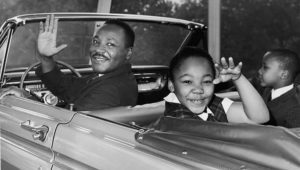 What was your most treasure-hunt moment?
One was seeing the plan for where the Jamaica exhibit would have been. That was pretty cool just to see that mapped out. Another was re-interviewing Millie Small for this book. She doesn't remember the event that well because, frankly, she was touring almost every day during that year and she was going all over the world. Switzerland, Singapore, and everywhere. So I don't blame her for not remembering one concert. But she did tell me that she remembered meeting Martin Luther King, Jr. and I about fell over because I had never heard that before. I was skeptical at first and I was like, well, maybe her memory's fuzzy. But sure enough, he was there on that day, and I saw a picture of him at the World's Fair on one of the exhibit rides. Just to imagine Martin Luther King, Jr. meeting Millie Small at the World's Fair with ska being debuted, I mean, to me that was a magical moment.
At the end of the book, you bring up the idea that maybe, just maybe, if it wasn't for Seaga and Operation Jump Up that ska—and its descendants—wouldn't have caught on around the world. I understand that as a historian, you want to take the more cautious approach, but to this marketer, you make a strong case that that's what would have happened. Without the growing national and then international interest, ska probably would have given way to the next trend. Without the experience and confidence it gave artists, without the money it generated for Jamaican studios, without the record deals and investment from AMI, Capital, Columbia and Atlantic, without the global public perception of Jamaica as a place where exciting and accessible music was being created, new Jamaican artists would have had a much harder time making it outside of Jamaica.
I've been criticized before—and I will accept this criticism and wear it proudly—for being romantic because of these kinds of notions. This is what leads me as a historian, because I realize that it is a butterfly effect. If you don't have this, then you won't necessarily have the events that followed. I like to imagine—and I know I like to hyperbolize that formula—but I can't imagine that without Seaga, that ska and Jamaican music would look the same at all.
If Seaga was looking for Operation Jump Up to give Jamaica a cultural identity then he succeeded. Not instantly, of course, but it started an awareness, an acceptance and appreciation that grew over time as ska evolved to reggae. I can't think of another style of popular music today that's associated with one nation like reggae is associated with Jamaica.
When I interviewed Seaga [about Operation Jump Up], I was just floored when he told me that he didn't think it was a success. But it has now.

After writing this book, what's your take on Byron Lee?
Look at his longevity. I think that speaks volumes. If he was just in it for whatever reasons he's criticized—for the money, for the success—if it was that shallow, why did he stick with it until his death? He was still performing in 2008.
If he was just chasing the latest trend he would have switched to rock & roll, then to disco or whatever.
Exactly. He did switch to soca, but that's because he fell in love with soca for various reasons. He saw that it brought people together, and that was part of his mission, was to bring people together to enjoy music, to enjoy the time in a carnival-like setting like that. That's why he did soca, and I respect that, too. But there was a very rigid class divide in Jamaica more so than now, but it's still very prevalent. I'm afraid that that's the lens through which he is seen, and that will cloud seeing him clearly.
Nobody is claiming that he was as talented as the Skatalites. Not even his wife, Sheila Lee, argues that. But I'm saying don't write him off because his value lies elsewhere. Where his value lies is in that he was an ambassador for ska, so that's how I see him, as ska's ambassador. He never claimed to be ska's inventor. He wasn't. He never claimed to be ska's most talented musician. He wasn't. But he was ska's ambassador and he helped to get the word out, and he helped to support so many other artists, and that's what he was doing in 1964 until the day he died.
Heather Augustyn's book "Operation Jump Up: Jamaica's Campaign For A National Sound" is available worldwide by clicking here (Amazon affiliate link). 
Heather's Operation Jump Up Song List
More books by Heather Augustyn (Amazon affiliate links)
Alpha Boys School: Cradle Of Jamaican Music (2017)
Songbirds: Pioneering Women in Jamaican Music (2014)
Don Drummond: The Genius and Tragedy of the World's Greatest Trombonist (2013)
Ska: The Rhythm of Liberation (2013)
Ska: An Oral History (2010)