At a time when there seem to be more conflicts around the globe than ever, we are in desperate need of a miracle that might restore our faith in mankind. "Miracle" is the title of Groundation's excellent new album (released on October 21st) and while they might not be able to save the planet, their positive energy is highly infectious. The band and their music bridge any religious, political or musical boundaries to create s strong message of love and unity.
In the last 12 years the Californian band have achieved an astonishing level of popularity with their highly accomplished Jazz-tinged version of roots reggae combined with conscious, hard-hitting lyrics. Very few reggae bands can fill large clubs like Cologne's Live Music Hall, where we had the opportunity to meet up with singer Harrison Stafford (aka "Professor") and Marcus Urani (organ, keyboards) after an energetic two-hour show in the late summer of 2013.
Marcus: [taking a deep breath] Whew …what a night!
You played an amazing show tonight – and it was completely different form your recent show at Summerjam festival.
Harrison: Yes, every night we play a different set. Whether it's a festival or a club, every time Marcus and I sit down before the show, look at all the albums and put the set together. We don't write down a set list in California before we take off for the tour and then play the same show every night. It gives our road manager a head ache, because he doesn't even know how long the set will be.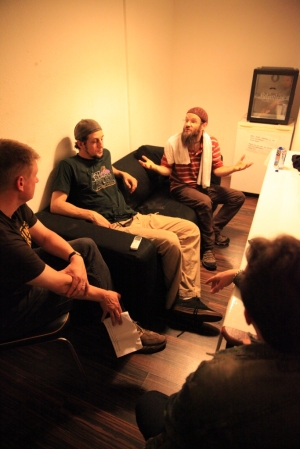 There was a lot of Jazz and improvisation in the show tonight…
Harrison: This is our mentality, the Jazz mentality, not just improvising in the songs, but making every night different.
Marcus: Otherwise it would become stale. We try to throw each others' solos around. It keeps it fresh for us.
Harrison: Our music, the long solos, the improvising – it's not really what the teenagers listen to these days, so to have this kind of crowd that is willing and patient to listen to what we do is quite an achievement.
And yet we spotted quite a lot of teenagers in the audience…
Marcus: For sure! That's why we're here, to push that music.
Harrison: The young people are the future of this music, so hopefully we can inspire them.
There was a new singer on stage tonight, right?
Harrison: Yeah, Jamila Smith, Earl Chinna Smith's daughter! She's been with us for one and a half years. But the rest of the musicians has been together for many years. We need this consistency and cohesion. The set list is drawing from some 50 songs, so people really need to know all of these songs. If you want to be a new member of Groundation you have to learn a lot of songs!
What inspired your band name?
Harrison: The first "grounation" was the day Selassie came to Jamaica in 1966. For us, "groundation" shows our lineage to Jamaica, to roots reggae and the Rasta principle. At the same time "groundation" is what we are trying to build: It is about being grounded, being humble and that comes with the music. Marcus is the leader, Ryan is the leader, David is the leader, I am the leader – we all share in this collective band, we're all grounded.
How do you combine the Rastafari movement with being Jewish?
Harrison: For me it fits together well. When I was a 6-year old kid, I was going to temple hearing about Moses and Abraham and the twelve tribes of Israel and at the same time I was listening to Bob Marley, Israel Vibration, Bunny Wailer and they were singing about the same scenario, so it connected for me, for what I was reading in the Torah, I was listening to in the music. The conquering lion of the tribe of Judah is part of Jewish tradition.
Reggae was my music. Kids my age were not listening to reggae. But when I finally was in high school, the others suddenly started to listen to Bob Marley and it became more hip and cool.
That sounds really inclusive but religions and people who follow them often exclude other beliefs….
Harrison: This is why we don't preach Rasta or Judaism or Islam. Religion is a personal affair and if we want to be honest, religion tends to divide people, which is not what we're about. We are not about religion or politics. Groundation is about the oneness of life. It does not take a genius to understand that thousands of years ago, there weren't any Muslims, Jews or Christians, but we were together in society and we are still here. If you remember the foundation, it's obvious that we're all connected. That causes for a more humane and humble heart and life. That's the kind of 'preaching' Groundation is about, trying to break down barriers.
Speaking of religion, what are your feelings as a Jewish person about playing here in Germany?
Marcus: It feels great, man.
Harrison: It's important to be here. There is this stereotype about Germany not being that accepting to other people. That's certainly not the people who are here. The people who come to our shows understand the more fundamental principles of life and are interested in the spirit of unity.
We have just been in Greece. They're having horrible wars between the Greek people and the immigrants, even killing people in the streets because of poverty or unemployment. So it's important for us to be there to preach this kind of acceptance of other people.
You can't be afraid. Being a Jew in Germany is crucial because there used to be a lot of Jews in Germany, considering themselves to be Germans, before the Holocaust. That's why it is important to be here today, as a Jewish person, sharing the message of love with the German people of today.
This is a new generation. We're moving forward. Just like our forefathers in America used to have slaves… We're moving past these things to a better place. Music is part of this change. The music of the 1960s and 1970s helped breaking down this racism, with black people coming into the music and all people coming together. It shows that we are much better off being creative together than separating ourselves.
As a Jew, when I look at Israel, I see people building high walls between Israelis and Arabs because rumours can fly, but people never meet and see what they have in common.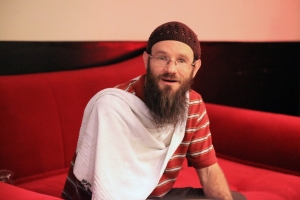 Have you had the chance to play there?
Harrison: Sure, several times. That's where I did the Professor album with Horseman. It is about my time in West Bank, seeing the occupation and all of the check points, so "Madness" was a fitting title for the album. But we also played in Morocco. An American Jew playing roots reggae to 20,000 Arab Muslims – that is something special!
Do you think people were aware of that?
Harrison (fingering his beard): Some of them. The rest probably thought I was Muslim, ha ha ha.
Marcus (laughing): You never can tell. They all look the same.
Harrison: Whatever book you're reading, it's really about loving each other!
As someone who has seen the situation with your own eyes, how do you assess the chances for peace in the Middle East?
Harrison: It's a desperate situation, especially with the situations in Syria and Lebanon worsening now. There are not many people who are really trying to achieve peace. That's why the album is called "Madness". In these occupied areas, everybody is fighting each other, like the Israeli army dragging Arabs out of their houses and giving them to Jewish settlers.
So the title "Throw Down Your Arms" is a plea to both sides?
Harrison: Certainly, but Israel has a lot more arms to throw down. Young children in places like Nablus, they don't remember a time without war. Arabs and Jews used to live together peacefully in these places before the occupation. And those young kids will be older kids soon. Their leaders don't intend peace and independence, so it will be bad.
There are surely Israelis and Palestinians who want peace, but they're not leaders. The people who come to our concerts would make better leaders.
So do you think that you as a band can make a difference?
Marcus: Music is very powerful. Reggae music today has achieved this massive global status because it is about the important issues. It has the emotional power to move people. It's in the construction of the music. You can feel the intensity and the joy, both sides at the same time.
You get the feeling that the popularity of reggae has increased in countries like Germany, Italy or France that have seen a lot of immigration in recent years. Do you see a connection there?
Harrison: Sure. Where we come from everybody is an immigrant. And that's especially true for California. If you arrived on the east coast and went west, at some point you arrived in California, so you better make it there as there's no way further to go! As a result, everybody's there, Chinese, Black or Mexican. And people love and respect each other a great deal.
The San Francisco Bay area is a fantastic place. It is where the Hippie movement came from, the anti-war movement, the Civil Rights movement. All of this happened because there have been so many immigrants. Our parents have gone through war and hell. So it's our generation's task to make something of it.
A good example of the power of reggae music is Nelson Mandela. In his first year as president he only visited three countries, the UK, the USA and … Jamaica! He wanted to thank the people for the music that gave him strength. Isn't that amazing?
Where are the Mandelas and Steven Bikos and Marcus Garveys of today? Where is the Greek Ghandi? We need them to ignite people and take them to a better place.
For a lot of people in Germany Barack Obama seemed to be a figure like that….
Harrison: … and then you realise that the President is just a person and he has money in his pocket from the people who are really running the show. At least for the Afro-Americans it was awesome to see a black president – even if he cannot do much in reality. We hope for good things in the future. There is a line in one of our songs, By All Means, that says:
I know it's not really gonna stop
until we see Iraq, Iraq, Iraq all around the world.
That's our fear: That the world is crumbling into chaos. But there's still music, so there's still hope. The future is not written in stone!
What kind of music do you listen to yourself?
Harrison: Old music! From the 50s, 60s and 70s. Johnny Cash, Miles Davis, John Coltrane, Herbie Hancock. Burning Spear and the Congos. James Brown and Sly & the Family Stone. Sam Cooke. We educate ourselves on all these people.
You actually managed to collaborate with a lot of famous reggae people, both with Groundation and your solo project. How did you get to meet all these singers?
Harrison: It just came with the music. I used to teach Jamaican music and history at university, so I had people like Joseph Hill [Culture] come to courses. That's where I got the nickname "Professor", by the way. When we started the band, we began to work with people like Ras Michael, Don Carlos, who lived in California at the time, Cedric Myton. So we connected with the roots people.
The Jamaicans we worked with are really great: They are the first ones to honour you for playing and developing their music. They appreciate that we are serious and focussed about what we do. We are interwoven with Jamaica. We have Jamaicans in the band. My wife is Jamaican. That culture is part of who we are.
Did you get a chance to play in Jamaica?
Marcus: Not yet, but it's something we want to do.
Harrison: We played in other Caribbean countries like Puerto Rico or Dominican Republic, so when the time is right, we will be in Jamaica. The roots are on the rise, so we should play there.
What's your opinion on Snoop Dogg becoming Snoop Lion and trying his hand on reggae?
Marcus and Harrison: Whoa!
Harrison: We watched his documentary. It was … interesting. [chuckles] I think he went to Jamaica and had an epiphany. Funny thing is he knew it before and brought a film team with him. There were four or five songwriters who wrote the songs for him. It's not really Snoop.
Doesn't it make you angry when people hijack your music like that?
Harrison: Not at all. A young kid might hear Snoop Dogg and discover reggae music because he turns into Snoop Lion. That's something.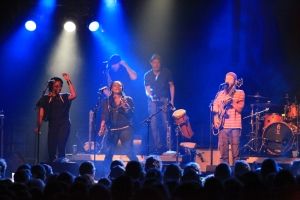 It reminds me of the 1990s when there were so many good ska bands in the USA and the one band that makes it into the mainstream is No Doubt.
Marcus: That stuff happens all the time. Music is serious. If you are doing it for the music, then that stuff doesn't bother you. You can hear if somebody is doing it for the money. But if you can't feel it, it doesn't really matter.
Looking into the future, how far do you think can you take this band?
Marcus: We have barely started!
Harrison [laughing]: We've held ourselves back so far. We have lots of ideas and there's lots of places where we want to take our music. Reggae, Jazz, Soul – The music universe is infinite. We're excited about that. Music excites us!
Questions by Pete & Sven. Photos by Ulrich Grobusch.
Tour dates
OCTOBER 2014
22/10 Montpellier (France) – Rockstore
23/10 Pessac (France) – Salle Bellegrave – Festival Vibrations Urbaines
24/10 Sauveterre de Rouergue (France) – Rootsergue Festival
25/10 Bruxelles (Belgium) – Festival des Libertés
26/10 Le Havre (France) – Dock Océane
28/10 Amsterdam (The Netherlands) – Melkweg
29/10 Aarau (Switzerland) – Le Kif
30/10 Fribourg (Switzerland) – Fri Son Festival
31/10 Berlin (Germany) – Yaam
NOVEMBER 2014
01/11 Wien (Austria) – Porgy and Bess
03/11 Koln (Germany) – Live Music Hall
04/11 Brighton (UK) – Komedia
05/11 London (UK) – Garage
06/11 Norwich (UK) – Open
07/11 London (UK) – Garage
09/11 Paris (France) – Trianon
10/11 Paris (France) Trianon
12/11 Luxemburg (Luxembourg) – Kulturfabrik
13/11 Beauvais (France) – Festival Picardie Mouve
14/11 Le Mans (France) – Festival BeBop
15/11 Cholet (France) – Festival Les Z'Eclectiques
You can get the new Groundation album now:
Groundation – A Miracle