[dropcap]T[/dropcap]hey really did it. The Goldmaster Allstars from London have just received the prize for Best British Reggae band at the British Reggae Industry Awards, against strong competition by the likes of Steel Pulse and UB 40. Now expectations for the Goldmasters' first appearance on the European Continent are rising high. They will come to the Freedom Sounds Festival in Cologne on March 16th 2013, which is organised by a bunch of people including me. It was one of my dreams to bring the Goldmaster Allstars to Germany, after I had been blown away by one of their shows in native London last year. The following interview was done with band founder Malcolm Goldmaster before the results of the British Reggae Industry Awards had become public. We talked about recording like the old heroes, about the lack of Reggae and Ska in the charts, about the support of BBC's Mark Lamarr and much more.
RSS: How did the band form?
MG: Releasing music came before playing live on stage for us. The music I was putting out was recorded with a full live band but I was releasing my music in a British market which was predominantly digital music. This made my music stand out. Sooner rather than later a promoter from Brixton rang asking to book the Goldmaster Allstars. That's when I took the full live band on the road. This is how the band was formed.
The first venue we played was the Telegraph on Brixton Hill way back in 1999. We played two sets to a full house. The first being a Roots Reggae set with our own singers. The second set was half Roots and half Ska, the Roots part being supported by British Roots Reggae artist Tena Stelin. The gig received great reviews and our live career had started with a bang!
RSS: What were/are your most important musical influences?
MG: My entrance into the Jamaican music scene was Roots music. Having an interest in Rasta and searching for a lot of unanswered questions along with loving the grooves, Roots answered some of those questions and also gave me a great focus on life.
As my knowledge of the music increased, I discovered artists such as Yabby You, Steel Pulse, Michael Prophet, Freddie Mc Kay , Dennis Brown and, of course, the mighty Studio One record label.
I realised that a lot of the tunes and rhythms where recycled and re-invented songs, so I made my way back through Rocksteady, finally finding myself back at Ska music at the start of the 60's. I realised I had found the main starting point.
The early Sixties also marked the beginning of recording in Jamaica and, more poignantly, the start of studios being owned by black Jamaicans. One of the great pioneers was Clement Dodd and his Studio One label. His in-house band, The Skatalites, shaped the music into what we know today to be Ska. For me those guys were the creators and the originators of the music. They were my ultimate musical influence.
RSS: Where are you based?
MG: A good percentage of the band lives in Southend, however our alto player lives in Chelmsford and our keyboard player lives in London although he also comes from Southend-On-Sea.
RSS: So is there a steady line-up?
MG: It has remained the same for the past 4 years although we do have the odd floating horn player that may join the section when we are a man down.
RSS: In your band profile, you say that the band works as a co-operative. How does that work with so many people involved?
MG: I am responsible for the day-to-day running of the band but if there are any major decisions the band is consulted.
RSS: It must take a lot of work and devotion to keep such a big band going, presuming you all have daytime jobs. What keeps you going?
MG: For myself the band is a full time job along with our drummer/engineer. Generally, it is the love of the music and the band family vibes that keep us together.
RSS: How did you manage to become the backing band for so many veteran artists?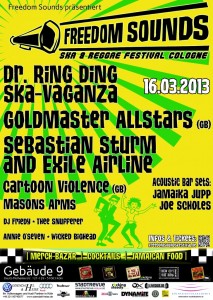 MG: It helped that our first gig was with Tena Stelin, a well-known name in British Reggae. We had recorded a single with him, "Eco Warriors", so Tena was happy to join us as it was also a good chance for him to promote his single.
The presence of Tena gave us endorsement with the London Reggae scene. At the time a lot of the Jamaican artists from the Seventies that were working on the scene seemed to be using smaller and smaller bands, which was, from my point of view compromising their sound. With the size of our band I felt that we would be able to offer so much more impact, both visually and in our sound.
Then we were given a chance to perform a headline show at the Camden Underworld with BBC DJ Mark Lamarr. The show was a sell-out with two coaches attending from our home town and with the rest of the tickets sold in the capital. A good time was had by all, with an impromptu performance from the veteran Jamaican Owen Grey, who just happened to be there on the night. Climbing onto the stage and ignoring our previous conversation of the track we had decided to do pre-show, Owen broke straight into Stand by Me (Ben E King).
As luck would have it, one of the guitarists knew the chords and they passed it down the line. Drums and guitar came in first, then the bass, then the keyboards. Horns then joined the party and we proceeded to perform a 7-minute Rocksteady cut of Stand By Me. By the seat of your pants stuff – just how I like it!
A few weeks later we were approached by the Jazz Café London. They were interested in putting the show on themselves. We knew that Mark Lamarr would be unable to DJ a second time, so we were left with a problem of finding another big name to support the show.
Again it was time to turn to the Jamaicans. We needed a London based artist. Our percussionist at the time, Ska Nick, suggested Alton Ellis. He lived in London and he had also not played at the Jazz Café before. We learned his numbers and before I knew it I was travelling to London on Valentine's night to see Alton Ellis at the Hammersmith Odeon.
Without a ticket I knew this would be tough. Parking at the rear of the building I noticed that the backstage route would be my best approach. Walking straight up to the security guard I stated that I was here to meet Alton Ellis, that I had a succession of shows with him starting in a few days and that I needed to speak with him on an urgent matter.
There was a short pause before he stood aside and let me into Alton's dressing room. Alton liked the sound of the band and was impressed with its size. We performed three shows with Alton, Tenby in Wales, Jazz Café London and the Palaiseau, Paris.
From that point on, it became much easier to secure shows with Jamaican artists and we started being approached by more promoters who wanted us to back other artists.
RSS: Which artist did you enjoy most working with?
MG: One of Alton's good friends was Winston Francis, who we where lucky to meet at the Jazz Café.  He also liked the sound of the Allstars and that meeting was the start of a long term friendship which has continued until today. We have now performed many times with Winston and we all consider him a personal friend. Most recently we were performing with him on Gaz Mayall's Rocking Blues stage at the 2012 Notting Hill Carnival. So Winston Francis would be my choice.
RSS: Are there any artists you are planning or would like to work with?
MG: There is some talk of us working with the remaining Aces and also Tony Washington, the producer of My Girl Lollipop and a singer in his own right. Artists that I would like to work with? Ah, there are so many: Cornell Campbell , Millie Smalls, Johnny Osbourne, Max Romeo, Vin Gordon, Chris Ellis (Alton's son). But there are many more.
RSS: Can you tell us a little more about how the new album was created? The last one featured a female singer, this one is all instrumentals, right?
MG: Yes, the new album is all instrumental. The album has taken a long time, some of the tracks on the album are up to 7 years old.
RSS: Why did it take that long?
MG: To tell you the truth, we had tried to record the album twice before using a multi-track method and overdubs. But we came to the conclusion that it needed to be recorded with us all together in one room, all playing as one to get that edgy sound. Like the instrumental Ska that was performed by musicians in the Sixties in Jamaica. In my opinion, this was Jamaican Jazz. A lot of the tracks were arranged like Jazz standard tunes.
Multi-track did not exist in those days, so putting ourselves in their position seemed to be what was needed to get our sound.
RSS: What are your impressions of the current state of the Ska scene (in Britain or elsewhere)? Is there a Ska scene at all?
MG: Yes, there is a Ska scene in Britain and more so in Europe, it seems, but there is an evident lack of Ska & Reggae music in the British mainstream charts! There are plenty of up and coming Ska bands and also what they are calling 3rd Wave Ska is becoming very popular. We hope to change this and are currently planning a campaign to run alongside the release of our new album, Colt 45, and the lead up to the British Reggae Industry Awards (B.R.I.A), which is due to take place at the end of February 2013 (directly prior to the BRIT awards).
There was also a very recent article in the British press concerning one of our best Reggae DJs, David Rodigan, resigning from his popular radio show (KISS FM) due to the lack of recognition and appreciation of Reggae music. This will also be highlighted as part of our campaign.
RSS: You're in the top 5 of the British Reggae Industry Awards as best Reggae band. Does that mean you will play at the show?
MG: Yes, we hope to play live at the awards show (we have been approached but we are currently awaiting firm confirmation).  Either way we will be at the event. This is a great achievement for us as we are up there with UB40, Aswad and Steel Pulse – in the top 5.
RSS: What would it mean for you if you won?
MG: It would mean a great deal to the Goldmaster Allstars as the general public have chosen the winners and it would mean that we have a loyal network of fans who are supporting us and loving what we do and what we are about – and ultimately what we all believe in, which is creating great music and giving the crowd an awesome show when they come to see us perform.
RSS: A the Freedom Sounds Festival in Cologne, you will play your first gig ever in Germany. What are your expectations? Will we see you more often over here?
MG: Taking our show to Germany means playing the Jamaican world music that we believe in to people we know will appreciate it and respect us for our ability. What we are trying to do is to take people to another place and another level for the hour and a half that they spend at our show. As far as expectations are concerned, from what we have heard the Germans have a great love of Ska and Reggae music and they will not be disappointed!!!
RSS: We certainly hope, you won't be. What else do you expect of the new year?
MG: More releases from the Goldmaster Allstars and more shows around Europe!
RSS: Thanks, very much. We are looking forward to seeing and hearing you in March.
The new Goldmaster Allstars album "Colt 45" is about to be released by Rocking Records in Europe.
More about the Freedom Sounds Festival.