It's Thursday night in London and as every self-respecting Ska fan knows, there's only one place to go: For 33 years now, Gaz' Rockin Blues has been entertaining music lovers and nightclubbers in a small Soho basement. Tonight, there is an additional reason to go there, as we have an appointment with the club's founder and impresario, Gaz Mayall, to talk about his band, The Trojans, who have just released a new album, Smash It!. And smashing it is.
An exclusive free download of the new track "Floss It" (alternate version) from The Trojans' album "Smash It!" will be sent to you, if you share this interview via Facebook, Twitter etc. and tell us about it in an email at: gaz@reggae-steady-ska.com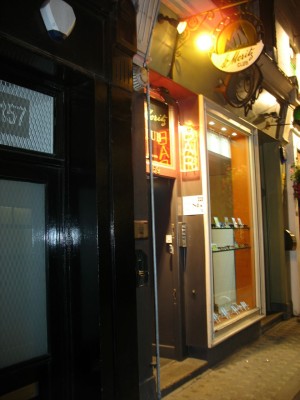 We climb down the steep, narrow stairs. Gaz hasn't arrived yet, so we treat ourselves with a pint of Red Stripe at the tiny bar and take in the unique atmosphere of the place. Tonight's live bands, New York's The Toasters and Finland's Master Blaster, are busy setting up their gear on a stage the size of a telephone booth. Eventually, they give up and place the brass section onto the dancefloor. Some fine Calypso, Rhythm & Blues and early Ska singles are spun by tonight's DJ, Natty Bo, who many of you know as the singer of Ska Cubano and the Top Cats.
The club is like a get-together for the global Ska family, so we are chatting with Natty, Bucket and Cartoon Violence' Chuzz, who plays keyboard for the Toasters tonight, as Gaz finally comes down the stairs. He doesn't seem to be in a particularly good mood. Somebody has forgotten to print some flyers and he won't have it. We begin to worry a little, but when we finally sit down for the interview in a cosy corner of the small labyrinth that the St. Moritz Club is, his spirits are high and he is in a very talkative mood.
RSS: You have done so many things in your life. You've worked as a stallholder on Kensington Market, as a musician and a DJ, a book author and a club promoter, you have produced and written liner notes for other people's records and much more. How would you define your profession?
Gaz Mayall: I'm a musical farmer and also a magician. As a magician I do magical things in a magical way. I give magical service and I get magical pay. As a musical farmer I have many fields where I work the land. But I'm also a bit of a caveman because I do a bit of fishing and hunting on the side. Sometimes I have to leave one field for a year, let it take care of itself. But all the time I have my eye on it, while I'm working really hard on another field. Different crops in each field, there's some musical animals grazing over there, some musical weed growing here. As long as I don't have to have a normal job, I can survive quite happily. As soon as I have to settle in and look for a normal job, I realise that nobody will give me one, because I'm not job-worthy and I don't know how to do anything else except for musical farming.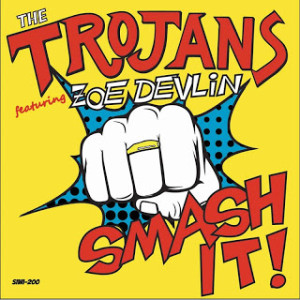 So I have all these different fields. One day the DJing is paying for my rent, the next field is my band paying the rent and the next one could be me producing somebody else. I go to supermarkets and cut the ribbon one day, go to Paris and be a supermodel on the catwalk another day and the next time I'm down here running Gaz' Rockin Blues, the club, or I'm at the carnival or I'm playing with the Trojans; I'm writing some songs and another day I'm in an office running my publishing company or sorting out my paperwork until one day, all of a sudden, I think: Am I an accountant? I need to return to my other fields!
Sometimes I envy other people who have regular jobs. It's nice and easy, you know where you are. You finish your work, you go to the pub and have a little chat, eat some food and you go to bed. You get up in the morning and you do the same thing again.
When I was 15, I met a guy called Harry, who was in his seventies. He had worked for British Rail all his life, joined when he was 16 and left at 60. Every day was the same day. He couldn't tell the difference between one week and the next for all his life. Harry told me: Don't make that mistake!
So I made a point at that time and started picking up "hobbies", having fun and making work out of my hobbies. As long as I'm happy, no problem. As soon as I get a bit miserable, I'm no good to myself or anybody else and I'm a pain in the backside. If I try to enjoy myself, I get paid and everybody else around me is paid. I'll never be a rich man, but I wouldn't swap my life for anybody's.
RSS: So is their a favourite field you have?
Gaz Mayall: My favourite field is going completely off the scale and going wild.
RSS: I've seen that a number of times on stage…
Gaz Mayall: [laughs] … And I was thinking more about fishing and hunting – but there you go.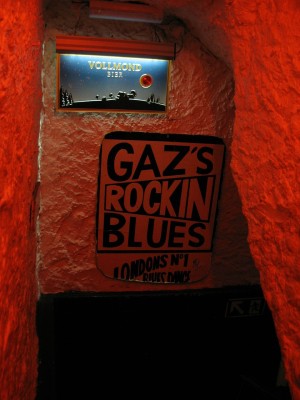 Gaz Mayall: Despite everything I said about having change in your life, there has to be some consistency in one's business. And one thing I've managed to maintain is the consistency in this club. It's one day a week of doing something that I really love. I see every club night as a new experience and try to put on a new band every week, so you never know what to expect. It's always the same club but also unique every week, because of the diversity of music that is played here.
RSS: So do you still deejay every Thursday night yourself?
Gaz Mayall: Every night since July 3, 1980! In the first few years it was only me deejaying. The reason I started the club was so I could play my record collection and exercise my musical tastes in a club environment rather than at home in my living room or at parties. So I fell in love with it. When I began, I thought it was only for three weeks but here I am – 33 years on and still loving every minute of it.
RSS: Is it still the same kind of audience you are drawing or has it changed over the years?
Gaz Mayall: It's hard to say, the same kind of audience, because I've always appealed to quite a wide spectrum of people. You get tribal groups and they're tending to come more on certain nights depending on who is playing. So one night you get the rockers, one night you get the skinheads, another night the punks. I try to stay away from that tribalism, because most guests are just ordinary people. They come for the music, not necessarily the band playing that night. They know there will be a band and they know it's gonna be good.
Also, there is no dress code, no bouncers judging you on the door because of the way you look. When I first started this place, there was a lot of snobbery, people telling you, "No, you can't come in here." But where are these places now? I like people. It's not about the clothes – people can change what they wear in five minutes. It's about what attracts people to a place – good music, good people and a good atmosphere.
So for 14 years I did the club in "Gossips" round the corner in Dean Street.. And when things went downhill there, I moved here, to the "St. Moritz". Two Soho dives that have been going since the 60s and were jazz clubs in the 1930s. This is the last part of Soho that still is what it has always been like.
RSS: Over the years you have discovered a few amazing bands. The very first was obviously the Stray Cats.
Gaz Mayall: Yes, that's true. And recently there's been a band called "The Strypes". They are 15 year-old kids and have this 60s Mod/R&B sound based on 50s American style R&B. Check them out, they are really smashing it at the moment. I gave them their first London gig here earlier this year and by summer they were playing Glastonbury Festival for 8000 people, now they are playing Japan and all the record companies are after them.
I don't really care what kind of music a band plays, it might be 20s-style Jazz, Soul, R'n'B, Rock'n'Roll or Reggae & Ska – as long as people dance to it, I'm happy.
RSS: When some of these bands become famous, do you feel that they give something back?
Gaz Mayall: They always give something back to the people. Whether they give something back to me, I doubt it. The Stray Cats used to hang around my house, playing my piano, but after the first year or so, when they got really big, they got carried away. I have never seen them play since. They were getting so used to all that money that their material changed and I lost interest. But the first set was just hungry.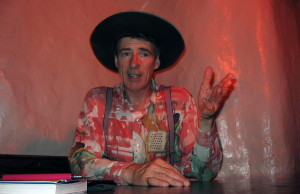 RSS: In 1986, you formed the Trojans and in the process you kickstarted the whole Ska revival of the late 80s. What are your memories of that time?
Gaz Mayall: It was wicked! In the 2 Tone days Ska was the latest carze, but not enough new bands were coming up – until 1985 and The Potato 5. At that time, they couldn't even get a gig, because nobody was interested in Ska in the mid-80s. I told them: Get yourself a singer and come back and I'll get you as many gigs as you want. So I managed them for about a year, produced their first records, linked up with Stiff Records and my label was founded then.
I got them a lot of gigs, linked them up with Laurel Aitken and sent them on tour in Japan. At the same time I got my band going and before you knew it there were loads of other new bands coming up. Since then there has been no looking back, really.
RSS: Maybe this is a coincidence but a lot of the most interesting bands from that time are coming back at the moment. The Potato 5 are thinking about getting back together, Bim Skala Bim have a new album out and Maroon Town have reunited with their singer Stevie B.
Gaz Mayall: My band, The Trojans, have been going all the time. We've always been playing – sometimes a lot, sometimes a little but we've never given up. Nobody has real jobs except for the music.
An exclusive free download of the new track "Floss It" (alternate version) from The Trojans' album "Smash It!" will be sent to you, if you share this interview via Facebook, Twitter etc. and tell us about it in an email at: gaz@reggae-steady-ska.com
RSS: Nevertheless it took you some 11 years to release this new album.
Gaz Mayall: More than that. The last album, Desiderata, was released in 1999. Well, the engineer I really liked working with, Damian Korner, became ill. I thought he would get better, but he didn't and eventually died. It is difficult when you can't work with the guy you had known since you were six years old. After that it took awhile to find the right person we wanted to work with in the studio. I have my techniques and my methods and I need the right guy there. But finally I acknowledged that it was time to move on.
Also, we have such a big repertoire. One guy leaves the band, emigrates, gets married and you need a new guy in the band. You have to teach him all the material. That takes some time. And then you've got substitutes sitting in because someone can't make a gig and you have to teach them everything. So to keep the show going and come up with a new album you really have to be in the mood.
Also, we have been living through this recession and I had to concentrate on the club to keep it going.
So for a long time and as long as the band was ticking on I didn't really see the point of recording a new album. But there came a time when there was such a lot of pressure to record all the material we had assembled. And I had found [Nick] Manasseh and his new studio in Notting Hill, so we thought, let's try and see if it's good enough. Manasseh has been in the reggae scene for a long time. My first girlfriend married him and had two children with him. Now they've split up and the girls have grown up. That's how long we've been knowing each other!
Finally I had enough incentive to record a new album. There's this Japanese label, Ska in the World, who are very keen and have lined up a tour for us in Japan.
RSS: The resulting album, Smash it!, is definitively worth the long wait. It seems to be more song oriented than your previous albums…
Gaz Mayall: After 15 years of absence I've got a lot of things to say! [laughs].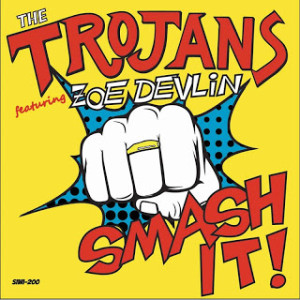 RSS: The album features a new female singer, Zoe Devlin. At the moment she on X-Factor. What does that mean for the band?
Gaz Mayall: Since Zoe signed up for X-Factor, she has been forced by way of their contract to cancel the forthcoming tour of Japan. To replace her we have Hollie Cook, daughter of Sex Pistols drummer Paul Cook. She has several of her own singles released already, mainly produced by Prince Fatty in Brighton. She went to school with Zoe and as teenagers both were big Phyllis Dillon fans, who massively influenced both their careers.
Let's see how Zoe gets on with X-Factor before speculating on her future. Having seen her in it and weighed up her competition I can't help feeling that she's not 'pop' enough for that world, so I don't think she'll last the course on it.
She put in a great performance with The Trojans at this year's Notting Hill Carnival with Hollie on harmonies. It's a shame she'll miss out on a readymade audience in Japan. She would've gone down a storm. They would have adored her. It's all about decisions.
If I was her manager I'd have dumped X-Factor after the initial stages and had her do the tour. I think she's shot herself in the foot and Hollie will walk off with all the glory and sell loads of her own merchandise.
The promoters in Japan are not happy as they've put Zoe's name on all the posters. The label's not happy as I'd insisted on putting her name on the album cover. I'm not happy with her as she's let the band down, the label down, the promoter down & most of all the Japanese punters who are paying money to go and see her. The show must go on as they say and in the show biz one has to find a way through adversity. I'm sure the tour will be a huge success anyway.
An exclusive free download of the new track "Floss It" (alternate version) from The Trojans' album "Smash It!" will be sent to you, if you share this interview via Facebook, Twitter etc. and tell us about in an email at: gaz@reggae-steady-ska.com
RSS: Some of the lyrics on the new record are quite up-to-date, like the song about Pussy Riot.
Gaz Mayall: There's a lot of things going on in the world that are heading in a certain kind of direction… It really vexes me, that Pussy Riot situation. Russia has gone back to this Cold War attitude.
RSS: And our governments aren't doing much about it.
Gaz Mayall: They are all scared of Russia. And people are afraid of China, so they won't say anything about China violating animals' rights. The first song on the album, Elephant Killers, is about that. The Chinese are buying into Africa, subsidising the poorest states, killing the elephants and taking the ivory back to China. There were a million elephants in 1980 but today there are only 400,000. The rangers are getting very little but the poachers are getting huge amounts. I felt it was time for somebody to address all that corruption. It's things like that that really touch my heart.
RSS: I know that you're big in Japan, but is there any chance you might also tour Europe?
Gaz Mayall: I think when we get the album released in Europe later this year, there's a good chance we get some tours lined up. I'd like to, because a lot of people in continental Europe haven't heard us play new material in a long time. They might even think that we don't exist any more.
RSS: It would be fantastic if you could take the line-up from the CD on tour.
Gaz Mayall: Well, we're talking 14 of 15 people here, not easy. We are taking 14 to Japan but they've got the money over there. The first festival is in front of 10,000 people and the other gigs are clubs of 700 or 800.
RSS: Notting Hill Carnival is coming up next weekend. What are your plans for this year?
Gaz Mayall: I always have the same soundsystem in the same place, but every year a different theme. This year it is the Time Machine. One DJ will be a wicked 14-year-old kid called "Ted at the Controls". I've got Dennis Alcapone, Winston Francis, Vin Gordon on trombone, Mick Jones with a local band called The Rotten Hill Gang. Paul Simonon will do Guns of Brixton.
RSS: Wow, so you'll have half of The Clash on stage!
Gaz Mayall: Exactly. Then, we've got the Goldmaster Allstars and the Delegators. They`re really hot, the female singer is fantastic. There's a local soul group with a girl called Alexa and then of course, Syco, who was one of the first Blue Beat recording artists.
At this point, Gaz suddenly suggests a little tour of the surrounding area, so we leave the St. Moritz, enter the bright lights and he shows us some of his favourite spots in this part of Soho that is so full of musical history. Gaz points out the former sites of clubs, like the one where Louis Armstrong used to have a residency for some time in the 1920s.
Gaz Mayall: Oh, how I wish I could take a time machine and spend a night out in that era! It has always been happening in these four narrow streets in Soho: Greek, Firth, Wardour and Dean Street. They are the last bastions of the old Soho, despite all the rapid change going on in London.
We end up in the "Dog & Duck", one of the few traditional pubs that are still going, for a round of Real Ales. It's time to ask Gaz about his father.
RSS: Your father, John Mayall, is a famous Blues musician. Has this affected your musical development?
Gaz Mayall: He must be an influence, though he wasn't famous when I was born. He was just very passionate about music. There was always music and he was always touring. He's a workaholic, basically. He's been in Norway and Sweden recently, he's going to come over here soon and for his 80th birthday he'll be back in America and of course he's got a gig on that night. He just loves to play and never stops.
I got this kind of work ethic from him but at the same time I'm a lazy bastard. He is sacrificing a lot of things in his life because he is always focused on the next record and the next tour.
Myself I'm more of a people person. When I go out touring I like to mix with people and meet the locals. I want to take in everything and don't sleep much on tour, whereas my father has his strict routine: He gets off the tour bus, into the venue, sets his gear up, gets his dinner, puts it in the takeaway box, goes to the hotel, checks in. Then he rearranges his hotel room, sets up his microwave and his DVD player, gets back to the venue, plays the gig, having first sold some CDs in the foyer, packs in his gear, goes back to the hotel, puts his dinner from earlier into the microwave, puts his feet up, enjoys his dinner while watching some films and goes to bed at three o'clock in the morning. He gets up in the morning, has breakfast, gets on the tour bus and repeats the same routine everyday.
Me? I get to the venue, hardly do a soundcheck, leave it to the other guys set up the gear. Meanwhile I run around the town. Where is a nice café? Where is a beautiful park? I talk to some people, look at some tourist spots, maybe even do some fishing, if there is a river, rejoin the band for dinner. If the food is not good, I look for a really good restaurant nearby, run to the venue, have some drinks, get on stage, check out the audience and play the gig.
Afterwards I hang out and party. And if someone invites me to another party and then another party, I party all night. Sometimes I don't even get back to the hotel.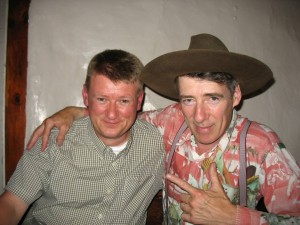 Gaz Mayall: I've always got enough guys in the band who know that I will be there at 10 o'clock in the morning, when the tour bus leaves. I only ever missed one gig, in Mainz, for Marc Varesco, but it wasn't my fault. Mark, the drummer, was driving us from London to Stansted airport and he was talking too much with the bass player and missed the turning to the airport, so we missed the flight and the gig. It's the only gig I've ever missed since 1986. That's not too bad.
RSS: Considering you grew up in a Blues environment, how come you turned to Ska?
Gaz Mayall: Jamaican music came out of the Blues! People say it came out of Calypso but Calypso is really a Trinidadian thing. The Jamaicans had their Mento, but in the 1950s they also had these huge soundsystems that were all about Rhythm and Blues. Jamaica is quite close to the US and in the 50s you could easily catch the radio waves from New Orleans. In addition, American Navy soldiers introduced them to a lot of good music like Rhythm and Blues, Jazz and Swing. So that became the backbone of Jamaican music and it also included Irish music, Irish chord structures. That all mixed with indigenous music like Mento.
As a kid I had that Blues influence from my father, coming from Chicago and the Delta. But I also had the street music of the kids my age and it was all Ska, Rocksteady and Reggae in the 60s. You heard it in all the youth clubs, all the kids were dressed up as skinheads or mods. Also, we had a lot of black kids at school in south-east London. And when I moved to Notting Hill in 1970, there was a whole lot more. The Jamaican influence was massive in London in the late 60s. From about 1964 it had a strong impact on the whole culture.
I remember us watching a young girl singing on TV, handing out lollipops to the kids afterwards. [ed.: Millie Small singing My Girl Lollipop] That was enough to get us hooked onto Ska, even though I didn't even know what it was called.
But the older people knew what it was called, it was taken up by the mods and later the skinheads. It just swept the nation. So from about 68, 69 to about 71, it was really massive.
From 1972 it began to change, there were a lot of people who weren't that creative and thought, Oh we can copy that! So a lot of the stuff that came out then didn't have the right guts, heart and spirit.
RSS: The few bands that have become successful with ska seem to prove your point.
Gaz Mayall: Yeah, I rest my case at this point. Let's not mention names.
RSS: So do you think we will live to see another new wave of bands doing something new and interesting with Ska?
Gaz Mayall: Maybe, but for a new reckoning, somebody has to do something that hasn't been done before. It will happen naturally because somebody will take everything that he loves about the different genres of music and they'll add something from their generation and their world, mix it up and come up with something different. It may even be a different instrumentation, a way of recording and manufacturing sound that hasn't been heard before.
RSS: The Trojans have experimented quite a bit with different instrumentation.
Gaz Mayall: Well, we went back a bit to bring something up-to-date. Even though I'm quite a purist I like to explore different possibilities. Fortunately I have been around long enough to know quite a lot about all the different styles of this music. Ska became a national phenomenon Jamaica in the mid-60s, then it became huge in Britain and after that swept the world. And there has been wave after wave since then. Reggae is actually a kind of Ska, not the other way round. Reggae came out of Ska. It has been slowed down but it's still the same rhythm. So you could even call today's Jungle or Drum 'n' Bass a type of Ska, because you can trace it back to that. But when you go down that road for too long, after a while you want to go back to the roots, back to the origin of Ska. It is like sometimes when you go into a room to look for something and when you are there you ask yourself: What was I looking for? The only way to find out is to retrace your steps and go back where you came from.
RSS: But it is the way a lot of people discover Ska. They might listen to a modern band and at some point realise that some of their songs were actually written by somebody else and are much older. So have you had any new band at the club recently that might give a fresh breath of air to Ska?
Gaz Mayall: There's a young band supporting The Skatalites tomorrow night at the Jazz Café called Chain Ska Brassica. It's not a very good name… They played for me at Glastonbury Festival where I have a stage. I owed their manager a favour and she really wanted me to book them. But when I first saw them on the Internet, they look really boring. I told her I have a lot of good bands and the only way I could let them play was if they really dressed up and gave their best rather than just turning up like some 18-year-old builders with their bums hanging out their pants, thinking they're cool when they're not.
So they turned up at Glastonbury looking really slick, really made an effort and thus their delivery was so much better. They played a really good set, so Number 1 Station, an old London band, asked their horn section to play with them and that really kicked butt, because you had a rhythm section that could really play the original Ska and Rocksteady and the young guys on horns gave it a fresh energy.
So Chain Ska Brassica could be a contender but there are so many bands out there. I still like the ones reaching back to the original style, like The Delegators. That's why The Trojans try to push the boundaries and do something original and new, but at the same time I wanted to go back to where we came from, the original Trojans sound. So there's Ska, Mento, Rocksteady, Boss Reggae and a bit of Reggae on the new album. But we didn't try to be trendy. It's best to do what you can and love with the best people available.
RSS: Well, I definitely don't know any other band that sounds anything like the Trojans, so you have achieved that.
Gaz Mayall: We've got our own sound. We weren't really looking for it, but as a band we have our own story and we're all individuals, so that makes us different.
RSS: But you also take risks. I remember one Trojans gig in Hannover when you had two bag pipe players on stage. Not everybody liked it.
Gaz Mayall: Did we have two? Yeah we might have had…. If you don't take risks, then you're not brave and you don't stand for what you believe in. You have to do what you believe in. Maybe some people won't like it, maybe a lot of people won't like it. But that's not a reason for you not to do it.
If they don't like the way I play their music, why did they come? I can understand people who want to listen to the same things over and over again, but I can't change who I am. I've got to put people to the challenge, like I do over the Pussy Riot issue or the Chinese killing the elephants. I have to do it my way.
RSS: Thanks very much.
Gaz Mayall: Cheers, guys.
Interview: Peter Clemm. Photos: Andreas Werner.
How to get the new album:
Smash It! Has already been released as a 15-track CD in Japan by the Ska In The World label. It's available as a 17-track download with extra tracks "Love Is All I Had" and "Perfidia" at cdbaby.com, itunes and amazon.
It will also be released as a limited edition of 500 copies on yellow vinyl in the UK in time for Christmas and possibly as a CD.
Watch out on gazrockin.com or Gaz's Facebook page for pre-order information.