It's the weekend of weekends for ska, old-school reggae and soul fans in the German Rhine area and around. The sixth edition of Freedom Sounds Festival brings loads of great international bands, unique performances and the chance to catch up with tons of friends you only see once a year. Plus, there will be a This Art 2-Tone exhibition all weekend by and in the presence of the legendary John "Teflon" Sims.
Have a look at the impressive list of artists performing at the Gebaeude 9, the best location for live shows in Cologne, Germany, and you know why you should make it a date for next year, if you aren't coming already.
Day 1, Friday, 20 April, 2018
The Invisibles (NL)), The Magnetics (Italy), Heavyball (UK), Intensified (UK), Masons Arms (GER), The Tibbs (NL), The Trojans, Supertonic Sound Club (Ireland), Dub Spencer & Trance Hill featuring Umberto Echo, Allnighter with DJ Gaz Mayall and Wicked Bighead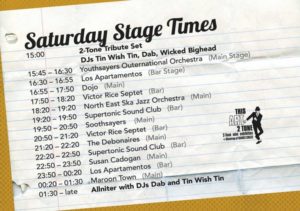 Day 2, Saturday, 21 April, 2018
Youthsayers Outernational Orchestra (UK; GER), Los Apartamentos (GER), Dojo (UK), Victor Rice Septet (USA, Brazil, Belgium), North East Ska Jazz Orchestra (I), Supertonic Sound Club (Ireland), Soothsayers (UK), The Debonaires (USA), Susan Cadogan (Jamaica), Maroon Town (UK).
Get into the Freedom Sounds vibe with these spotify and youtube playlists.
We will hook you up with impressions from the festival weekend. Have a great one.