I get it—you're busy. We're all busy. But are you Roger Apollon Jr. busy? A member of the legendary New York City ska band Bigger Thomas [listen to tunes at Bandcamp] and the frontman and founding member of both Rude Boy George [tunes] and Heavensbee [more tunes], Roger is now a co-owner of Four City Brewing Company in Orange, New Jersey (right next to the Midtown NJ Transit train station.) He's also a founding member of The Brew Council, but I'll let him explain that. I should also note that he holds down a full-time day job, and while that job's cool, it's not Bigger Thomas/Rude Boy George/Heavensbee/Four City Brewing Company cool. He's a busy man, but I managed to catch him after a red-hot Rude Boy George here in exotic Rochester, New York.
We have a lot to cover. Where do we start?
Rude Boy George first. We're going to Specialized in November, which is the second year we're going. We're also playing at my brewery [see below] for the Halloween party. And my other partner, Anthony, he's in the Rudie Crew [dig some tunes here], so he's going to play, too. So our two ska-reggae bands will play going into November.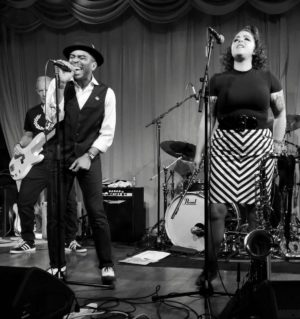 Then Rude Boy George is going to the studio to do another EP. We all have serious day jobs, so when we get together for these weekend shows we talk business, and we decided we need to record new music. So we're going to go back into the studio within the next two or three weeks to do another EP that we want to put out for Christmas. We're going to redo Jesus Is A Friend Of Mine. Sal Polichetti, he's going to sing and play bass on the track. And then the B-side, we're trying to do Devil Inside from INXS so we'll have Jesus Is A Friend on one side and devil on the other side. So that's the idea for Christmas.
We want to go to California next year, so next spring we're trying to get Skapones to line up their schedules so we can do California, Southern California. That's our next goal. Hopefully, then, maybe next summer if California goes well, then hopefully Mexico, we want to really get out there.
EPs seem to be the way every band's going.
Putting out EPs makes sense. You want to keep people interested and you have new music. Sometimes a whole album that takes about a year. For Heavensbee, we recorded an album over the course of 12 months with six or seven different artists because that was more for us. Not that Rude Boy George isn't, but that's the stuff that's going to get you back in the studio.
To be relevant, you have to produce new music. So EPs are just a way to say, "Hey, we're still here. Here's some new material that you could see at our show." Because, you need that.
However, you have to please yourself as a musician. So I think being over 50, I'm starting to realize the importance of the art of doing music because I'm at a point right now, if it's not fun, I don't want to do it if it's work. Because I work bloody hard at my day job and I work bloody hard at my fucking brewery job, which I love because I have ownership statement, and the music, we're in Rochester [5+ hours from NYC], we should all be at home sleeping. But we're in Rochester, you know what I'm saying? My point is, if it's not fun, we don't do it.
And of course you have Heavensbee.
Everybody should have a Heavensbee where you do music for the art of music. I think if more artists focused on pleasing themselves, the art will come, and I feel like the state of ska reggae, there's an opportunity to expand on medium.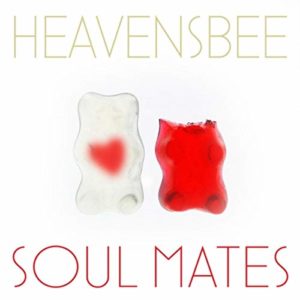 A lot of people want to play it safe and play songs that give them revenue and income and that's fine. Again, Rude Boy George is fine. However, if you're not creating art that's relevant … Bob Marley, Peter Tosh, those guys weren't trying to recreate anything. They were creating this different sound. And they were, at the time, creating new music with the best technology that they had. As a part of this community of ska and reggae, I feel like there's part of the community that looks down at artists that use electronic instruments or other ways to create music. But regular artists back then were creating, were using digital, Casio sounds, whatever was available. They were putting it into reggae and ska. I feel people need to really push the boundaries and that's what Heavensbee is for us. Think beyond, use reggae as a platform to do this other shit that's relevant. Don't go for the easy kill. I feel that to be a real artist, you have to put yourself out there, put yourself in positions that make you uncomfortable only to expand your art. With Rude Boy George, we have the opportunity to take songs that people know and turn them on their heads in a way that nobody would think of.
And with Heavensbee, you get to bring out a different side.
It's different. This year with Heavensbee the focus was collaborating with artists that we respect. So we sent emails to everybody we respect. We may not know them personally, but we've got their emails and said, "Hey, here's what we're doing." Whoever responded is included in the album. And so Honeychild Coleman, who is a Brooklyn artist—amazing songwriter, amazing singer, DJ—she played guitar with us, and I think she played guitar with Ari Up with Slits. [She did]
She was the first one to respond. She came to the studio and it was immediate. You don't know what's going to happen and Mark makes the music and we get in there. So Honeychild Coleman, Dunia Best, who was in this band Dubistry, who was also in Agent 99 … an amazing vocalist. Oliver Rhee from The Boilers came through. Robert Tierney from The NY Citizens came through and we're thinking about doing a separate album with him alone because we had so much fun. So it became this organic thing, and then it's five songs and then it's seven songs and then it's 14 songs. Now we're at 22 and we're pairing that down to 14. Well, we have 22 songs, but you know what? It was great because every time we went to the studio, we didn't know what was going to happen.
That's what Heavensbee is, that's coming out soon. We're going to record a video, but we feel like this is our statement [about having to] push the form. Reggae is all about experimentation. True reggae, in my opinion, true reggae, true ska. The Specials weren't trying to recreate anything. They were creating a sound. People forget that. So stop trying to create that. It's 2019. Start here and move forward.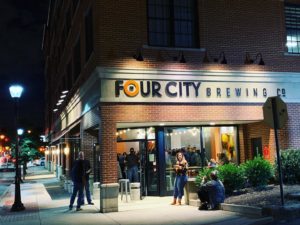 Speaking of different, tell us about Four City Brewing Company (in Orange City, New Jersey.)
Right next to Orange train station, 30 feet away. You get out, you can see the brewery from the train. That's how we get a lot of our customers—straight from the train.
How'd you find yourself a partner in a craft brewery?
Fifteen years ago I got into craft beer. I went to Rutgers, lived in New York for a few years and moved back to West Orange, my hometown, 15 years ago. I thought I was kind of a bit of a loser because you're moving back to your hometown, you didn't cut it in New York. However, now that I'm back, my neighborhood changed for the better, more diverse. Anyway, I went to a beer tasting, met a couple of homebrewers and said, "Come to my house with your homebrew. I'll invite my neighbors and we'll critique it." We liked beer, and that was the birth of what we call the Brew Council. It was a joke because I liked the Style Council.
So many new things start as a joke and then turn into something real.
It was really just that. We were meeting once a month at my house and doing tasting notes, doing research on the beer, writing write-ups, inviting people over, educating, I'm learning. And then as a joke I'm like, "Let's make polos with the brew council logo and let's go to beer festivals and walk around and say 'We're the brew council!'." So we're walking around, people are like, "I think I heard about you guys on Facebook! Do you guys do consultation on beers?" And we're like, "Yeah, sure. Here's my card." We had cards made. They're like "Oh we'll call you. Do you guys do in home private tastings?" "Yeah, here you go.".
Then people started emailing us back like, "Oh so the 25th of next month, can you come in and talk about beer?" Now we're doing these beer tastings in people's homes. And then a restaurant's like, "Can you pair three of our dishes to three different beers?" Next thing you know we're doing beer pairings.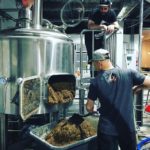 We're doing this and then I go to a party with my brew council shirt. Hour into the party, some guy comes up to me.
"Brew council! I heard about you guys, do you guys brew beer?"
I'm like, "Nah, we just do events and tastings."
Hour later, same party. "Hey, brew council. I heard about you guys. Do you guys brew beer?"
"Nah, we just do events. We just do parties."
Same party half hour later "Brew council! Do you guys brew beer?"
Why not? "Yeah," I said. "We brew beer."
I called my friend Anthony [Minervino]. "Yo. Get to this party right now. Bring your shirt, people think we brew beer." 11:30, he comes through the door.
"Oh, the brewer guys. When are you guys opening a brewery?"
We're like, "Soon. Real soon."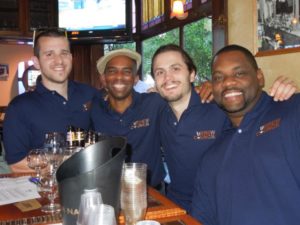 We had no idea, business plan, whatever and then we meet our friend Jeff [Gattens], he's trying to start a small brewery. The next thing you know, we're pitching. We're doing Shark Tank stuff. That was three years ago. The only reason we opened a brewery, because everybody thought we brewed beer already. So we had to do it. That's why I own a brewery, that's the only reason. I swear to you. That's the honest truth.
But now you have an obligation to do something meaningful.
Right. The beer has to be obviously very good, but there is something, a vibe, and that was something that was really integral to me. We believe that beer is a backdrop for communities. People don't talk anymore because everything's on the phone, but at a brewery you can come, we have TV screens that have the menus on it, but we don't show TV. We want people to talk. Talk to somebody you've never talked to before. Because the only way that you're going to make America great again is what made America great in the first place. Every town had their own economy. Craft beer is part of that. If we can be the brewery of our town, and there could be another brewery for another town, if there could be a bakery for one town, you don't need Costco and you don't need the malls. You don't need that, because this is the group from my town, if they're going to make all the beer that I need, I don't need to go to Budweiser because it's all here. The only catch to make America great like that again is that this time people of color have to be included in that prosperity because they have a vested interest in it because they've helped build this whole thing, too.
There's three craft breweries within a mile of this club, ten more if you go out five miles. That's Rochester, which, by the way, has a lot of breweries. What about competition from other breweries in New Jersey?
New Jersey is 45th out of the 50 states in breweries per capita. 45th out of 50! That's another reason I opened the brewery. I'm hedging my bets. This is virgin territory.