When the Skatalites everlasting world tour stopped by in Cologne recently, we were invited backstage for an extensive interview with the longest serving members of the band, Doreen Shaffer, Val Douglas and Lester Sterling. All of them are musical legends in their own names, so there are a quite a few stories they have shared with us.
As the band is in its 49th year and about to grace European stages again for their summer tour, we are proud to present to you, our first of the three interviews with the lovely Queen Of Ska herself, Doreen Shaffer.
RSS: Doreen, The Skatalites disbanded in 1965. What did you do in all the years until you rejoined the band in 1992?
Doreen Shaffer: Well, I had kids. For a while I was completely out of the business. Then I got an offer to go to Nassau in 1967. I was there for 18 months working at a place called Island House. And when I got back home, I had more kids. (laughs) In the following years I did not do very much. I recorded for Studio One on and off, but to complete an album took quite a while
RSS: What are the chances of your Studio One recordings to be released (again)?
Doreen Shaffer: Well, some of them have been released on compilation albums, but they still have tapes of songs that have never been released. But I have no idea what their plans are, now that Coxsone's daughter is running the business. I wanted to go and see her in Jamaica because of that, but had to cancel my trip for various reasons.
RSS: You are one the Jamaican artists that have not been published very well so far.
Doreen Shaffer: One reason is that I haven't done a lot of recordings because in the early years I used to play live with the band most of the time, along with Jackie Opel, Tony Da Costa, Lord Tana
mo. Another reason is that I have never recorded outside Studio One, so it's entirely up to them.
RSS: When exactly did you move to New York?
Doreen Shaffer: That was in January 1992. They had a festival in Central Park that summer and that's where I met up with the Skatalites again.
RSS: And you have recorded for and with others since then.
Doreen Shaffer: Yes, since I started travelling, I do more work overseas than in Jamaica.
RSS: Your work with Dr Ring Ding and The Moon Invaders, for instance, was really good. Any more plans like that?
Doreen Shaffer: Yeah, thank you. I'm supposed to work with the Steadytones in another week or so. I did a recording with them and we'll do a few shows.
RSS: Are they your new backing band, then?
Doreen Shaffer: No, no. But sometimes the Moon Invaders are busy, so I work with others like Soulfood International, too.
RSS: Any plans for a new album?
Doreen Shaffer: I have just recorded a new album with the Skatalites, Walk With Me. With regards to a new solo album, let's hope for the best and see what happens.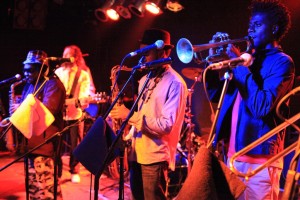 RSS: Except for Lester and maybe Val Douglas, most musicians you play with are much younger. How is it to tour and play with people who could be your children or even grandchildren?
Doreen Shaffer: It makes no difference! It's just work.
RSS: What about your audience being much younger?
Doreen Shaffer: It's rewarding, you know, to know that what you are doing appeals to the kids. That's what I call them, really. (laughs)
RSS: How was it to work in the music business as a woman in the 1960s?
Doreen Shaffer: Very rough! In those times you had complete male dominance. The few females like Phyllis Dillon, Dawn Penn or Hortense Ellis came after me. At the time it was Patsy Todd (Stranger Cole's duet partner) and me.
RSS: So you didn't feel very accepted by the men?
Doreen Shaffer: Well, I had my determination to do it, so I let nobody try and stop me. Sometimes things occurred, but you get to the point where you say, I'm not going to let that bother me anymore.
RSS: And here you are!
Doreen Shaffer: Well, my determination came out of here (points at her heart). I just love it. I want the younger folks to know that you can do anything if you just put your mind to it.
RSS: With a name like "Shaffer", you are bound to have German roots?
Doreen Shaffer: Yes, my grandfather was German. I don't know much about him as my older sister passed on. I was informed that he came to Jamaica and bought some land to farm it. But he soon sold the land back to a sugar cane estate. He wasn't around for very long and I don't know much about him.
RSS: So Germany probably doesn't feel much like home to you?
Doreen Shaffer: For me, Jamaica is home – even though I live in New York. In the past two years I have not been able to go back down there because I was so busy with the band and then we just had Hurricane Sandy in New York doing a lot of damage, not to my house, but some people I know have been relocated. Well, so many things happen, but you have to stay focussed. At the moment I am just happy to be with this very talented group of young musicians in the band. They have this rich Jazz history behind them and I'm thankful to be able to contribute what I can.
RSS: Don't you sometimes feel sad on stage when you think of the many band members that have passed on?
Doreen Shaffer: Yes, but we try to keep to keep it going. I never question that part of life. It's something you have no control of. We'll always remember those that came before us and paved the way for us. Recently we lost Brevette and Knibb, but that's life.
RSS: And yet the band still sounds amazingly tight.
Doreen Shaffer: Yes, they are very good musicians and Lester keeps them on their toes! (laughs) Seriously, everybody knows what they have to do, everybody wants it to be good, so we unite. We are all close.
RSS: It's fantastic that you keep going.
Doreen Shaffer: Yes, people ask me, how are doing it? And I say, I don't know. I just give thanks that I can.
RSS: You don't seem to age a bit.
Doreen Shaffer (laughs): I just don't think about that. Honestly! I'm just thankful that I can still play my part and please all these people. Whatever I give to the audience, I get back in energy for myself.
RSS: Well, we can certainly see that. Thanks very much for your time.
Doreen Shaffer: It was a pleasure!
Interview: Peter Clemm, Sven Trapp, Photos: Uli Grobusch
You canfind the current album "Walk With Me" by The Skatalites at Amazon.
Also make sure to read the forthcoming interviews with Lester Sterling and Val Douglas.