He is the producer of Rocksteady classics like "Stop That Train", "The Loser" and so many others. It would be a bold understatement to call Derrick Harriott underrated when it comes to public awareness of his work. Why so? The writer, producer and singer discussed some of the reasons with Reggae Steady Ska after his festival appearance in Mainz (Germany) in 2013. And finally he is ready to claim his spot in the chronicles. At his one-off show, the 70-something presented himself in really good shape, and indicated that this is just the beginning.
Reggae Steady Ska: You are a singer, a composer, a producer, a record shop owner. What's your main profession?
Derrick Harriott: I think writing. I'm a better writer than singer.
So how big was your influence on the songs that you produced for other singers?
Well, I wrote a lot of these songs, I told them how to sing them.
Why did you not sing many of those songs yourself?
A man who writes a song wants as many people as possible to sing it. The more people sing it, the more royalties he gets. Look at Dolly Parton, for example. She wrote the song that Whitney did, "I will always love you". That has made her rad rich!
Royalties are always a big issue within the Jamaican music industry. Did you get your fair share?
Sometimes no and sometimes yes.
A lot of people have covered "Stop That Train", for example.
Oh, I get royalties for that whenever they come through honestly.
Does it also make you proud that so many people are coming back to your old riddims?
Yeah. For example Freddie McGregor cut a version of "The Loser" as "The Winner". That came out really well.
You launched quite a lot of singers that went on to become very successful.
Yes… Keith & Tex, Rudy Mills, Kingstonians.
And Dennis Brown was only 12 when you recorded him, right?
Oh yes, when we did "Lips of Wine", the first song he ever recorded. A little after that he did "Silhouettes". I also gave him the song "No man is an Island", but then I had to leave Jamaica for a while. And when I came back, I heard that Coxsone had recorded it in Studio One. When you're young, you are anxious to get recorded. You can't wait.
I missed out on "Uptown Top Ranking" too, because I was the first person who put Althea into a studio. And then the same thing happened, I went away for a little while and they had recorded it for Joe Gibbs. That's life, you never can tell.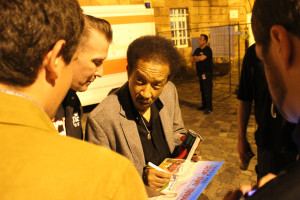 Still, the catalogue of your productions speaks for itself. And most of these singers are still around.
Earl Sixteen did the original version of "Malcolm X", written by Winston McAnuff.
Winston McAnuff has a huge hit over year in Europe at the moment: "Garden Of Love".
Really? I didn't know that!
Looking at the list of the singers you recorded, most of these people are open to a wide spectrum of music: Earl Sixteen playing with Dreadzone, Horace Andy performing with Massive Attack. Did you see this potential in them as young singers, that they can stretch out and cross musical borders?
I don't know about that. But I do know that Horace Andy did some excellent things with Massive Attack. Winston wasn't supposed to sing, but I made him sing. He wrote a song called "Ugly Days", so I told him, "Winston, you better sing it yourself!" And it came out great. I have one album and still a few unreleased songs, so I'm working on a compilation of his songs.
Saying that, quite a lot of your releases are not available at the moment.
I know. I am on my way of getting things organised at the moment. I have three albums coming out. One is called "The wicked falsetto voice of Derrick Harriott", another says "Reggae Love Songs and Tearjerkers". Some of the songs on them are really hard to get hold of. The third record is "The DJ Graduates" featuring people like Yellowman or Welton Irie.
So you are still active in the music business?
Still active, but I haven't produced in a while, which is a shame because I have so many things piled up. But now I have a distributor, Tod's Records in Jamaica, who will release a lot of my records, both re-releases of old recordings and new stuff. For example, I have a new tune with Tarrus Riley and a killer original song called "Bring Back the Arc of the Covenant". We are just about to shoot the video.
Are you still based in Kingston?
Kingston and New York. I also did shows in Los Angeles and San Francisco recently. Wonderful shows and I realised that people want to hear songs I had nearly forgotten about, like "Sitting on Top" [starts singing:] "The girl's all right with me…"
We wondered why you didn't play "18 With a Bullet" today.
Yeah, that was my biggest hit in England. There so many more songs I have to include in my set in the future, I realised that.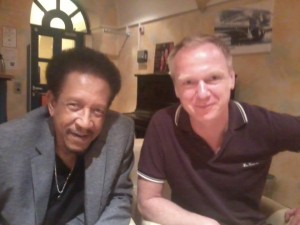 You seemed to gel very well with The Moon Invaders as your backing band.
Yeah, they're really good… but if I had Lloyd Parks with me, I could probably sing the whole night! [laughs] His band is touring with The Tamlins at the moment, who sang on many of my records.
The Tamlins like so many artists are featured in the film "Rocksteady – The Roots Of Reggae". Why are you not in it?
Something went wrong. They came to me but it never sounded steady and concrete. At the time it seemed a little shady to me. U Roy does "Stop That Train" on the soundtrack and I still haven't received royalties yet, you see? [laughs] I have to get behind that.
It seems to happen frequently that your name is unfairly forgotten when it comes to the really important Rocksteady records.
Sometimes I've relaxed too much. I'm more laid-back than other guys but that doesn't work today.
And yet you still accumulated a lot of great work! Quality is surely more important than quantity.
Yes, thanks. A lot of my records are still played today, so they seem to last.
Of all the singers you have worked with, have you got a favourite?
I put a lot of effort into The Chosen Few. Noel Brown and Richard McDonald made quite a lot of great recordings. Our version of "Shaft" was a number one hit in Jamaica. As a matter of fact it forced Isaac Hayes to release it as a single when he heard about our success. It had only been an album track until then. Good old Dennis Brown is another favourite, of course.
Is there is still an audience for Rocksteady in Jamaica?
Always! Most of the new artists use the bass lines and the musical patterns from Rocksteady, for example, Richie Stephens did a new song recently with U Roy and it's very catchy.
There seems to be a trend back to real songs played with real instruments, rather than computers in Jamaica. Is that right?
Yes, definitely. A lot of people go for a live sound now, with real drums, getting back the feel. Music is a feeling! You have to use live horns, not keyboards to catch that feeling.
In the early 70s you produced quite a lot of tunes that were inspired by Spaghetti Western films. Were you a fan of these films?
The people in Jamaica loved them. We didn't call them Spaghetti, we called them the real hard-core Western! Everybody loved Clint Eastwood, so we did the dollar series. Wednesday in Kingston was usually a half day. So come afternoon, everybody used to lock up and head straight down to the Carib Theatre for the latest movies, For a Few Dollars More, The Good, The Bad & The Ugly. That's where I got my "Undertaker" from: "What can I do for you, mister? I'm the undertaker." – "Make me three coffins, brother… My mistake, make it four!" [chuckles] I have had to record these lines so many times for people who wanted to use them on their records. I was the first one to do these songs and soon after Lee Perry and Clancy Eccles followed.
So it makes sense that "The Harder They Come", the Jamaican movie that was inspired a lot by spaghetti Westerns, opens with your tune, "Draw your Brakes".
Yeah, sure. Scotty's version. His style was a little different from the other DJs. He also was a member of The Chosen Few before he did the Scotty stuff. One day he came to my store, imitating the other DJs. And I said: "You know what? I better take you into the studio!" I had the song, Solomon, which didn't go to number one. It was close, but only number three. Then Scotty did a version, "Riddle I This", and it went straight to number one!
Was tonight actually the first time you played here?
That's right. The first time in all my life and I loved it! My friends from Jamaica who toured here before me, like Ken Boothe, Sugar Minott or Culture, have always told me how nice Germany was. So I thought I should try myself.
On stage you said that you liked Germans because they are fit and have strong legs?
Yes, I take notice of that because I like fitness and health. I noticed that you Germans do a lot of cycling and walking. Jamaicans always want to take a cab instead…
You look very fit yourself, if we may say so.
I've been through a couple of things, you know. Last year I fell in the bathroom and broke three ribs. But it's coming on! I take my vitamins and do my exercises. It is one of the most important things in life. You have to exercise! Your body is like a car. It needs driving and servicing. So I need to drive a little more now!
We surely hope to see more of you soon!
Yes, I will be out here more in the future!
Full disclosure: As an Amazon Associate RSS earns from qualifying purchases.