A good hunk of my spare time is spent to listening to debut releases from just-getting-started ska bands. These formative tracks tend to capture the shared spirit and raw energy that brought the band together in the first place, and I'll overlook a lot—crappy recording, sloppy playing, lazy lyrics—just to tap into that energy. Sometimes, though, these newbie songs are first-rate—excellent production values, tight musicianship, wise and witty writing. When that happens, I just found myself a new favorite band. And right now, that new favorite band is Death of Guitar Pop, a two-tone flavored duo from Essex. As of this writing, they have only three songs out, but each one is a brilliant example of just how good a new band can be.
Silky and Jonny are the two dapper men behind DOGP. ("OK, so just to clarify, Jonny is the slightly more handsome one of us who sings lead vocals on Sweet Sensation, and I (Silky) sing lead vocals on Rickety Old Train and 69 Candy Street.") In the midst of his wedding weekend (!), Silky found time to answer a few questions. I like his priorities.
RSS: Let's start with the standard background stuff—where did you meet, how did the band come together, who does what in the band, when did you know you were onto something good?
Silky: Jonny and I first met playing on our local band circuit in Essex. Jonny was playing in his former band, The Tomorrow Men, and I was playing in my former band, States of Emotion. We hit it off straight away. The first show we played together was actually on my birthday—we all ended up on a wonky one back at my place dancing in my lounge to The Stone Roses into the wee hours … with Jonny chewing my ear off about his love for Stanley Kubrick and Harry Potter. We carried on sharing the bill with each other for years, becoming good friends and eventually when both of our bands had got to the "run its course" stage, we came together to have some fun writing ska music in what is now known as Death of Guitar Pop. We are predominantly a two-piece, but we have an amazing band of musicians who back us up in the studio and will also be performing with us for any forthcoming full live shows. We both play guitar, sing and write our own songs. We send one another home demos and then get together for jams with the other lads down at our rehearsal space before heading to our resident recording studio, Woods Lodge Studios, with our producer, "King Mitch" Ayling, to get the magic captured.
What's a DOGP show like? What's on the set list, what's the crowd like, what sorts of venues do you play at?
The band is still in its fledgling stages, so we haven't played live yet, but it's massively on our agenda. The idea was to build a bit of a fanbase online first so there's actually a demand to see us before we book a show. What's the point in playing down the Pig & Squirrel on a Wednesday night or whatever before anyone's even heard of us? We don't need the experience—we already completed our apprenticeships in our previous bands, so there's no need for us to play any McGigs just for petrol money. We are overwhelmed by the response to our three singles and videos, though, and feel it's now time to give the good people following us online a seminal debut show, followed by an album and UK tour. Thanks, everybody!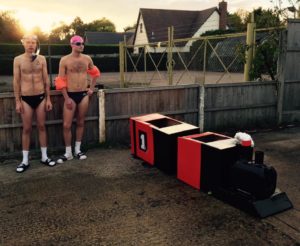 What bands helped shape what would become the DOGP sound and style?
The Divine Madness VHS my Dad passed me at the age of 5 is our prime point of influence, both musically and visually. I can remember watching Suggs performing The Prince on TOTP in his purple tonic suit and thinking to myself, "That's what I want to be!" I just got a little lost along the way. Thankfully, a Rickety Old Train with Jonny in the back pulled up just in the nick of time!

Let's talk about the video for Sweet Sensation. Most bands would have sought out some modelesque teens for the romance. You chose a different route.
Firstly, a huge thanks to the team behind the video, Joshua Preston plus Tom and Sophie from Loose Puppets, who did a first-class job of capturing it and putting it together. Secondly, we'd like to thank Essex Skinheads for coming and being a part of it, Pete Lacey (DJ Ska n Mash) and both The Spread Eagle and Chinnerys in Southend for letting us film in their venues. Being a cover of a Trojan tune, we felt it was very important to capture the unity and spirit of the skinhead movement it so heavily soundtracked. As youngsters, still relatively new and naive to the subculture, it's our nod of respect to the originals. Above all, we'd like to say a huge thanks to our friends Mick and Carol Keithley (who are the video's starring role) for helping us put the whole thing together and letting us capture the intimacy of their relationship and lifestyle. Lovely, lovely people.
While you're serious musicians, the video for Rickety Old Train shows that you don't take yourself too seriously. Why is a sense of humor important to the band?  
It's a cliché, but it's good not to take yourself too seriously. In my previous band, I was guilty of being driven solely by a career, fame and fortune, which led me to resent what I was doing and lose sight creatively. Death of Guitar Pop is about having a knees-up to the goodtime vibes of ska and not giving a fuck about what's going on in the mainstream music industry. If we crash-land there ourselves one day, we'd just have to laugh and enjoy it for what it is, but above all, we make this music for us and other ska fans like us. We've got normal day jobs; this is our fun outlet during our downtime from work. If we can't piss about and have fun whilst doing so, writing songs referencing Kevin Webster1 or whatever, then what's the point?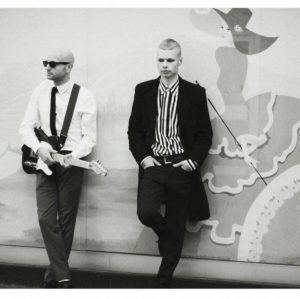 You're clearly Essex proud. What makes Essex so special? And are you an Essexer? An Essexite? Essexarian? Essexstentialist?
Course we are proud of where we are from. Our county has produced the likes of Blur, Ian Dury, The Prodigy and Mark Wright. If you wanna label us anything like that, just Essex Boys will do.
What's next for DOGP?
Live shows and an album. Let's make this happen, people! Keep supporting us, huge thanks to everybody that's liked our page and shared our music. Let's keep this Rickety Old Train choo-chooing!
This guy? This guy? This guy? No clue on my end.