You can tell a lot about  somebody by checking out their exes. Good or bad, they'll be judged by the company they kept. Same is true with bands. So when you hear that there's a new band out there whose exes include Mr. Shiraz, Green Lizard, Random Hand and Jaya the Cat, you pay attention. With Jan Jaap "Jay" Onverwagt  on bass, Karl Smith on drums, Geoff Lagadec and Matt Crosher on guitars and vocals, Complicated Men of Leisure are putting all that experience to good use on their debut release, I'm Sorry If I Did Something You Feel I Need to Apologise For, dropping this Valentine's Day. Adding to the buzz, the album has a very limited edition of 500 copies of "cocaine-coloured" vinyl. I caught up with Matt Crosher for a quick email interview. Based on his answers, I really wish I could have traveled to Huddersfield and done the interview in person. Oh, and for the record, Jaap, Karl and Geoff are still very active members of Jaya the Cat (currently on tour across Europe) – I just used that exes line since it fit that whole exes motif thing I had going.
RSS: Your Facebook profile notes that the band's interests include "Narcotics and alcohol, sprinkled with hugs and plans not entirely well thought out." What kind of plans are we talking?
Matt: Well for one thing, the entirety of everything we do with the band. If you notice the dates on any of our big announcements and coming-soons there is a pretty large gap in the timeline. I could say this is due to busy conflicting schedules, however, the reality of things is that I smoke a lot of weed and the rest of the guys have a more successful band to concentrate on most of the time.
What's the origin story behind Complicated Men of Leisure? In other words, why this band now?
I guess it started after a bunch of failed band attempts. I moved to Huddersfield which has a pretty amazing local scene and I knew a bunch of local musicians, one of the standouts was this guy Karl [Smith]. You know the type; annoyingly amazing at every instrument he plays, can sing amazing, etc etc … but it wasn't his musical ability I wanted, it was his ability to drink large amounts, stay up late and get invited to lock-ins.
Fast forward a few months, Karl and I had recruited bassist Tori [Black] from local superfriends Mr Shiraz to play a few shows under the name "back in the habit" just to play some music, really. This incarnation of the band supported Jaya the Cat at one of their Huddersfield shows at the Parish. After the show, Jaap and Geoff came up to me and Karl and said "Hey, we wanna be in your band" and I guess the rest is kinda their story.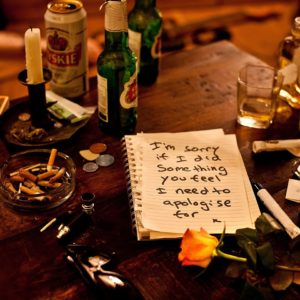 Lights Out, one of the songs off your new album, is an infectious ska sing-along. How did this song develop and can we expect to hear more like it?
This is definitely  the most "ska" on the record. It was an attempt to recapture the rolling, non-stop, hook-laden awesomeness of songs like Time Bomb and The Chariot by Rancid and Cat Empire respectively, but now it kind of reminds me of that "Dance the Night Away" song, hahaha! The lyrics of the song are just about being in one of those relationships where you are punching above your weight and kinda just waiting to get dumped… healthy, I know.
Another pre-release song from the album, Kill Me, features witty, unexpected NSFW lyrics and a reggae-meets-singer/songwriter-meets-pop-meets-rock sound. How did so many different elements come together in one three-minute song?
It came together pretty organically. Anyone who knows me knows I am no stranger to taking the easy way out and it's the same with songwriting. I think anyone who has been writing songs for years just has melodies and hooks just randomly come to them when writing. The lyrics are about this toxic girl I kept rebounding with. She was cute and often had enormous bags of weed, but her personality was dogshit. To be honest though, I wasn't bringing bags of weed to the table and at best I'm a 6 and a half… I forget the question.
What's next for Complicated Men of Leisure?
Good question. I guess the plans are to do live shows maybe UK/Europe around festival season. I just am really looking forward to the opportunity to play in some of my favorite places again. Whatever we end up doing, you know for sure it's going to be drunken, a bit slack and shit tonne of fun.