Thick, black outlines, bold colors, quirky characters and stray ink spots. CHema's style is instantly recognizable. If you like your ska old-school, originator style, you probably have a few of his 7" sleeves, album covers or gig posters in your collection. If you're a fan of fine art, especially what used to be called silk-screen printing, his work might be on your wall. And if you live in the Chicago area and go see any music with an upbeat, you've probably bumped into him by the stage. CHema's deep love of the music and his craft are seen in every piece of art he creates. That art was on display on a table-top gallery at the 2017 SuperNova International Ska Fest in Fredericksburg, Virginia this past May, and in between talking to art connoisseurs and checking out bands, CHema pulled up a chair for an interview.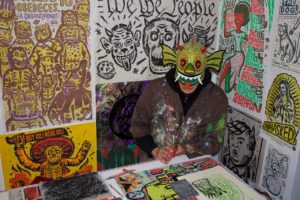 RSS: How would you describe that CHema style?
CHema: I call it gráfica popular picante, which I translate as spicy graphic pop. Pop because the pop art that started in the late fifties. Driving from Chicago to Fredericksburg, we passed by the Warhol museum in Pittsburgh, and I was like "can we go?" [Side note—CHema's traveling companions, ska historian/author Heather Augustyn, Chuck Wrenn of Jump Up Records, and vintage ska and reggae collector and dealer, Darren Reggae, pointed out that they had a ska fest to get to.] But anyway, yeah, all the popular culture, comics, and especially the not-very-well-done products. You know, like we have a lot of those and we used to have much more in the 80s and back in the day. People printing t-shirts themselves, their toys, too, their packaging.
My artwork is also influenced by concert posters, lucha libre, which is wrestling in Mexico, the big, big posters we paint around town. They're very cheap to produce. And also the hand-painted signs you see around town, especially in low-class neighborhoods. Like, food vendors and any kind of local neighborhood economies. They paint their signs for themselves, so I like all those, cheap treatment but also do it yourselves.
I studied art in school. I'm a graphic designer and I have specialized in illustration. I also received my degree in fine arts, in different types of printing presses. So I do lithographs, serigraphs, many things. I do everything by myself but when I need help, let's say for an edition I have to put out in a short period of time, I have a couple of printers in Chicago and a good friend Steve Walters, at Screwball Press, which has been around the business since the 90s. He was printing for Smashing Pumpkins, all these bands in the 90s, so he is very well known in the gig poster and collectors world. And, yeah, that's what I do. A lot of printmaking stuff.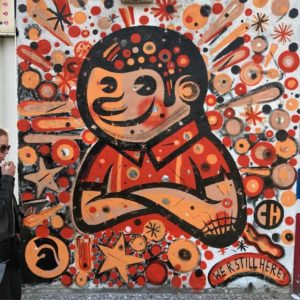 And 10th-generation photocopies, when things started falling apart and started looking rough …
Yes! Yes, totally. I mean now, we are invaded by computers and you see the same signs anywhere. You can print on some vinyl and those stuff but, I like this handmade treatment.
Sometimes I do a combination. For example, they have a logo I did for Supernova here on the banners. So, that originally comes from an illustration I had. It's ink and watercolor on paper. I scanned it, gave it a treatment with software to print it in a bigger scale. But I never want to lose that handmade touch. Last night a guy was asking me if I use Illustrator, which is a pictorial software, and I told him no, most of my stuff is ink by hand. The black outline you see is ink, so I have the originals and then I scan them and then I probably give them a treatment on a computer. Or just do it 100 percent by hand, color and everything.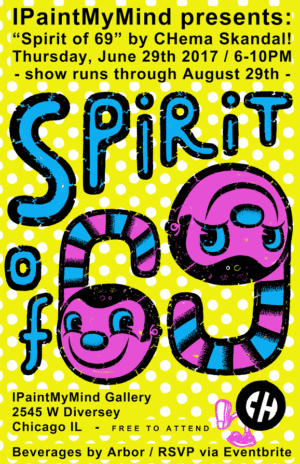 You do a lot of work for bands. What do you hear in a sound that gets you excited for the illustration?
Well, going a little bit back to the college days, I told a friend my ideal would be to merge two worlds: music and graphics. So, in some ways, I started doing it by myself. Probably not consciously because I was doing events, organizing them, doing the flyers, playing music, spinning records, and sometimes playing in a band. You know like, it's the whole spirit, I'm doing everything myself. Then later we brought down Chris Murray, and well, it started from there. So, in some way I started merging the two worlds and later I got into ska and reggae. I'm friends with a lot of musicians since back then, so I got commissions to start doing a patch, and then later a zine cover, then posters and the record covers. It was basically that. Ska and reggae covers, and music.
I've also started doing graphics for other bands. They approached me because they like my style, and yeah, I mean at this point I can reject some projects because I am not really interested in them. I have a waiting list, and I have a pretty tight schedule because I also do fine arts. Not really print. Other stuff. A bit more commercial. But I also keep doing the record label stuff and sometimes I teach art classes for youngsters, which is how the artist lives now. We combine a lot of stuff. And then the [most recent new] experience was to start doing some murals. I actually got the commission by the city in Chicago to do my first mural there. That was 2011.
You've also taken your work to Europe.
I had a show in Casa Lune, Barcelona. This was during a reggae festival. And in London for the ska festival. I showed a small collection of prints there, and also I did a mural in East London in Hackney Wick, close to the train station. So, yeah, if people are around they can go check it out. It might not be there now, though. It's a neighborhood that is changing pretty quickly and a lot of artists go and paint. So, it [artwork] stays probably for a month, tops. And yeah, definitely, I have plans to go back to Europe and do a solo show probably.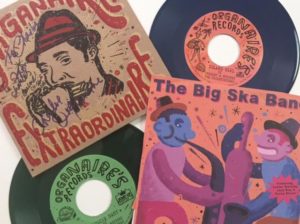 On top of all this art stuff, you also have a background as a music producer.
I have a very obscure reggae and ska label. Calibri Recordings. [Latest releases with harmonica legend Charlie Organarie & The Colbri All Stars here and here] I started in Mexico City in 2002. Actually, I think we are the last label to put out 100% Mexican pressed vinyl in the city, and in the country. Because up to 2003 they sold the presses, the pressing plants, the pressing machines. Vinyl was not around anymore and now people are like "yeah!" crazy for it, right. And I play trumpet, I play melodica and keyboards. So, I have had some bands over there but nothing big.
When this interview posts, I'm sure I'm going to hear from bands asking saying how they can get you to do a cover or a gig poster. So save me the emails—what should they do?
Well, just get in touch. I mean, I'm honored to work with bands I admire and relate to. For example, with Intensified. I did their album, twentieth-anniversary album, Lunar City Groove. Yeah, and also for example another band I'm working with right now is Desorden Publico from Venezuela, and this is a band that introduced me to a lot of ska.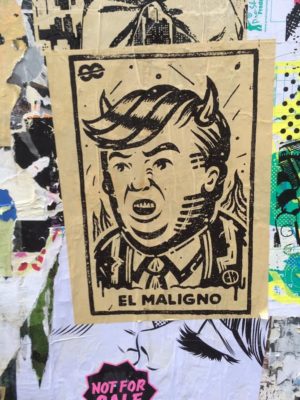 Is there a band out there you'd love to work with?
Oh, too many bands! Too many bands I really like. But definitely Madness! Yeah, it would be great to work with them. I was in London I tested some posters on the street and Mark Bedford, the bassist, shared one of mine on his Twitter account. He's a graphic designer, too. So it was like, kind of weird because at the time they were touring Australia. So I wanted to see them but they weren't playing around, and then my friend contacted me and it was telling me, "Hey, look what this guy just wrote on Twitter!" I was like, "Wow! How did he find it?"
Any chance you'll put your work together in one, large-format, coffee-table type book?
Not this year! But 2019 … ?