When we meet up at the venue, there is a tense atmosphere in the air. These are the days when anything can happen. You can feel the expectation surrounding the release of Buster Shuffle's third album "Naked". Two videos have already been spread around the Net, but what happens when the public hears the whole thing: That's what counts now.
Buster Shuffle's history is quite unique, since the British band have worked their way up on foreign ground. The records of these Ska/Rock'n'Roll/Indie eclectics have been released on the German label People Like You Records, 80 % of their shows are being played in Continental Europe.
With "Naked", Buster Shuffle now follow a huge plan, especially for a band coming out of the ska scene. They aim at recognition from the mainstream media in their hometown London, the Capital of pop music. To achieve that, they hired Jamie Ellis, a successful producer, who has already shaped hits for Florence & The Machine and The Rifles.
The band has invested a lot into the recordings. Not only financially. Also their reputation as a raw, energetic live act is at stake. An act  that tears down venues every weekend. The big question is: Will the new sound of "Naked" be loved? And how will the fans from day one react?
We talk to singer/pianist/frontman Jethro and Carrie (vocals) before a club show in Cologne, one day before "Naked" hits the stores.
What were you looking for in the production of "Naked"?  How did you find Jamie Ellis as the producer?
Jet: To get this producer was a decision that we made. The first album "Our Night Out" was recorded at home in our bedroom, the second one,"Do Nothing", was a bit more produced and got a lot of guests on it. And now this one, where you had a producer friend that had done a lot of work with big acts. We tried to make the record sound production-wise like it was very good for commercial radio, because it's all very nice being in a subculture and all that, play on festivals and so on. But we want to make music that is good enough to compete with other bands on commercial radio. Which we start to do now in England, we start to get on mainstream radio, because we don't sound like something that happened many years ago. If the scene wants to survive it needs to compete with a lot of production from pop music on the radio. From metal bands. From indie bands. They are all produced. It doesn't matter what genre. That was kind of conscious, working with Janie. He's a young guy, a talented guy. And the record sounds more produced, but the songwriting is still the same.
RSS: What was the work with the producer like?
Jet: He's in demand. But he wanted to work with us. He had heard our songs and thought they were very strong. So that's exciting, or interesting for him.
He was trying to change the sound of a band that had been doing something in a certain way. He tried to get something new going. We were bashing heads all the time. But we stayed focussed and wanted results. There were times I said: "Okay, I back off." And there were times when I went: "No." Where he would start getting synths out and sequencing (imitating some doodling), this Florence & The Machine type. And he said: "Let me go with it",  and spent two days of work with it. And afterwards I'd say: "No." It's just like having an argument with someone, but a nice argument. And afterwards you go: "You were right there. And I'm sorry."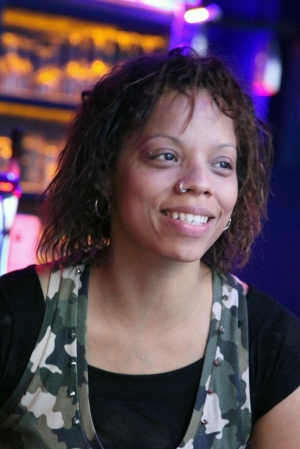 Carrie: "It's nice to have that objective point of view. Because, we are all so into it. We want to have the sound as good as it can be. We all have our ideas, and then someone comes who has slightly different ideas.
Jet: And you got to trust that person. Because, we are all together. We all trust each other. When we're working on the songs in the van, they sound like Buster Shuffle, live. But when you get into the studio, there is suddenly someone else. You asked him to work with you. And he's not going to do the same thing. He says: "I wanna make it sound like this."
RSS: And it is his job to add something to the sound.
Jet: I think he has done that. It's very early. But the initial feedback has been really good for the record. So, we'll see what people think. We played a little punk rock festival last night. And there are already people messaging saying: "We bought the new album and we can't stop singing it." And that's a really good sign. We were a bit like: "Hm, what's gonna happen?"
Usually there are some little details that have been added to the songs during the production, some string arrangements, children choir, didgeridoo or whatever. And these are the things the band likes to listen to the most after it is finished. Are there moments like these to you on "Naked"?
Jet: There is one track later on. That has some kind of harmony (sings very high). It's called: "Put up", Pete was in Berlin, we'd been working on the song, and he said: "I wanna try a vocal idea. A choral vocal idea, it's quite progressive." And he sent it back to me and the producer and I thought: "That's f***ing great." It was gonna be a little outro thing, and then after a long day, we said: "Let's put it at the start of the song." It sounds like something you'd hear in a concert hall. I can't believe he did it in Berlin with just some mic and sent it over.
RSS: What were the first reactions on the record?
Jet: The early feedback in London is very good, from the radio, and Q magazine made it "The Track Of The Day". The Specials or Madness can get whatever they want. For a band like us to be Q magazine "Track Of The Day" means a lot. You're named alongside Jarvis Cocker from Pulp.
Carrie: It's easy to think: "I really hope that people will like it." . But you can't get too upset, if it's not happening. Then write some more songs and move on.
Jet: To the people with the older mindset that want "proper ska" I'd say: "If you don't like it, don't worry about it. There is always Desmond Dekker. We love that, but we are not trying to reproduce it, cause we couldn't. This is us, taking the influence from The Kinks, The Clash, Cock Sparrer, Supergrass, from everyone."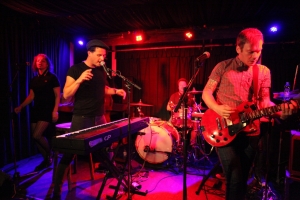 With three albums out now, you are at a point where more and more great songs fall out of your live set. How do you deal with that?
Jet: We decide on stage on the very moment what we wanna play. All those gigs we do pay off. We look at the crowd, look at the response and go: "Let's try this, let's do this." That's something we worked on really hard for with Buster Shuffle. We have no real setlist, we have a list of songs that we wanna play. So we don't forget the songs. Sometimes we come off stage and say: "We didn't play that." With the new ones we will just have to think where to put them in the set. Where it feels right to do them. It's quite difficult with these songs because people don't know them. Especially if they're dancing to all the other stuff. And we'd go: Now could you all be quiet and listen to this new song." We played them a few times….
Carrie:  …. and they seemed to be received quite well. The people start off listening and they soon start dancing.
Judging from the response at the show in Cologne, the worries can be left behind. The new songs blended perfectly into the live set. There is no signs that the bond between fan base and band is getting weaker. And everyone around here keeps their fingers crossed that Buster Shuffle will soon rule the airwaves in London and elsewhere with their catchy ska pop with an attitude.
The complete version of this interview will be published in the Ska Music Yearbook 2014, to stay updated on the details, we recommend to sign up for the Reggae Steady Ska updates.
Buster Shuffle discography
Naked (People Like You Records) (2014)
Do Nothing (People Like You Records) (2012)
Our Night Out (People Like You Records (2011)