Boomtown Fair in the lovely countryside near Winchester in the south of England is a festival like no other. The atmosphere, the musical mix, the whole concept are unique. As a fan of Ska and Reggae, it's paradise come real. Last year's edition included shows by Madness, The Selecter, Bad Manners, Melbourne Ska Orchestra and The Ska Vengers (from India!). You can see a short review and photos here.
This year promises to be just as spectacular. The first announcements for the four days from 10-14th of August 2017 include The Specials, Maroon Town, The Dualers, Top Cats and Sublime With Rome. We had the chance to talk to Kaptin Barrett, who is in charge of the booking at Boomtown. Here's the news.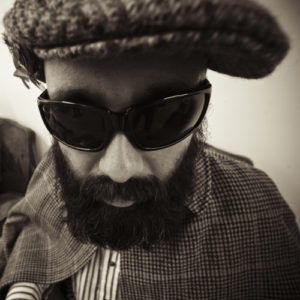 How did Boomtown Fair start?
The festival was started by the directors Lak and Chris 8 years ago with the help of their friends and family. There were a few thousand people with a handful of stages and bands such as Babylon Circus, Discípulos de Otilia, Babyhead and Sonic Boom Six. Now it is around 60,000 people, 28 main stages and over a hundred smaller venues. There are over 700 acts this year including The Specials, Cypress Hill, MIA and Sublime With Rome.
How would you describe Boomtown to somebody who has never been there before?
It's really difficult to explain to anyone who hasn't been there before, it's a very unique experience, but it's basically a pop up city in the English countryside split into 9 districts, ranging from the calm of Whistlers Green with the kids area, healing fields, talks tent and great jazz and reggae on the Windmill Stage to the punks and ravers in Chinatown or the dystopian playground of Dstrkt 5 where hardcore ragga tek meets old skool jungle. All of the districts have their own streets with lots of performers and both theatrical and musical venues. It's very interactive, you really become a part of the festival rather than just an observer.
What exactly is your role within the festival organisation?
My official title is head of music so I mostly work with the programming team to book bands and DJs for the main stages.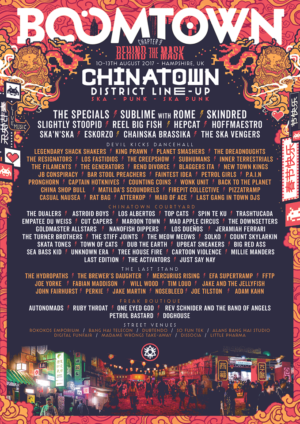 "Head of music" at Boomtown sounds like a dream job come true. How did you get it?
I was just in the right place at the right time really. I'd been a life long music geek and involved in putting on bands, festivals and parties for over a decade but I'd hit a bit of a dead end and had just moved to Bristol with no idea what was going to come next. Boomtown had no positions going at the time but Lak gave me a couple of minor jobs for a week or two to help me get on my feet a little.
Then things got crazy and the jobs just kept coming. Before you know it I was helping him to programme the stages and helping Becca to run the music office whilst she was on her maternity leave. That year's festival I think I worked harder than I'd ever done before but I learned so much in a short space of time. Plus Lak realised I was on totally the same page as him in regards to the programming so the next year he just went, 'right you're in charge of the music, good luck'.
How much artistic freedom do you have booking bands?
Ultimately with Lak as the creative director, I am very much aware of his vision and program accordingly, however he trusts me with my decisions so I have plenty of artistic freedom. Headliners are always discussed between us and there is a top class programming team who I work closely with but who also have the same freedoms for their specialist areas. All of them have a passion for the music which shines through with the acts they choose. Nobody's really looking for the next 'cool' act, we're looking for who's going to give the crowd a truly fulfilling experience.
Compared to many other big festivals, the musical mixture is very unusual. There is a strong focus on ska and reggae, but also on a lot of electronic mixture. What's the idea behind that mixture?
Festivals have become a large part of mainstream culture in the past few years and I think many have lost their spark because of it. For us it's important we don't lose that counter-cultural representation because that tends to be where the passion and the honesty still lives. It's also our background and our roots as a team.
How do you explain that this mixture is so attractive, considering that Ska club shows usually only draw very small audiences nowadays?
The main problem is that Ska and in fact a lot of the music we cover is no longer represented by the media, however there is still a love for it and there's an energy there that can't be replicated by the music being pushed in the mainstream. I still have many friends who think they don't like Ska but put them in front of our Chinatown Courtyard stage and they can't help but skank the night away.
What attracts you in a band or act you book for Boomtown?
I know I've used all of these words already but really it's their energy, passion and honesty. I like artists who pull you in and make you a part of their performance, bands that make you dance, bands that make you cry and bands that leave you with a big smile on your face rather than a phone full of selfies.
[justified_image_grid ids="8117,8123,8122,8121,8120,8119,8132″]
Regarding the line-up for 2017, The Specials, The Dualers and Hepcat (great!) have already been announced. What other acts can fans of Ska and Reggae look forward to?
Besides stages like Hidden Woods and Tangled Roots, our main Reggae stage is one of the biggest in the world: It's called the Lion's Den and this year there's legends such as Big Youth and U Roy, Horseman, Ziggy Marley, classic Dancehall such as Mr Vegas and Chaka Demus & Pliers (in fact we not only have Pliers but all of the Bonner Brothers including Richie Spice and Spanner Banner also) and a lot of the new Jamaican Roots Reggae bands such as Jah 9, Runkus, Raging Fyah, Jesse Royal, Iba Mahr and Protoje. We have to protect the future as well as the past. We also have American bands such as Sublime, Slightly Stoopid and Stick Figure. For the Ska and Ska Punk fans I'd recommend checking out our Chinatown line-up that has just been released.
One of the most remarkable features of Boomtown is that it is much more than a music festival. There is much more than the concerts: street theatre, variety, film, yoga, workshops. Is this what people expect of a festival nowadays?
I think a lot of it comes from the variety of people that come to the festival and also the amount of people who want to be involved with the festival. If someone has a great idea we feel works well, then they can become a part of it and so it naturally grows all different directions.
There is a storyline which develops over the years and editions. Could you outline the general idea behind that?
It started as a way to explain the different districts and have a bit of fun with some characters, but then it just kind of took over and developed a life of its own. Now the whole festival is story led with everybody at the festival becoming a character in the storyline.
How is this storyline produced? Who writes the script?
We now have a whole theatrical team who work on it all year round. They write the script, direct all the theatrical spectacles and oversee all the interactive experiences on site. It's become a really important part of the festival.
Some of the costumes and characters like Comrade Jose clearly allude to fascist regimes (and counter revolutions against them). On the other hand, there is a really peaceful and almost hippy-ish atmosphere of the festival, which is quite a contrast.
I'm not sure that contrast is quite as stark as it might appear, but it's also important to remember that it's not propaganda, it's all theatre so I guess you take from it what you need.
What changes and new features will be introduced to the festival this year?
Well at the end of last year there was a revolution and Comrade Jose was taken down, so her palace (which was also a huge dance stage) has been dismantled. You'll have to wait and see what arrives in its place but if you watch our trailer for this year you might get a clue.
Trailer: https://youtu.be/olVlJNQfv0A
Where do you see Boomtown in five or ten years? Where do you want to take it?
Well that's really a question for Lak and Chris but there's no question that Boomtown is evolving all the time and has so much potential to grow and become more and more inclusive for like-minded people.
Do you find time to see and maybe even enjoy any shows at Boomtown yourself?
I spent a couple of years pretty much chained to the music office during the festival and it killed me. It's so important to see what's working on the ground, which bands are smashing it, what times are busiest at which stages and what needs fine tuning. Now we have such an incredible team in the music office I can be freed up to do that. So I'm literally watching bands and DJs from when they start to when the stages close, with various bits of trouble shooting in between. It's impossible to see everyone and everything but I give it a bloody good go.
Which are your personal top 5 favourite ska and reggae tunes?
Favourites are always impossible for me but here's 5 that I truly love:
Junior Byles – Fade Away – When I first heard this tune I was going through quite a change in myself. I always loved reggae but at the time was mostly buying bashment tunes and partying like crazy, even though I was running a record shop. I picked up the Rockers soundtrack from the shop and put it on, this tune sent chills through my spine and really made me reflect on who I was and what I was about.
Bob Marley – Redemption Song – My mum swore that I knew the words to this at 3 years old. It's an obvious choice maybe, but nobody can deny it's a powerful song.
Madness – Baggy Trousers – another of my favourites since the early 80s that never gets old. I can play this to pretty much any crowd and the place will go crazy, it was such a highlight having them perform on the Lion's Den last year, the atmosphere at that show was electric.
Toots & The Maytals – Funky Kingston – I remember the first time I saw Toots at Glastonbury 2004. My band had played on the dance stage that year (back when there was only one) and we were in such high spirits. We were excited to see Toots but I don't think we were really prepared for how good that show was going to be. This year we have him opening the Lion's Den and I couldn't think of any better way to kick start the festival.
Runkus – Move Yuh Feet – I want to pick a current favourite because there are still plenty of songs out there that carry an incredible amount of energy and relevance. All over the world there is so much great reggae and ska music but hearing this young guy from Jamaica putting out such a strong ska tune last year was really exciting to me.
Kaptin Barrett also djs himself under the name AAA Badboy (pronounced Triple A Badboy). You can listen to some of his selections here: Mixcloud.com/AAABadboy
Get all the info you need about the festival at the Boomtown Fair website.