As singer in The Bodysnatchers and The Special A.K.A., Rhoda Dakar secured her place in the music history books a long time ago.
With The Special A.K.A., she released classic songs like "Racist Friend", "Alcohol" or "The Boiler." The Bodysnatchers came to fame as the first all-female 2Tone band, and as the band that was so short-lived that they never even released one album.
35 years later a record is being released that comes close. Rhoda Dakar sings the songs of the Bodysnatchers. The right time has finally come. After starting a pledge music campaign that went down a storm and already reached more than 150% of its target, Rhoda rushed into the studio with some fine musicians friends. Even two of The Specials were on board. An imminent gig at the prestigious London venue The Jazz Café helped speed up things by marking a deadline. But let's hear it all and more in Rhoda's words.
Special thanks go out to her for taking the time in her busy schedule (a few days before the album release) to talk to Reggae Steady Ska.
REGGAE STEADY SKA: The Bodysnatchers were together for about a year. How many songs did you record then?
Rhoda Dakar: We had a two single deal, for "Ruder Than You"/"Do The Rocksteady" and "Easy Life"/"Too Experienced."
Did you never think about recording an album?
All we had was this two single deal from 2Tone. After that we didn't have any way of recording anything. I think the album deal offers (from other labels) had become before the single deal. We decided to go with 2Tone, because of the tour (with other 2Tone acts) and all the other gigs. We worked very hard. And that contributed to the break-up.
So you just worked too much. Was the split – as they say – "amicable"? 
No. There are people I haven't seen since. There are people I have seen since. I've seen Stella a few times, I think Miranda twice.
I guess such a split is not like changing your workplace. There is so much emotion involved. 
We were very tired, we were very young. And thirty-odd years later you are more grown up. So you don't fall out with someone. And if it happens, it doesn't mean you never speak to them again. That's stupid.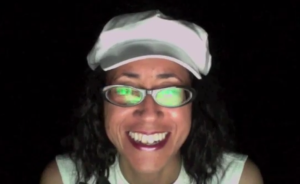 You said in an interview with Aaron Maiden at Roots Rock Rebel,that you have been asked again and again to record and release material of the Bodysnatchers and now you more or less gave in.
(Rhoda laughs) Yes I gave in. It was mentioned to me that it was the 35th anniversary of the formation of the band. That hadn't occurred to me at all, because I don't deal in categories like "It was this long ago since I did that." I'm always looking at the next thing. Somebody said: "How do you mark this anniversary?" And I said: "There is an anniversary? Well, I don't know." It was just an opportunity, because it had been mentioned to me so many times.
And the only reason I have done this (album project) is I have some friends (i.e. Hollie Cook) that released albums through Pledge Music and other crowd funding sources and I just thought: "If it was crowdfunded, then I would know that people wanted this and it is not something that people just say." Because people sometimes say nice things to you and they don't actually mean them. Now that it is crowdfunded I know that people actually want it. I know I'm not wasting my time. I knew I could make an album. But then I would sit with it in my house for the rest of my life. And it would never go anywhere. Now I know that people actually want it. And it will go to people who actually want it. It's not going to be randomly put out in shops.
Some of the musicians from back in the 2Tone days did not only record albums, later on they also wrote accounts of the time in the late 1970s and early 1980s. Have you ever thought about writing such an autobiography yourself?
I don't like autobiographies. I don't like the idea of them. I never read an autobiography in my life. I think I read a short biography about James Dean. I mean he was dead already, so fair enough.
Nobody has ever asked me to write an autobiography. And I can't say it was something I would consider. Certainly not at the moment. If somebody asked me to write a short account of what I remember .… I'm certainly not someone who would bare my soul in writing for people to see. I would hate to do that.
Well, I'm sure that what other people have written has been very good. They've all been very well-received certainly. Pauline has written one, she's a very bright and interesting woman. So, I'm sure that is a fascinating book. … Even when people write their first novel, it's very autobiographical. I remember reading extracts from one my friends' first novel and thinking: "Oh no, I know where that place is. I know what they are talking about." And it made me uncomfortable.
The album "In The Studio" is being re-issued on vinyl these days. What are your memories from the recordings? What comes to your mind, when someone mentions the album "In The Studio."
I like the cover very much. That's what I can say. I've never listened to it. So, I don't know what it sounds like.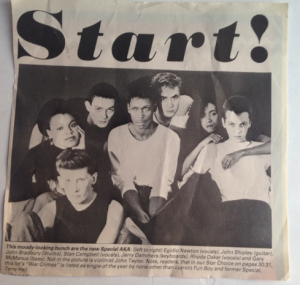 Oh, ok.
I did a lot of backing vocals on it. It was two years in the studio, and I sat there for most of it. It took a huge part of my life. And when you were in recording studios – not like now when they are fairly normal places – in those days you felt like you were underground. Because it was very dark. So, it was like being underground for two years. Now, recording studios are much more lit, everything was dark in the 70s. And in the 80s people hadn't redecorated by then.
Being in the studio for so long is a complete contrast to your new recordings. How was it this time?
We rehearsed one day. And we went into the studio the next day and recorded the album.
In one day?
Yeah. You have to remember this is 35 years on, when some of us started doing this. We've been doing it for a very long time. We can go in the studio and record in a day. Whereas back then we couldn't because we weren't as good at what we did. So it was easy, everyone had prepared. We rehearsed. We got a vibe going in the rehearsal room. Everyone was happy, just went in there and did it. And then were things to do like backing vocals. Some overdubs. The basics, even the vocals were recorded live when everyone else was playing. So, it was all live.
You selected the songs for the record. How did that go?
We recorded a couple of covers, but mostly it was songs that we had written, almost nothing was thrown out. I said: "If we go to 150% on the pledge, we will do a bonus track. And now I have to do that. I think we might do an acoustic version of some kind. Like a demo, if we can get it done. We're counting in days now.
Is it the plan to have the cd ready to be sold at the Jazz Café?
There will be cds available. But the vinyl takes a lot longer to produce. The idea to do the album came alongside the offer to do the Jazz Café, which wasn't really that long ago. Part of the reason we did the recording in one day was because we didn't have time. And trying to get everybody's diaries synchronised to see that it was  free on this day. It was hard. Lynval lives in Seattle, things just can't be organised as easily.
Who played on the album? I saw pictures of two members of The Specials: Horace Panter and Lynval Golding …
… and Sean Flowerdew from Pama International and various other combos,  Karl Wirrmann (sax), he plays in Intensified, Lenny Bignell from The Sidewalk Doctors, on drums Mark Claydon (The Get Up).
Have you already heard the final mixes?
I've heard final mixes so that I could approve them. They were so good. Lenny did the mixing. He and Sean produced it. To be honest, it's brilliant.
You've been involved with the London International Ska Festival, too, as a DJ and a performer. I was there to see you sing with The English Beat in 2011. Were you there every year?
It's in London. So, it would be rude not to go. Even if I wasn't playing I would just go.
Were there any bands that made an impression on you?
Yes, there were some people who I thought were very good. But on a Thursday morning, I don't remember all of them. There's a Norwegian band called Razika, they were very good.
A record release show at the Jazz Café is coming up. Are there any plans to do more live shows after that?
The point is, this is kind of a one-off. I don't know. I suppose somebody is going to suggest it. I have no plans to do it again. There's no tour. The plan is to put that out and then go back to work on something else.
All the best for the record and the show at the Jazz Café.
Rhoda: Auf Wiedersehen
—
You can still join Rhoda Dakar's pledge here and make sure to receive her new album in various formats.