Their live performances on borrowed instruments during a UK tour in 1988 are still legendary. Now Bim Skala Bim from Boston in the USA come back in a big way. With two new albums during the summer of 2013. REGGAE STEADY SKA got the details in the interview with singer Dan Vitale.
RSS: You formed BIM in 1983, Boston. Was that because you were influenced by 2 Tone in England?
Dan Vitale: I have loved Ska and Reggae from the time I was a little boy in the 60's listening to "Israelites" by Desmond Dekker, "Cecilia" by Simon & Garfunkel and "My Boy Lollipop". I used to love Harry Belafonte and then in the early 70's I bought Bob Marley and the Wailers. "Soul Shakedown Party" …I was hooked right away.
Then in 77 it was Elvis Costello's "My Aim is True" and Joe Jackson's "Look Sharp". In 79 I became hooked on the Specials and English Beat…..and I loved the Clash's and The Police's way of playing Ska and Reggae mixed with Punk. Then in 82, when the band started, we were very into Black Uhuru and Gregory Isaacs as well as Bob Marley, XTC, Two Tone and Punk and of course Classic American Soul and R&B. We wanted to try to mix all of these things to make a unique sound.
RSS: How did you all find each other?
Dan: Mark Ferranti and I met at S.M.A.P. Somerville Media Action Project ….we were teaching troubled teens to use video cameras, recording studios and photography. It worked out great because we recorded our first demos and music videos in the studio after hours. John Cameron was my roommate in Somerville and he had been playing with Jim Jones, while Jim Jones had played with Augie at Berkley. I found Vinny though a friend and trombone teacher at Berkley. Rick was someone we all knew from the group Bam Bam, who had just broken up.
RSS: Were you the only Ska band around at that time or was there a scene?
Dan: We were not the first. A great band called 007 was, who later changed their name to Dub 7. Also, a band named Skaterbrains from Colorado moved to Boston and played several shows with us in the early 80's. We bought their PA from them as they left to go back to Colorado a year after they came.
RSS: Your first album was released in 1986, at a time when Ska was dead, at least in Europe. What were the reactions you got?
Dan: "What kind of music is that?" was the most popular question. Ska and Two Tone never really did very well in the US. The first and many years of touring we did in the USA, we were teaching people about it. Most folks had never heard of Ska.
RSS: At the time of recording "Tuba City" (the second album), you did a few songs with legendary producer Jimmy Miller (Traffic, Rolling Stones, Blind Faith etc.), resulting in the single "Edge of a Knife"/"Fathead"." How did you get to record with such a famous producer?
Dan: Jimmy moved to Boston and we read an article about it in a local Boston Music Zine. All of us are huge fans of his work, especially "Exile on Main St.", so I sent him demos and he liked us and wanted to work with us. He also did a Beatles cover with us "Rain". It is on our album "The One that Got Away". He was really inspiring to us and his stories were endless.
RSS: You even acted alongside him in this movie "Steal Away" that was put on youtube recently. How did that come about?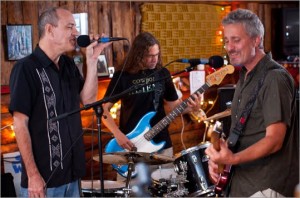 Dan: He and I became good friends. He visited me at home regularly. As well as our shared love of music we also shared a love of herbs and rum and Jimmy knew he was safe from harder drugs at my house.
I helped him and his family move twice, part of which we filmed for our video "Blue". Blue was Jimmy's cat that died during the move. The song is about both Jimmy and the cat. In 1990 we were still hanging out a lot together and when I wrote the script for the movie, it was really written for him. His wife and son play his wife and son in the movie, too. I miss all three of them …may they rest in peace. They will always be in my heart.
RSS: How did you get Roland Alphonso to play on "Tuba City"?
Dan: The Skatalites came to Boston in 86 and our first LP was getting some good local airplay, so we got the opening spot for them. Looking back I remember this as a very pivotal day in my life as well as my bandmates'. We were young and nervous opening for these originators, but our fears were unfounded because they loved us! We were so inspired by how sweet they all were to us. It was life-changing .
We all smoked herb and talked and laughed in the small dressing room for hours. Then at one point Roland and Lloyd said they wanted to talk serious. They got us all together and asked us to please keep our band going, that Ska can never die and that they wanted our help teaching the music to whoever would listen. We were recording Tuba City at the time and because he was soooo nice and offered to play on it, we jumped at the chance. We drove into Brooklyn and recorded his parts with Sir Coxsone Dodd in "Music City Studio 1 Brooklyn". It was another great day. Coxsone was also super nice and showed us all around, pointing out the microphones Bob Marley used and telling us a bunch of other great stories. Roland had Vinny and I come into his home and sit down for sodas with his family. Those men had a massive heart and love for the music and it really motivated us through the tough times over our many years of touring.
RSS: The album title and cover refer to Arizona and the desert, which is pretty unusual for a band from Boston.
Dan: One of my best friends, Drew Martin, moved to Tuba City to teach at the Hopi/Navajo school. We were on our first tour and had a show in nearby Flagstaff, Arizona. We had a couple of free days, so we scheduled a free show for his students. It turned out that this whole reservation had a great love for Reggae. We had a blast playing for them and Drew took a lot of time and taught us much about their culture.
From the blue corn to the colourful clothing and the raindancing, peyote buttons and petroglyphs, we fell in love with the place and it inspired us spiritually and musically.
RSS: Why did Jackie Starr leave in 1989?
Dan: Jackie was getting a lot better at playing guitar and writing her own songs. Her music did not fit the Bim style though. She decided to move to California and start her own band, Contra Guerra.
RSS: I saw that she played a few of the reunion gigs. Is she part of the line-up that recorded the new stuff?
Dan: She is singing on some of it….but as a guest.
RSS: In 1989 you played your first gigs in Europe, at the London Ska Festival….
Dan: It was awesome! The place was packed and many in the crowd knew some of our songs already. We went on before Prince Buster and had not met him yet. A few songs into our set a big space cleared on the dance floor. It was the Prince himself, standing in the middle of the floor with his arms crossed staring rather intensely at us. I couldn't tell if it was good or bad. Thankfully he gave me a big hug after the set and said he enjoyed it. I met many musicians that still remain friends today at that two-day fest.
RSS: How was the reception to your quite unique sound when you played there?
Dan: The "Oi/Ska"-Label had put out our first two records in England, so many fans knew what we sounded like already. NME did a big spread as well. We felt very welcome. The Busters and The Braces were also there that night and we became fast friends. They had also heard our record already.
RSS: I remember a great tour you played with Bad Manners in 1995. Your gig in Stuttgart turned me into a life-long fan of the band. Was it as much fun playing the tour as it was listening?
Dan: A great tour. We had a blast with Doug and Bad Manners. I later brought them and Laurel Aitken over to tour in America. Laurel had never been to the US, so it was my great pleasure to be the guy that finally got him the papers he needed to come. He was also a great inspiration to us. He travelled in our van with us and stayed at our homes and taught us much about the history of Ska.
RSS: You released seven studio albums (plus compilations) – which is your favourite and why?
Dan: I guess "How's It Goin?", because it has 17 songs and we spent the most time doing it, but really the next album is my favourite "Chet's Last Call".
RSS: Why did you found a second band, Steady Earnest, in the early 1990s?
Dan: Most of us Bim guys started outside projects at this time…..I was more into Rocksteady and Ska than Rock at the time, so it gave me an outlet. I still love the three Steady Earnest records and remain friends with the guys…. we had a little 20th anniversary set this past year.
RSS: What happened after Bim's last album, "Krinkle", in 2000? Why did the band fold?
Dan: I got very disillusioned with American government and I wanted to leave. I searched all over the Caribbean for a few years till I found Bastimentos Island in Panama….my little Reggae-loving village. I've been been here ten years now.
RSS: To many people's surprise the London Ska festival reappeared in 2011 and it featured Bim Skala Bim again, one of the absolute highlights. How did that happen?
Dan: Sean Flowerdew and I had remained friends since meeting in the 80's and he asked me and we said yes.
RSS: After 13 years of silence, you are about to release two new albums. What convinced you of coming back now?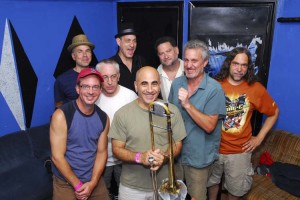 Dan: We had many new songs worked out and want to keep doing some touring every year. We know touring will be much more fun if we have new stuff to play and sell.
RSS: So BIM will become more active on a steady basis?
Dan: I don't know about that, we will have to wait and see. Many of us have children, so it is hard. I myself am ready to start touring more again. I may go out on tour with a different support band.
RSS: Will you tour outside the New England region?
Dan: We are planning to.
RSS: How does the band operate nowadays with you living in Panama?
Dan: I can do the booking from here …and we dropbox song ideas at each other…..modern technology.
RSS: Is it still the same line-up?
Dan: We have the same line-up as we had for all the best years … same drummer, guitar, bass, keys, singer and percussion on every Bim album. Vinny Nobile is on trombone and was on most albums, so it is a pretty amazing thing. We have really stuck together more than most groups and I am blessed for that.
RSS: What are your views on the Ska bands that came after you? Any favourites?
Dan: I am a fan of many bands and many bands tell us they are influenced by us….I think it is a wonderful thing.It is what we hoped for.
RSS: Some bands from the Third Wave scene have become quite successful, like The Mighty Mighty Bosstones or No Doubt. What are your thoughts on that?
Dan: We are long time friends with the Bosstones. Joe Gittleman is the one who wrote me in Panama and suggested we get back together. Gwen (Stefani) was a huge Ska fan as a teen……I wish they would play more Ska and Reggae.
RSS: An off-topic question: How have Bostoners taken the recent bombing at the marathon? What is the atmosphere like? Does it have an effect on interracial relations in the city or in America?
Dan: I have many friends at MIT and in Watertown. I was very worried about them for a few days. In my circle of friends and in the Boston music scene people are trying to help out those that were hurt any way they can. It brought the city even closer together, to try and keep Boston safe in the future.
Here's a link to the film "Steal Away" that features Bim Skala Bim.
Learn more about Bim Skala Bim: at their website and Facebook page.