Last week we published an interview with Dan Vitale of the legendary US band Bim Skala Bim. It has been making some waves on the Web. In the article Dan announced a new album with fresh songs by Bim. Now the presale for "Chet's Last Call" has started. If you help spread the word you will be rewarded. Read on.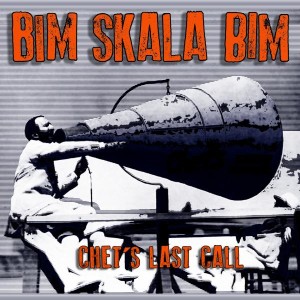 Dan send us this message:
"Special nimbit.com 8 week presale for the 2 new Bim Skala Bim albums starts today!! Be one of the first 500 to order "Chet's Last Call" and get a second all new limited Bim mp3 covers collection "Musical Biscuits" for free. Share this link with friends and help us get the presale going. Come on…..everyone wants a 2 for 1, $9.99 deal.  We need your help!!"

Sounds wonderful, helping is sweet. If you like and share this article or the interview with Dan (and tell us about it), you are up for a free download. The band has offered a live version of the fantastic song "Wandering Soul" for this purpose. Send a message to: bimskalabim@reggae-steady-ska.com, use the subject line: "Liked And Shared Bim" and you will receive the free download in your inbox.
At the moment "Chet's Last Call" is only available over at nimbit.com. The price is cool, especially if you consider that you also get a bonus album of cover versions. Yet, for those who live outside of the USA, considerable postage will be added. Just check the details.
We expect a worldwide release of "Chet's Last Call" later this year. Now it's your decision whether you like to have the album now and receive the bonus album, too. Or you wait for a release in your country. We recommend the first option of course.  We are not sure, how long the bonus presale will be up, so don't waste time. You can order "Chet's Last Call" at nimbit.com.
Do you like to read more on Bim Skala Bim? Go here to find the interview that Dan Vitale did with REGGAE STEADY SKA.