Andy Bassford on the making of The Harder They Strum
2018 will go down as one of the best years for new releases in ska and reggae. And among the best of the best—solidly in my Top 3—is the first solo album from veteran guitarist Andy Bassford.
You've heard Andy Bassford play. You may not have known it was him, but if you've been listening to ska and reggae any time during the past, oh, forty years, you've heard him play. Maybe you saw him when he toured for 22 years with Toots and The Maytals, or with Monty Alexander's Harlem Kingston Express, or with Dennis Brown. Or you heard him on releases by (deep breath) Yellowman, Johnny Osbourne, Barrington Levy, Melodians, Mighty Diamonds, Marcia Griffiths, Delroy Wilson, Horace Andy, Wailing Souls, Alton Ellis, Ernest Ranglin, Congos, Burning Spear, Lady Saw, Augustus Pablo, New York Ska-Jazz Ensemble, Island Head, Brooklyn Attractions, Keisha Martin, and on 44/876 by the up-and-coming duo, Sting & Shaggy. There's a lot more, but you get the idea. You know Andy Bassford.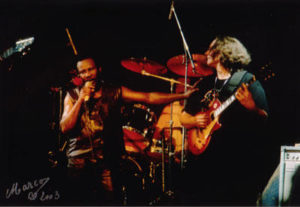 Andy sat down for a wide-ranging conversation and a track-by-track breakdown of The Harder They Strum. I asked Andy where the idea for the album came from and he took it from there.
Andy Bassford: I played on a project called, Island Head, instrumental rock versions of Bob Marley songs. When it came out, much to everybody's astonishment, [SiriusXM satellite radio station] The Joint jumped on it, Pat McKay loved it, Dermot Hussey loved it, and they had it in heavy rotation for about 18 months. The record has lots of long guitar solos by me, so the little light bulb started going on in my head. "People like this. People do like long guitar solos. Maybe I should have my own record." So, that was the seed of it.
I played on all these records for everybody you can think of for the last forty-something years, but nobody knows me. They might know me by sight. I'm sure people in New York are sick of seeing me at this point, "Oh, him again. Oh, for god's sake. Isn't there anybody else that plays guitar in this town?" I was with Toots for a long time and Dennis Brown was a very visible gig. So, people have seen me playing with good famous dudes for a long time, but they don't necessarily know my name.
So, I said, "Okay, if I'm going to do a guitar record, and I'm a brand new artist, and every kid that gets out of music school and comes to New York is doing his little Jazz CD, and there are 80 million guitar CDs on the market by guitar players nobody's ever heard of—but if I redo a record that everybody knows, at least they will have heard of the thing that I'm doing. And, it gives me an elevator pitch. "Veteran Reggae guitarist's first solo record is a tribute to the movie music that inspired him." Then, I got a real shock because I had forgotten that there's only four bars of guitar solos on the original record. Lynn Taitt on "Stop That Train." That's the only guitar solo on the record. The only other solo on the record is the organ thing on, "Johnny Too Bad," which is the same as the intro. "You Can Get It If You Really Want," has a horn bridge, but it's not even a solo.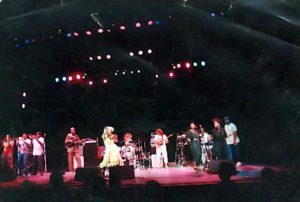 Jamaicans bought all the [soundtrack] singles, and people who saw the movie and bought the original soundtrack were mostly adventurous young Americans, hippies, or weed smokers, or people who've been to Jamaica and heard the music. I have to make a record that those people are going to understand. So, how do I make a record that Jamaicans my age, plus or minus 15 years, are going to really like? You would think that made it harder. It made it easier.
Jamaicans love to sing along with songs. If you look at the Skatalites, what they did was, they would play a tune, whether it was an original or a cover, and they go all the way through the tune first, and then they'd have a section of a vamp of one or two chords or three chords to solo on. Rather than make a jazz type record where I play the head twice and solo, I'm going to play the tune all the way through as if I was singing it. That way, my Jamaican friends will sing along with the entire thing for three and half minutes, and then they'll be totally into it. At that point, I can start soloing, because now I will have them. I went so far with it as to actually have the lyrics of all the songs on a music stand while we were recording to make sure that I stayed very close to the inflections of the original singers. When I did change something around slightly, I made sure people could sing along with it and not get too rattled.
We didn't overdub anything except for New Kingston's vocals. The reason for that was actually my craziness. I knew if we recorded rhythm tracks and then I went somewhere else to do the solos, that the record would never get done because none of the solos would be good enough.
So, I said, "What I'm going to do is just hire all those instruments and singers for the session, and then I'm going to play with them. Then, because I'm hearing everything already, I won't overplay, and I'm just going to take the lead, whatever the take is, and at least the guitar solos will be done and I can worry about everything else."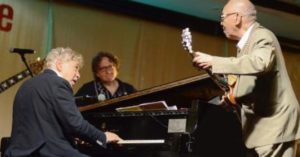 Your CD lists, by my count, 36 guest musicians and singers.
Right, and they all got paid except for one who shall remain nameless who completely refused to be paid, just downright walked out of the studio before we could get his social security number. Everybody got AFM scale or SAG scale, depending on what union they were in. The singers are in a different union. Thank god I didn't ask any of the singers to play percussion because that would've been a double!
The Harder They Strum – track by track
You Can Get It If You Really Want It.
I listened to this tune and thought, "Oh, this is a Ska tune." It wasn't recorded as ska—it's that, Beverly's All Stars kind of thing like "Monkey Man." That kind of feel, but I think it's the same guys. Basically, Toots' band and Ranny Bop playing rhythm on the original. Or Dougie Bryan, I'm not sure. But I think it's Ranny Bop. I listened to it, and I went, "Oh, this is simple. It's got horns on it, it's ska tempo. This is going to be my ska song. I'm going to start off the record with a ska song." And I thought, "Great. I can really see if this is going to work." The last live session we did for the record was this ska tune, even though it's the first song.
Stop That Train (Draw Your Brakes)
My first thought was that I was going to use the talkbox and do the DJ part over the top, that old school deejaying. Then, I thought, just replicating the DJ thing with the talkbox, maybe that's not going to hold people. So, I thought, okay, since the DJ record is a version of an older tune, why don't I go back to the thing that it's versioned from and listen to that? As soon as I heard that, I said, "Oh, man. this is the way to go." This lies right on the guitar. Furthermore, it's something that my dear friend, Monty Alexander, would maybe agree to play on because it's his kind of thing. I said, "Okay, cool. I'm going to redo "Stop That Train," I'm going to just keep the DJ intro, and I'll redo the original track." Then, I got New Kingston to sing on it. They play on it, too. There's a full vocal version of it, but when we listened to the vocal version we thought, we're not hearing enough of me and Monty. I reserve the right to release that as a single later! For my Jamaican friends that like to sing along, there it is. We had a lot of fun playing it. Monty and I had a lot of fun bouncing off each other like we do on stage [example at 3:50 – CB] and it's really nice to have that on my own record.
Rivers of Babylon
We had like 40 minutes of studio time left after we cut "You Can Get It." I said to the horn section, "Can you guys make a Salvation Army band or a Jamaican military band version of "Rivers of Babylon?" It took them all of five minutes to sort it out. We did a few takes and it was great. They got it right away. I didn't write a chart, they just made everything up and it sounds great. I said, "Okay, guys. I think we got it." Then, one of them broke into dixieland. So, that whole dixieland thing that they came up with, it's not something I asked them to do. It's something that they thought of on the spot. And, Commissioner Gordon, being the brilliant guy he is, had left everything on, so he caught it.
With a traditional New Orleans funeral, they play sad music on the way to the grave, they have the ceremony, and then when they come back, everybody breaks into the second line stuff and they play dixieland, and they celebrate. I realized when we had edited everything together that is exactly what I had done on this track without realizing it until I heard it back for the first time. What makes it really even more poignant for me is that my father passed twelve years ago, and he was always my biggest supporter in music. My father was a huge traditional jazz fan, and he used to play dixieland on the record player on Saturday mornings, I just love horns for any number of reasons, but maybe the basic one is because to me it means Dad's home. You hear horn music, Dad's home. And he's been gone a while.
Many Rivers to Cross
"Many Rivers to Cross," was a tune that I used to play in clubs back in the 80s when I first came to New York. Now, who would be the best guys to play on that? I had a gig where Karl Wright, Jeff Ganz, and Mitch Margold all played a wedding reception or something. They wanted Caribbean music. We just spitballed the gig, and everybody got along very well and played well. I play with Karl Wright in Monty Alexander's band. He's one of my favorite drummers in the world, and he loves to play ballads. And it was Mitch's idea for me to do the song in the first place, so I'm calling him, and I'm calling Jeff. That's what you hear on the record.
We went into the studio that [The Relic Room] I'd found while recording with the Brooklyn Attractors that had just opened and they had an eight-track analog tape machine. I really liked how it sounded. I'm not a big recording format guy that thinks analog is the only way to go, or anything like that. I don't really care how they record me. I care more how everybody plays.
But I have to admit, when I heard the playbacks, that there was a sound that I heard in the room that I hadn't heard for a long time. It was very inspiring. So, I said, "Okay. I'm going to do this song in this studio with this set of guys, and that's going to be the next single."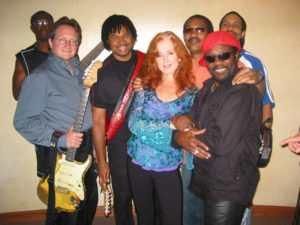 Sweet And Dandy
Having played with Toots for all those years, the obvious thing would've been to call Toots up and say, "Toots, could you come and do guest vocals for me?" I know he'd do it, but there's no way. It's always going to be compared to the original. It's not 1969, it's not going to come out the same. So, I thought, "How do I recast these things? Having females sing it completely gets away from it being compared to the Toots version."
I called up Janice Pendarvis, who was the leader of the Soul Sisters Six. That's just the name I gave the group after the fact they were just six friends of mine. Janice is my go-to person for everything relating to harmony vocals. She's got an amazing history. Janice is in that movie 20 Feet From Stardom about the background singers. She's the first person you see in the movie.
Small woman with a big afro, super articulate, very pretty. She's a SAG-AFTRA delegate, she's very militant politically. She's just great, I love her. I met her in Jamaica when she was down there recording with Ben Vereen. She's one of those people you don't see for ten years and you pick up exactly where you left off. It's one of those kinds of friendships.
I called her up and I said, "I have this idea. You're my vocal guru, tell me if it's crazy. I love this South African vocal group called the Mahotella Queens, they are like the I-Threes of SA. What if the Mahotella Queens sing Toots?" I sent her the songs and some Mahotella Queens songs. She called back and said, "I think it's a beautiful idea. I'd love to help you do it." I said, "How many singers do I need?" She said, "It sounds like three singers double tracked." And, I said, "Double tracking means overdubs and I don't want to do overdubs. What if I hire six women?" She said, "That'll sound great, it'll absolutely give you the texture you're looking for." Then, of course, the question was how to pay for all that, but that wasn't her problem. The important thing was, that she thought the idea was going to work, so I wrote a chart, and we got people that I really admired as people and people who sang really well.
We got Kim Miller, who used to sing with Israel Vibration and was in my band, The Blue People. She also sang with Marcia Griffiths and JC Lodge, she's an American woman, but she has lots of reggae experience. Then, we got Magano, who sings with me in Derrick Barnett's band. She's just great. She's from May Pen, Clarendon, near where Toots is from, so we had a dialect coach to make sure that we had the right pronunciation.
Then, we got Shae Lawrence, who is not yet that well-known, but is a brilliant young woman from the Bronx. She has Jamaican parents, so she's fairly familiar with the dialect. She's the only person I know who could sing Reggae convincingly, sing R&B convincingly, DJ, and Rap. She can do all four of those things. And, it turns out that Sister Nancy is her cousin.
Shae was a must, and so was my friend Simone Gordon, who sang with Stephen Marley for a long time. She sings with Junior Marvin, and she's in Talking Dreads. Okay, so we needed a sixth person. The person I wanted was MIA [missing in action] so Janice recommended Audrey Martells. I said, "All right, this is your world. Give me Audrey's number."
The day we recorded the song was a crazy week [longish side conversation about playing with Monty in Utah, a strange numbness in his hand, a gig with Island Head, rehersals with Soul Sister Six and the never-ending worry about paying for the sessions—CB]
We came in, and the band knew the tune. Everybody in there was top-notch. I knew the singers sounded good, but we had to move the session to a different studio because the Relic Room didn't have enough mics to record all those people. We went to a place called Eastside Sound. Well, we got in there, and they started going nuts when they realized exactly how many people they were going to record, and how many mics Gordon was putting up, and how many headphone mixes we need, and all this other stuff. I was in the studio directing the band, but my friends who were in the control room were laughing after the session, explaining all the magic that Gordon pulled out of his hat to patch everything in and get it working, and so on and so forth. They said, "You didn't see any of it, but it was miraculous what was going on in the control room." Fourteen people, and all recording live, and all singing live.
So, it was incredibly nerve racking. At one point, the enormity of how much money I was spending and the fact that it might not work, hit me in the forehead and I went, "Oh, my god. What the hell was I trying to do here?" Now I know why nobody else does this stuff, but I'm really happy with how it came out.
We were going to do it like the original…and right before we were recording, Sidney Mills from Steel Pulse was on piano and he starts playing something that sounds churchlike. Then, Earl Appleton on organ, played something to go with it, just musicians fooling around. I thought, "Church. We have six women. We have a choir. We have two keyboard players who have played in church, it's crazy if we don't do this." I said to them, "Okay, hold on, we're changing the intro." I said, "I want church at the start of this tune. It's a song about a wedding. We're coming from the church to the reception, so we're going to have a bit of church." They ran it a couple of times and we did…Gosh, I don't remember how many times we did it.
But, anyway, we got the intro happening, and right as the tape rolled, one of the women said, "Hallelujah!" which I didn't ask her to do. Up to now, I can't figure out which one of them did it because they weren't on separate mics. It was this wonderful accidental moment. There were a lot of them in the recording.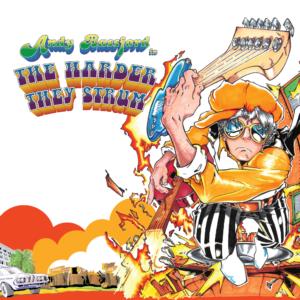 The Harder They Come
The original idea for, "The Harder they Come," is a song about a bad man cutting down the oppressors and stuff. I said, "Okay, great. This is going to be a guitar battle. The Three Telecasters. Like the Three Tenors." Al Street is on it, a great American guitar player who had never played reggae before the session. I explained to him what I wanted, he was just all over it. That was amazing. He plays mento banjo on, "Sweet and Dandy," too. He never held a tenor banjo before the session. Yeah, that's how good he is. The idea was that he and George Naha, who plays in Bernard Purdie's band, and me, we were going to duel it out. So I was explaining this to the guys, and Al said, "I don't want to do that. I want to play this part here." He starts playing the sticking part and I said, "Well, I'm not going to tell you not to play a cool part that you thought of if you think that's going to be better than this." The idea with George was to play the tune. He plays the background part the singers play on the original, on the guitar, while I'm playing the melody. Then, after we play the reprise of the intro, we're off to the races. He did such a great job listening and filling in, that a lot of people thought I played both parts. Every time I hear it, I go, "Wow. I just got the right guys for the job."
Johnny Too Bad
This was a lot of fun. It was a tribute to the old spaghetti westerns that Jamaicans love, like Fistful of Dollars. When I lived in Jamaica all those movies were still playing in the ghetto theaters. There was one on Maxfield Avenue, always had either the Pam Grier movies or Lee Van Cleef and Clint Eastwood. The early Jamaican musicians used to love those things. Scratch and the Skatalites and all those guys used to go to those movies all the time. I thought, "This is perfect. We're going to redo "Johnny Too Bad" like a spaghetti western movie, so the six string bass is going to play the lead because Johnny Too Bad is a bad guy so he should have a spaghetti western sound in his song. Morricone and Hugo Montenegro and all those soundtrack composers used a six string bass in those movie scores, so it's a sound Jamaicans know. George played the background fills on that, and New Kingston did a great job with the vocals.
When you have a soundtrack, you have people doing stuff from the movie in it. So, I said to Gordon, "We need to assemble some pieces of dialogue to drop into the solos, so it sounds like it's really a soundtrack for a movie." He said, "Where are we going to get that?" I said, "All the talking that everybody did between takes, because there were a lot of very funny people in the studio, and there was a lot of goofing around." It didn't take us more than ten or twenty minutes to find all these bits that, if you cut them up in a certain way, would sound like "Johnny Too Bad" was robbing things. We had a lot of fun with that. The interesting thing with that tune, the session was 8 to 11, and after 11 pm you go into overtime, time and a half [pay]. We played the tune, and I knew we were getting close to 11. On the last note of the tune, I played a harmonic on the six string bass. I listened to it and I looked up at the studio clock, and it went to 11. I said, "Okay, this is perfect. This is the last note of the case, we're done." It was great.
007 (Shanty Town)
Okay, now that one was the reason the record took three years to do. We already had the rhythm track, but remember, on all the other tunes we had done I had recorded the guitar solos live. We did "Shanty Town" on the same session as "Many Rivers," it's a really easy tune and I had it in my back pocket in case we had any time left over at the end. Because there were only four of us in the studio, I played rhythm on the original take. That's the only song on the record where I play rhythm. The rest of the record was done and mixed. Gordon was bugging me, "When are you going to get the last tune down?" I said, "Oh, for god's sake. I need to get this done." I realized that one of the problems with it was that I was recording at home and I was having to engineer the song while I recorded the guitar. That was okay, but the real problem for me was that there was no audience. I realized that even when I'm recording for other people, and the only person there is the engineer, I have an audience, I have somebody that I'm playing for that I want to impress. The reason I couldn't get anything done was, there was nobody to impress!
I said, "This is absolutely stupid. I should be able to do this." But, the fact is I need somebody to impress. I needed an engineer. So, I called up Liu Ortiz, one of my favorite engineers and people, and I said, "Liu, this is going to sound absolutely idiotic, but will you come and record the guitars on "Shanty Town," for me?" He goes, "Yeah, absolutely." He took the train up to the house, he sat down at the computer, and I got all my guitars out, tuned them and stuff. We started working, and I got all the guitars done in three, four hours.
The lyrics of "Shanty Town" are disapproving, but the tone of the song is very upbeat. It's contradictory, but it really works. I thought, "What's the meaning of this?" I started thinking about Maxfield Avenue, where Channel One was. That was just as bad a neighborhood as you can imagine in the western hemisphere and certainly a very rough place, one of the roughest places I've ever been. I started thinking about Maxfield Avenue, and I thought, "I want the song to sound like it's Maxfield Avenue. The people walking down Maxfield Avenue, bopping, all the different personalities. There's the grouch, the old guy who's telling the kids to shut up. There's the obnoxious teenagers. There's the young men with nothing to do. There's the old church lady. There's all these personalities. I'm going to make all the guitar parts, each different sound is going to be a character that I would've seen on Maxfield Avenue." The lap steel is the church lady, the wacky church lady going, "Oh, my Jesus! Oh, God!" That kind of thing.
Interestingly, Simone's aunt, Sister Mary, was a very devout woman in a Pentecostal church and she had passed away about six months before the recording. Simone called me up and said, "I'm going through Sister May's stuff and she has this funny guitar that has legs like a table. Do you want it?" I said, "Hell, yeah! It's a musical instrument with strings on it, I want it." I brought it home, and plugged it in. I said, "All right! This is the church lady. I have the actual church lady guitar, so we're going to remember Sister May on this. She never played the guitar, but I'm going to play it, it's going to be on the song, and it's going to be about her."
Then, there was the electric sitar. I love Bobby Eli and Norman Harris from MFSB. They were big electric sitar guys, so I thought, "Okay. I'm going to get my Philly Soul thing on this record with the electric sitar. The electric sitar is going to be like that obnoxious little kid that's always running around, bumping into things, and you can't control him." For the vocal sections, I used a different guitar for each part, and there are four parts and I doubled them, but I didn't make them exactly tight. I made them loose like street singing. Then, the rhythm guitar, there's some sliding parts that sounds like Lynn Taitt who is one of my mentors, the original Rock Steady guitar player. He was in Toots' band for a tour, and he showed me a lot of his stuff. We really hit it off on the road. I learned a lot from Lynn, and since he played on the original record …and, I actually remade it for Shaggy and people thought it was a sample. The reason that people thought it was a sample was Lynn showed me exactly what he had done. I thought, "Okay, this is my tribute to Lynn."
Pressure Drop
This and "Sweet and Dandy" are the only tunes where I didn't follow the melody on the guitar because the women were singing it. It's kind of an in-joke with Toots, because Toots hates it when the guitar plays fills between his vocals! If you notice, you never hear a live Maytals record where there's blues guitar between the singing. The singing is so bluesy I thought it would be a natural fit. I started doing that stuff when I started playing with Toots. He pulled me aside after the first gig and says, "No, I don't want that. I must be free to slur at any time. When it is your solo, you can slur." All right, that's the script. I can follow the script. With those two songs I was having a blast playing all the licks that he never let me play in the twenty-two years I was in the band. I hope I'm in the room with him when he hears it for the first time. Toots loves female singing, so I'm sure he's going to like it, but he's going to really laugh when he hears the guitar because it's all the stuff he never let me do!
On, "Pressure Drop" what I ended up playing—and I didn't quite get it the way I want it on the best take everybody else did, but sometimes you just have to go with the overall sound of things—what I'm playing is licks that he used to sing live while the vocals were going on because he always has backup singers live. For the second half of the tune, I'm actually imitating what he used to do in playing back some of the same things he used to sing onstage.
Sitting in Limbo
This was the second song we did with Monty. That was the morning session on a Sunday where we did the ladies, the Soul Sister Sixs, and the Toots songs in the afternoon. The morning was "Stop That Train" and "Sitting in Limbo." With "Sitting in Limbo," the idea was, I want one tune on the record that could be mistaken for dancehall because I play a lot of dancehall with Jamaican artists, even though it's an invention that came into being long after the original album was recorded. I'm actually on some of the earliest dancehall records. I'm on "On the Telephone," by Barrington Levy which I think is the first time you actually ever hear a dancehall mix on a record. I was there when they were inventing it, and I thought, "It would be cool to have dancehall tune on the record, so the younger people would have at least some way into this."
I had New Kingston play on the Monty session because Courtney, the father, is very close to Monty personally and was playing in his band for a long time before I joined. Monty doesn't have children himself, but he really likes family stuff. He always really got a kick about the idea that Courtney had a band with his kids. I thought it would really be interesting to have younger Jamaican musicians on the record and Monty being the original generation to play this stuff, and be in the middle. Mikey Chung being a little older than me and some of the guys being a little younger, I thought, "What a great opportunity to have all these generations of Jamaican musicians on the same record. That's going to be really cool." Of course, they were thrilled that they'd be working with Monty, and he got really excited, too.
I have a very good friend named, Willie Martinez, who's one of the top timbale players in New York, if not the world, in addition to being a great regular set drummer. Willie loves reggae but he's never done any recording with reggae musicians. He was thrilled to be on the date but he didn't know why he was there. What I wanted was to make the Latin connection to dancehall explicit. It's there if you listen and know both idioms, but nobody had ever put a real Latin player with real dancehall players like New Kingston.
This is the thing, when you have this many great people on a record: it's a good idea to get out of the way and listen to them a lot of the time. It was Tahir from New Kingston's idea to do the second bridge as a one drop. I was going to have it be dancehall all the way through, but he said, "No, it's going to be more interesting that way." So we tried it both ways and Tahir was right.
So, young Courtney and older Courtney started playing the dance hall groove. I tell Willie, "I want that thing where you play a rhythm pattern on the side of the timbales, not the skin." Willie looks at me and says, "Oh, you want the cascara…" His eyes light up, and the first thing he plays is what you hear on the record. He goes, "Oh, this is going to work. This is totally going to work. I love this. Let's do it."
The question was, what to do with Monty? Monty was there and I said, "I want you to play melodica and piano on the take like you do on stage, on the same song." He goes, "Really? OK, what do you want me to play?"
I said, "Okay, this is what we're doing. This is like a soundtrack." Monty loves movies so I knew he would get it. The tune is about sitting in limbo and we're going to illustrate that musically. Imagine this guy, he's walking around, he's at a crossroads in life, doesn't know which way he's going. He's walking through the woods, and he comes to a stream, and there's some rocks on the stream, and he decides to sit down on the rocks, and look at the water. And, he's a musician, and he always travels with a harmonica. The way the tune is going to start off is, you're the guy who's in limbo, and you're sitting on the rocks, and you're just playing something that expresses being in limbo, music you would play to soothe yourself if this was what you were doing."
That's another one with a take that we have another take or two takes that are almost as good as the one we put out. They just nailed it. I don't know if I want to say I have a favorite song, but that's really one of my favorite songs on it. He [Monty] just got the spirit of what I was going for all the way through.
Post-production Gordon and I spend a lot of time going through each track and listening to things and going, "Man, they need to hear that. You hear what the drummer did there? We really need to hear that." Gordon patiently went through it, bringing up these various little tiny things. We spent a lot of time on the mixing. In terms of recording, the whole thing took about thirty hours, probably eight of which was me messing around with "Shanty Town." Two hours was New Kingston singing the background vocals.
Liu Ortiz did a fantastic job mastering it. He really heard what the record was in terms of the dynamics and all the different little instrumental things that are going on. He made sure to avoid what people do a lot these days, which is over-compress everything because they want it to be loud. You can't just have it be loud and there's a lot of shading on the record, not just in my parts, but in what everybody did. Lou mixed "Many Rivers," and, "Shanty Town." Gordon mixed the rest. As diverse as all the instrumentation and everything else is, Liu really pulled it together sonically and made sure that you can actually really hear everything that's going on.
So, it took three years to come out because of my dithering and because of my time mixing, and then schedules. I was touring a lot with Monty, and when I was here, Gordon wasn't, and that sort of thing.
The Harder They Strum is available worldwide here (Amazon affiliate link).