First off, that's not the name he was born with. Nobody's parents are that cool. When he first arrived thirty-eight years ago in Haarlem, The Netherlands, they named him Thomas Streutgers. A fine name but no Tommy Tornado. That name came just a few years later when he started appearing in various bands around town, letting his bandmates know that officially he couldn't perform after midnight because he was not yet 18 years old. Since then he must have been playing non-stop. That's the only way to explain how he's managed to play with so many bands in so many places, and how he got to be so damn good on the sax. His 2009 album, Sunrise, featured guest artists like Rico Rodriguez and Ernest Ranglin and firmly established him as one of the best sax players in ska and reggae. Now with his latest release, Back on Track, he's showing that he's one of the best sax players, period. My copy of the album arrived shortly after the release date and I may have already worn out many of the tracks. I ordered a CD for backup, just in case, and along with my order I sent along some interview questions. RSS: You've been playing professionally almost as long as you've been alive, but you had to start somewhere. Take us back to the very start, the first time you picked up a sax.
Actually I wanted to be a drummer but my parents thought it was too loud. I started to play saxophone all day at the age of seven. My first big influence was Ben Webster. I bought this record "Ben Webster Live In Haarlem" —my hometown—at a flea market when I was ten. I was really blown away by his big fat sound and I wanted to sound like him, trying everything to get this sound. It really became an obsession! But whatever I tried, it didn't work out. Then I found out he was playing the tenor sax instead of the alto like I was playing. This was pre-internet. I never saw a picture of him playing! So I changed to the tenor when I was 12 and big enough to hold the instrument. I started very young playing in bands and orchestras. I wanted to be a professional sax player since I was young, and wanted to play and sound like my big heros—Dexter Gordon, Sonny Rollins, Ben Webster, Lester Young, Big Jay McNeely, Lee Allen … I studied for hours and hours. I started with classical saxophone lessons, which was very good for my technique, but beside the lessons I was listening all the time to jazz, rhythm and blues, funk, soul, gospel and later, ska and reggae.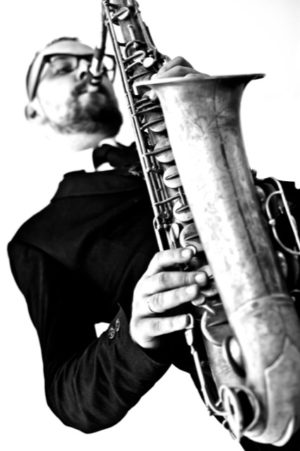 My first band was with the local marching band when I was ten. When I was twelve, I was playing with the school band, The Absolute Beginners—which is a great name for a band—and a saxophone orchestra. By the time I was 16, I was playing in a saxophone classical quartet, a salsa band and my first "professional" ska band, The Bouncers. I went to the Conservatory in Alkmaar when I was 17 and finished my studies in 2001 when I was 21. I've been playing professionally with all kinds of bands since I was 18 and I still play in a lot of different kinds of bands, from jazz-swing to reggae-ska, world music and funk. I like to play different styles of music but still try to keep my own sound and way of playing, That's the biggest and most fun challenge. Today, I don't want to sound like Ben Webster or Lester Young. I want to sound like me!
Back on Track is as much a straight-up jazz album as it is a ska or reggae release. What appeals to you in both genres?
There's one very important thing I like in both genres and that is freedom! There's a theme you play, and an intro and outro, but beside that, there is a lot of space for improvisation. I also really like the groove or swing. Both jazz and reggae can have this "rough" swing like you have with a lot of rhythm and blues, or gospel.
Who are your favorite ska/reggae and jazz sax players?
There are a lot of players I really like, and each of them has something which I like. Or don't like. A lot of those guys had a very long career, players like Dexter Gordon and Sonny Rollins. They sounded completely different in the 50s then in the 60s or 70s. But for example, jazz artists like Lester Young, Ben Webster, Sonny Rollins, Dexter Gordon, Coltrane, R&B sax players Big Jay Mc Neely, Lee Allen and King Curtis, and reggae-ska players such as Roland Alphonso, Tommy McCook and Cedric "Im" Brooks are musicians I really like.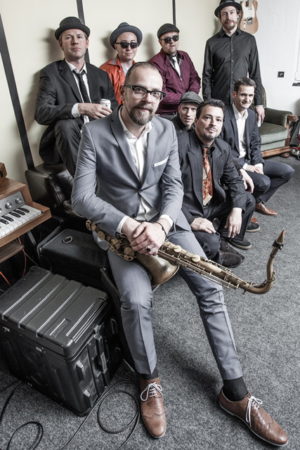 The title is Back on Track which is strange since everything I've heard you play sounds right on track! Any story behind the "Back" in the title?
To be honest, a few years ago I was done with with Tommy Tornado. There were several reasons. I was on tour most of the year with my jazz-comedy act, The Busquitos, doing 120 shows a year, and with ska veterans The Toasters. I was also doing a lot of studio work, teaching and booking shows for my bands. Since 2014, I've also been playing with the fantastic band, The Clerks from Cologne, Germany. The first two albums I did with Rude Rich & The Highnotes as backing band. Beside all that, I have a wife and 3 kids! But after several questions from people about when I'd be releasing a new Tommy Tornado album, I decided it was time to get this project back on track. So I started writing again. I met The Clerks in 2014 when I got a request for a festival show in Cologne, Germany at the Freedom Sounds Festival. At that time I didn't have a backing band so the festival arranged The Clerks as backing band. We did the first show without any rehearsal, and they did a great job! Since then we've played a lot of shows together in Europe and we became friends. It worked out so well we decided it was time to make an album together. They also backup Arthur Kay [Arthur Kay & The Originals] and they made a great record with him as well. Making a record is one thing. Mixing a record is another thing, especially with reggae where the mixer can be as important as the musicians. I wanted somebody to mix the album who has his own signature sound. For many years I worked with Dubcreator on releases for sound systems like the King Shiloh Sound System. He's got his own sound, very rough and aggressive, which I really like. This is how we got working together on the new album.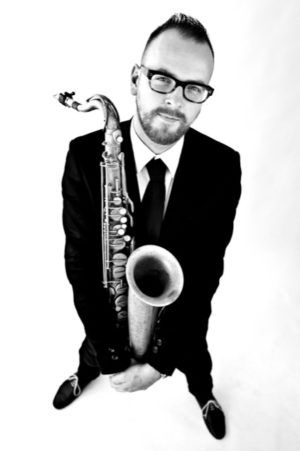 The surprise track on the album would have to be Lively Stroll featuring King Django. How did this collaboration come about?
Like on my other two albums, I wanted to have some special guests. On the first album, "Sunrise," I was lucky to work with Jamaican legends Ernest Ranglin, Dennis Alcapone, Winston Francis and Rico Rodriguez. On the second one, "Cool Down," there was Mr. T-bone from Italy and Ebou Gaya Mada from Senegal. For this one I wanted an "old skool" toaster. I knew this track, "Open Season," from the Stubborn Allstars which I really liked, so I contacted King Django by facebook and asked him if he was interested in working together. I think it worked out very well, a little bit Judge Dread kind of style. We actually never met in real life!
As a sax player, I always like to read about other players' equipment choices. Tell us about your setup.
I'm an old skool sax player. I really like this big, fat sound sax players had in the 50s and 60s. When I was at the Conservatory I bought a 1946 The Martin "Committee" tenor sax. What a great horn! But I was playing so much and traveled so much with this horn that it fell apart all the time which, on the road, can be a big problem. I remember a gig in Amsterdam were the neck broke during the soundcheck! So I was looking for another horn which sounded old, warm deep and fat, but with the technique from now. I was doing a masterclass in London in 2013 sponsored by Yanagisawa. While there I played their unlacquered 992 model, which is a new sax but sounds like an old American sax from the golden days of saxophone manufacturing. They offered me an endorsement, which of course I'm really happy with! For my mouthpiece, I use a Johnshock mouthpiece from Taiwan, which is a copy of the older Otto Link mouthpieces. For reeds, I play Vandoren V16 strength 3 reeds. I believe equipment must be good, but for the rest the player has to do all the work!
It seems you've played with everybody in multiple styles – is there any current performer you'd love to work with?
Wow! I have no particular person in mind, but a few years ago I did a tour with the Western Standard Time Orchestra, the superb ska big band with members of Hepcat, The Aggrolites, Brian Setzer Orchestra and other bands. It would be cool to do that again. So many good players, very inspiring to play with them! I like to try new things, play with other players and learn from each other. Tommy Tornado discography: