That was it, the public voting for The Album Of The Year 2014 poll is over. Thanks to everyone who participated, read, listened, voted, liked, or shared.
Specialized III "Mad Not Cancer" did it.
Huge congratulations to Paul Williams and his team for making it all happen and to each of the bands who contributed to this huge project. The 4-album package is available at the Specialized website.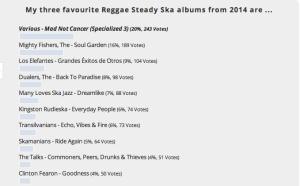 Also thanks to everyone who created new music in 2014. If you have a look at the "All Albums Released in 2014" list you know it was a good year for ska, rocksteady and early reggae.
Next to the public voting, there has also been a jury voting for "Album Of The Year 2014". We will publish the results in the next couple of days.
You can still show your support for bands and other activists in the remaining five categories of the Reggae Steady Ska year-end polls.
1. Debut Album Of The Year
2. Best Live Band
3. Best Festival
4. 7″ Vinyl OF The Year
5. Video Of The Year
These polls run until Sunday 11 Jan, 2015.
All the releases will also be listed among other things in the Ska Music Yearbook 2014, due out soon.
Peace.
[oldpoll id="11″]