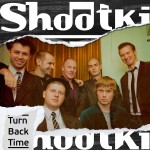 If you take a look at the albums that the top Ska labels have published in recent years, it's clear: The tempo has slowed down, there is a trend towards Rocksteady and Early Reggae. You hear more organ and less brass. In both respects – tempo and instruments – the band Shootki from Moscow have fallen out of time with their album "Turn Back Time". Maybe that's why it is self-published and not on one of these labels. It's definitely not a question of quality.
Brass
Start the record and you are in a soundscape established in the late-1980s – by bands like The Busters, Skaos and Mighty Mighty Bosstones. Shootki's songs are not driven by rhythms in the first place, but by melodies. And for the most part these come from trumpet, saxophone and trombone. I haven't listened to a record in a while on which the brass players are as dominant even in songs with vocals. Sometimes they are arranged to sound smooth, and then again as eruptive as it gets. In comparison, the beats are delicate with many breaks. You also don't get to hear that often these days.
Influences outside Ska
Shootki's sound takes a lot from Swing and Punk, the lead guitar alluding to Surf now and again. And you hear something that could be Emo Rock. I'd rather call it Russian Soul. Yeah, unusual, but this variety brings uniqueness. You get diversity, when it comes to language, too – instrumentals, songs in English, others in Russian. My impression is, the singer feels at home much more in his native language – he just sounds more confident then.
The Scope
If there is a song central to the whole record, it is the title track "Turn Back Time". It's an opus. In this song Shootki show all they can, when they start with a naive pling pling and over the course of three minutes subtly build a massive Wall Of Sound. That's basically the band's scope. from minimal near folkloristic motifs over sublime pop harmony to world-embracing choruses to bawl along to. A wedding band at one minute, festivalrockers the next.
Finale
Maybe Shootki don't conform to the Zeitgeist of today's Ska labels with this special sound. But times change again. And why should 70s Early Reggae be considered more modern than late 80s Third Wave Ska? Especially if the uptempo Ska sounds as fresh as Shootki. To serve as a stepping stone to the big Festival stages a big budget studio production would have been helpful, of course. But we can also be happy that Shootki didn't invest in it. "Turn Back Time" would have lost a big chunk of its charme.
Joachim Uerschels
What do you think about the record? Let me know in the comments.
Notes:
Artist: Shootki
Album name: Turn Back Time
Release Date: early 2012
Style: Third Wave Ska
Record Label: self
Country (Artist): Russia
Country (Label): Russia