Martin Pressling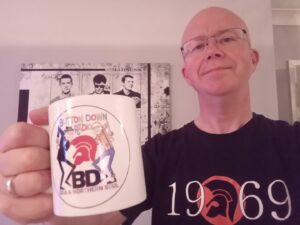 of Buttondown Radio, UK
1 Mango Wood – Stomp You Down
That authentic reggae sound. Superbly lo-fi and great tunes. That lightly distorted bass just takes you back to dark, dingey, dirty ska and reggae bars of your youth.
2 Proyecto Secreto – Alto
The best thing to come out of Belgium since Chouffe beer! Superb rocksteady sounds and ridiculously good musicality. That groove though…
3 Makeways – Feelin Good EP
The epitome of soul / rocksteady. Lazy beats under silky smooth vocals. Real maturity developing in the sound from 2017's Full Spectrum. The Salt Lake City Seven piece provided our summer soundtrack. That is a lot of S's!
4 Downbeat Detonators – Reggae Boomshot
We have listened to these tracks develop through demos since 2016 and so pleased to see this get a full release. Outstanding production just pushes these 2-Tone fuelled Netherlanders into the spotlight they deserve.
5 Alpheus – The Victory
This was a tough call with such a talented bunch of releases this year but… the production pushes this to the next level. Great musicianship, killer tunes and THAT voice! Every track is superbly crafted and a joy to hear.
—
Plus: Bad Operation S/T album. Can't wait to see what 2021 brings for these guys– The Red Stripes Made In Hong Kong so goooooood- Too Many Crooks Hung Draw and Quartered for sheer experimentalness and pluck. Really pushing boundaries– Boomtown United Tuffer Than I – Intercepteurs You Are Hear; what a corker of an album and this Wiltshire outfit go from strength to strength.

About Martin Pressling
I am Martin Pressling and I own, operate and enjoy Button Down Radio Button Down Radio Ska & Northern Soul playing ska and Northern Soul since 2016. Born in 1969 in England, my formative years were spent in the 2-Tone era and this has spawned an obsession. 2019 has been a monster year for ska as this list stands testament to.