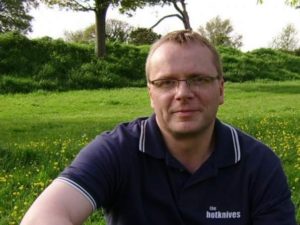 Derek Bowyer
The Hotknives fan page on Facebook.
Album of the year for me is Gary Marshall's "The Awakening". As a massive Hotknives fan it was amazing to hear that one of my favourite songwriters had recorded some new material… and it's all excellent, each track! The album is choc-full of outstanding melodies and uplifting lyrics and Gary is superbly backed by his son's band AKA Paperboy. The outstanding track for me is "What Will Be Will Be" – catchy, upbeat and inspirational. The whole album is a joy from start to finish.
My second favourite album is The Simmertones' "Ten Feet Tall". This is a band that gets better and better with each release and their trademark sound has a real depth to it. From in-your- face instrumentals to laid back rocksteady and reggae, it's all here. Check out the opening track "El Gringo" to see the band at their very best.
My third favourite album is The Abruptors' "Love And Other Disasters"… The dual male/female vocals are so good on this release. I'm really impressed with their songwriting and the overall vibe of the band and hope to see them touring Europe sometime in the future.