Christopher Wardell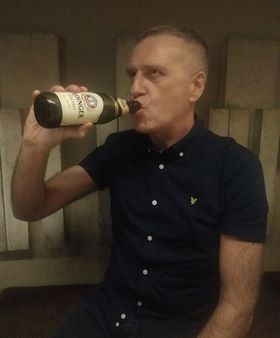 writer at The Northern Echo, promoter at Backdoor Promotions, singer at The G-Men
1 : THE PLANET SMASHERS : TOO MUCH INFORMATION : STOMP RECORDS
Melodic ska-pop-punk from Canada. The Planet Smashers have been mashing up airwaves since 1994 and may that long continue. We Ain't Taking It has so much energy that it could ignite the speakers of any North American college radio station and I instantly fell in love with Aim High the first time I heard the song, which was while I was eating a Ham Salad sandwich in my car in a supermarket car park in Manchester. In my opinion, Too Much Information is the group's finest piece of work and once again The Planet Smashers manage to showcase their talent in booming tones.
2 : THE BUSTERS : THE BUSTERS : SKA REVOLUTION RECORDS
The Busters are one of my all time favourite ska bands and they always continue to come up with the goods. When I was in Dusseldorf recently, I was listening to The Busters on my headphones while sat next to a window inside a bar on Ratinger Strasse, and as I watched the world go by outside, I had a smile so wide that the barmaid probably thought I had trapped wind. When this CD arrived through my letterbox, I knew I was in for a treat, and I sure was. Have A Blast wouldn't sound out of place on a James Bond movie while 32 Again nods towards the Heavy,Heavy Monster Sound of Madness.
3 : THE BEAT FT RANKING ROGER : PUBLIC CONFIDENTIAL : DMF RECORDS
Another beautiful gift of music to us all from the dearly departed Ranking Roger. Public Confidential, the band's follow up to their UK hit album, Bounce, enthralled both old and new followers of The Beat last year, and if you listen carefully, you can hear traces of Mirror In The Bathroom and Best Friend on the album but it's always Long Call Short Talk and Giving It Up that have me continuously pressing the repeat play button.
4 : THE DUALERS : PALM TREES & 80 DEGREES : SUNBEAT RECORDS
Palm Trees & 80 Degrees finds The Dualers at their very best and it's no wonder that it's their biggest selling album so far, reaching no.11 in the UK charts. The album reached out to so many people in 2019, with BBC Radio 2 often playing some of the tracks to the nation while most other stations were still in love with Ed Sheeran and trying to poison our minds with his songs about lust and peoples body curves. Thankfully, The Dualers offered us all something a little different with Palm Trees & 80 Degrees and it was the track Spend Some Time that musically seduced me with its gentle strings and sentimental reggae vibes.
5 : MASONS ARMS : VON VORN : PORK PIE RECORDS
It's not often that I play the same album most days of the week but this CD has been on my stereo since it was released by Pork Pie Records from their headquarters in Berlin. Von Vorn is a collection of the greatest Skinhead Reggae and Rocksteady anthems to ever emerge from Germany and if you prefer the offbeat a little slower, then this is the album for you ladies and gents, and it's worthy of a place in any music chart.
"Well, that's my choice of the Top 5 albums from 2019, my friends. Continue to love the music and support the worldwide ska scene."
About Christopher Wardell
Dell, otherwise known as Christopher Wardell, has been a ska fanatic since he was eight years old in 1980. His father was a fan of the original ska and Blue Beat sounds during the 1960s, so his love of the music is deeply rooted in his DNA. While still at school, Dell started to write album reviews in the Northern Echo newspaper, a role he still has today, and when he was a teenager he formed a band called The G Men with Andy Dinsdale in the summer of 1989. He left the band last year and he claims that he announced his departure by sending the other band members a radio signal that he managed to bounce back from the Alpha Centauri star system. For three decades, Dell has been booking and promoting ska concerts in the UK and Germany under the guise of Backdoor Promotions, and this year, he will be guesting with Natural Rhythm on their forthcoming new album, Salute To The Trads.