Magdalena Miszewska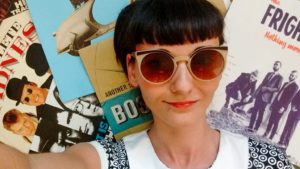 of Rudemaker magazine
1. The Aggrolites, "Reggae Now" – The ska/reggae scene has changed a bit over the last few years, when the aggro boys were silent. We've all heard a bunch of talented newcomers digging in oldschool reggae history. But "Reggae Now" is a clear statement – Hey, in case you forgot, Aggrolites are still the boss!
2. Los Barrelshots, "Reggae Volcano" – Imagine being at a party in the middle of the night in a small club full of skinheads. The place is cramped, smells of cigarettes and sweat, and the floor is sticky, but everyone is dancing and you have never felt better in your life. That's just how "Reggae Volcano" sounds.
3. Eastern Standard Time, "Time For Change" – If in doubt, listen to Eastern Standard Time. These guys always deliver first-class tunes, both originals and their takes on classics.
About Magdalena
I meet with musicians at their gigs and festivals, chat with them about stuff and publish it on RudeMaker.com. If I'm not dancing my feet off at an old-school reggae all-nighter, you'll probably find me at the nearest rock and roll show.