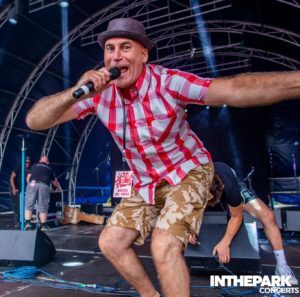 Peter Lacey
DJ Ska N Mash
1. The Dualers – Palm Trees and 80 Degrees
I've followed the development of this band for over 15 years and I was extremely impressed with their former album Back To Paradise. However this album takes them up another notch with an album that has involved all members of the current line-up. We were treated to a quick glimpse of what was to come at the O2 indigo gig in December 2018 but the album proved to be much more polished with a diversity of floorfilling ska and laid back rocksteady. Ive had this on continual loop for weeks in the car! Recommenced track: What a Bangarang
2. The Beat – Public Confidential
After the wonderful release of Bounce this has become a fantastic epitaph to the loss of Ranking Roger. An album that's difficult to find a dud track on and one that's very easy to include within a dj set to those who might not be familiar with this classic 2-tone era artists. Recommenced track: Civilisation
3. The Aggrolites – Reggae Now
I love what the Aggrolites have provided us, plenty of boss reggae tunes that ignite a dancefloor and have the punters singing along with their catchy lyrics. This album sits amongst their best and thankfully so after so long being together. The hammond organ graps the listener to the sounds of Jamaica circa 69 but the composition of each song delights. Recommended track: Pound For Pound
4. The Busters – the Busters
A wonderful album from this German band who seem to have produced an excellent album that persuades me to look back at their back catalogue. The vocals are familiar so it was no surprise to find Dr Ring Ding blasting out. The brass is superb and the whole album delivers a punchy, moon stomping, energetic set of ska revival tunes, which is very nicely produced. Recommenced track: World Gone Mad
5. Prince Fatty – In the Viper's Shadow
This is an album Ive given a lot of time to and it delivers with the usual Prince Fatty vibe, heavy on the bass and including some top artists. Recommend track: Tonight
6. Gentleman's Dub Club – Lost In Space
Each of GDC's albums delivers a fantastic range of tunes that proves impossible to ignore. Full of brass with a fusion of genres that light up every dance floor. Lost In Space is no exception and shows a progression within the band that hasn't forgotten its roots. Recommend track: Eye of the Storm
7. Phoenix City All-Stars – Clash Version Rockers
As a huge fan of both the Clash and Phoenix City All-Stars I was a little disappointed with this album. It's good, but not as good as some of the other Clash dub versions including The Clash Goes Jamaican.
Its certainly worth a listen, but it doesn't deliver as well as I expected.
8. The Specials: Encore
After over 30 years since they delivered an album this was a little lame IMO. Lacking energy or direction it seems to be a release full of album fillers. There's a few that stand out but with 3 covers it seems the real writing skill has been lost with former members. Having said that the live performance of some of these songs was much better but its an album Im very selective with. Recommended track: Vote For Me
About Ska N Mash
I dj as Ska N Mashusing vinyl, CDs and digital files. And I like to use the mic and involve the audience which often puts me on MC duties as well as DJing. Most of my work is based around ska, reggae, punk but Ive dj'd for far more diverse artists.
I was recently the DJ and MC in Southend for From the Jam, Bad Manners, The Dualers and more. I'm booked again to dj and MC for them in Chelmsford June 2020 and to dj and MC for the 40th anniversary of UB40 (Ali Campbell) in Southend with The Dualers, Gentleman's Dub Club & Hollie Cook in August.
I dj a regular Wednesday slot on Thames Delta Radio which this week takes a peak at the influence of reggae on punk/punk on reggae. Ive previously dj'd on SK.A radio which is now defunct.
I've dj'd for Neville Staple in Cambridge, for Lee Thompson in North London, I was part of the the dj team at Skamouth Festivals 2014, 2018, 2019 (booked for 2020) and Skabour Festival 2015-2019 as well as the sole dj at Ska Train Festival in Cambridge 2015. I was the sole dj and MC at the Brentwood Festival 2014 with UB40, Alexander O'Neil, Dualers etc. part of the team of 5 in 2015 and headed the team of 3 in 2016 with lots of 80s/90s bands including the Boomtown Rats, Soul II Soul, Brand New Heavies, Level 42, Tony Hadley, ABC etc. I was part of the dj duo on the main stage for Brentwood Festival 2017 with Status Quo, Heaven 17, the Real Thing, Midge Are etc and 2018 with Squeeze, Scouting for Girls, Heather Small etc. And recently played at this years 3-day festival with Jesse J and Clean Bandit. Plus I had the pleasure of sole dj for the Selecter in Cambridge in November 2015, Bad Manners in Chelmsford 2017 and several times I've been special guest dj at the Soul on the Sea events on Bournemouth Pier. Last year I was the MC and DJ at Garon Park, Southend for the UB40, Bad Manners, Dualers event and later for the 2-tone festival with The Selecter, The Beat, Skatalites. Ive also dj'd at O2 Islington with The Talks, Popes of Chili Town, Millie Manders etc. And at Camden Underworld with The Slackers and New Town Kings. Recently I was the after show party dj for The Dualers at O2 indigo, my third appearance at this prestigious venue, and I'm helping to open their 2020 tour in Camden.