The responses to the Album Of The Year 2012 poll at reggae-steady-ska.com have been amazing. We are more than thankful for the attention our new website has received because of it. Even Dave Wakeling (of The Beat) shared the post asking his friends to vote, in his case: in favour of Specialized. Wow!
On the other hand, a few people reached out to us with accusations of cheating towards other parties. We just can't imagine anyone trying to outsmart any one else on something as unimportant as a poll.
Here are the results of the voting that have reached us between December 28th 2012 and January 6th 23:59 (Central European Time), the official deadline of the poll. Unfortunately, the poll ran a few hours longer in some parts of the world, because that's how the poll software worked. Sorry about that. We had to exclude the votes that came in after midnight.
The graphic below shows the Top 10. Congratulations go to Pannonia Allstars Ska Orchestra and their album "Lovemonster."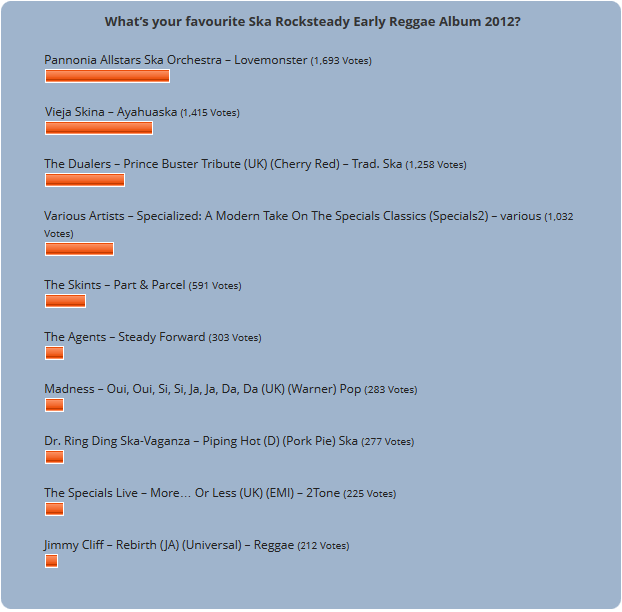 11 The Skatalites – Walk With Me (JA) (Pid) – Jamaican Ska (164 Votes)
12 Jaya The Cat – Here Come The Drums (USA) (Bomber Music) – Ska, Rock (154 Votes)
13 Western Standard Time – A Big Band Tribute To The Skatalites (USA) (Western Standard Time) – Trad. Ska, Ska Jazz (152 Votes)
14 The Senior Allstars – What Next? (136 Votes)
15 The Rocksteady 7 – Friends & Enemies (USA) (Whatevski Records) Ska Jazz (112 Votes)
16 Buster Shuffle – Do Nothing (UK) (People Like You Records) – 2 Tone, Pop (96 Votes)
16 Rude Rich & The High Notes – Tribute To The Greats (NL) (Grover) – Traditional Ska (96 Votes)
16 Obi Fernandez – Confessions, Waves And The Garden State (96 Votes)
19 Dr. Woggle & The Radio – Weinheim City Live (D) (Rocking Records) – Ska, Dancehall (94 Votes)
20 Phoenix City All-stars – 2Tone Ska & Rocksteady Special (UK) (Cherry Red) – Trad. Ska, Rocksteady (83 Votes)
21 Babylove & The Van Dangos – Let It Come, Let It Go (DK) (Pork Pie) – Trad. Ska, Ska Pop (82 Votes)
22 Masons Arms – Gepackt (D) (Rocking Records) Ska, Rocksteady (76 Votes)
23 Prince Fatty – Presents Hollie Cook in Dub (UK) (Mr Bongo) – Reggae, Dub (75 Votes)
24 The Caroloregians – Fat Is Back (BE) (Cherry Red/Grover) – Early Reggae (65 Votes)
25 El Bosso & Die Ping Pongs – Tag Vor Dem Abend (GER) (Pork Pie: CD, Grover: LP) – Ska Pop (62 Votes)
26 The Expanders – Old Time Some Thing Come Back Again! (54 Votes)
27 The Void Union- Higher Guns (USA) (Rocking Records) – Traditional Ska, Reggae (52 Votes)
28 Tommy Tornado – Cool Down (NE) (Pork Pie) Early Reggae, Jamaican Jazz (44 Votes)
28 Daniel Flores & The Rumba Box – Todo Hombre Es Una Isla (E) (Liquidator) – Reggae (44 Votes)
30 Los Granadians del Espacio Exterior – Reggalactico CD/ LP (Liquidator) Rocksteady, Early Reggae (43 Votes)
31 Leo & The Line Up – Leo & The Line Up (Rocking Records) – Ska, Soul (41 Votes)
32 Pressure Cooker – Wherever you go (40 Votes)
33 The Beatdown -Walkin' Proud (CN) (Destiny Records) – Rough Reggae (38 Votes)
33 Mr. Review – XXV (NE) (Pork Pie) – Ska Pop (38 Votes)
35 Soothsayers – Human Nature (35 Votes)
36 Red Ska – La Rivolta (I) (Black Butcher) – Punk, Reggae, Ska (32 Votes)
37 Prince Fatty vs. The Drunken Gambler (31 Votes)
38 The Pinstripes / I (USA) (Collective Culture) – Ska, Rocksteady (28 Votes)
39 Urang Matang – Platinum (24 Votes)
39 Bluekilla – The Greatest Hits, Vol. 1 – The Early Years (1989-1996) (Yellowbird Records) – Third Wave, 2Tone (24 Votes)