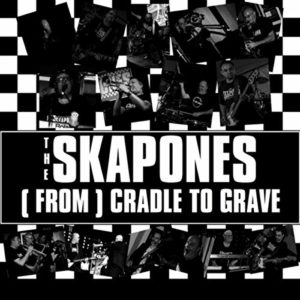 A new album that's earning rave reviews from the critics (here, here and here), a rapidly growing fan base with packed gigs and all-star guests, and an opening slot at gigs for your musical heroes' sold out tour—any way you slice it, The Skapones are living the dream. The eight, nine or ten member band (appears to vary by the night/gig) have been together for a half a dozen years, swapping out cover-filled setlists with brilliant originals. While they've released some noteworthy singles, their debut album "Cradle to Grave" shows that The Skapones are high-caliber Two-Tone ska. Band members Willo, Mark Wilson, John Day and Steve Cummings took a breather from their gloriously hectic schedule to answer a few questions.

RSS: What's your musical backgrounds, how'd the band come together, and when did you know it had the potential to be something special?
Willo (vocals): The band started in 2013 in Darlington, a market town in the north east of England. A few guys from local bands were kicking around doing nothing when Mark asked Neil to do something and it sprang from there. Early setlists were covers, as that was the original plan then. Your basic stuff, but I knew we had good musicians, so after a while of getting tight and used to each other and the odd member leaving to be replaced, I suggested that we do our own stuff as we were more than capable. The early shows were great, well received but as each month went by, we gained loads more confidence and the shows stepped up a gear. As for hitting on something special? Tough question. I think it just appeared one day! A team that stays together wins together is a fave motto of mine. We love what we do and that filters to the audience. It's a real feeling for it, not just part of a cash cow. I'd been in odd bands (in every sense of the word) over the years but preferred promoting so I moved in that direction. It wasn't until I was asked to join The Skapones in 2014 that I drifted back to bands.
Mark (guitar): I'm self-taught and my first band was Turn Left To Obscurity, we did one gig. The Negative Zone, a punk band which morphed into The Platelayers, The G Men for what seemed a millennium till, voilà The Skapones. At this point the defence rests its case.
John (trombone): I wasn't an original member of the band. I joined in 2016. I started playing the trombone while at school and did the usual thing of orchestras, brass bands and school theatre productions as part of the band. I was taught by professional tutors. I've played in several bands as part of brass sections prior to the Skapones encompassing rock, funk, jazz, blues and even Asian Bollywood Brass. I joined my first Ska band in the late 90's (The G-Men) and then played with ska covers bands Ska-Boom UK and Live Injection till I was asked to join The Skapones. Hitting something special? It was a gradual thing but we started to believe we had something when we started to play our own numbers.
Steve (vocals and keys): I started piano lessons at nine when we inherited my great-grans old upright piano, complete with brass candlestick holders. After a few months I realised I had my dad's ear for picking out chord and tunes. Most important early musical influences vocally were Simon & Garfunkel and The Everly Brothers. Good vocal harmonies can make a fairly good song sound really good. I started gigging at around 15 years old, playing piano in local pubs and hotels. There have been many bands over the years but none really reaching the levels of exposure of The Skapones.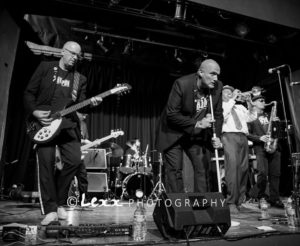 RSS: You capture (and extend) the Two-Tone sound, creating new songs I'd swear I heard 40 years ago. How do you define that sound and how do you keep it sounding so fresh?
Willo: It's something that comes from the heart, I think. Mark, John and I are huge 2Toners, with 40 years' experience of listening to the sound—we know all the nuances. We put our own spin on it by simply being us and using influences brought in by other band members. We live in the north east which has been decimated by the Tories since the days of Thatcher and it made us angry then—and politics still makes us angry now. Song-writing wise, all the political stuff is me and Mark. That's what 2Tone taught us. It's ingrained into us. Take no shit, take no prisoners and tell it like it is, which the tracks "T.O.R.Y" and "Benefit Street" do on our album. Straight for the jugular! The process of creating songs is across the board—I write lyrics, Mark has a studio and creates a lot of demos, I go round lay down vocals (sometimes 99 takes on one sentence) but also a lot of the band have written stuff which is great because it's good for growth. I think I have to say a massive thanks to Paul Ayriss, AKA The Tinkerman, our producer—a legend—and our local engineer, Chris Davison, who has to cope with nine men in a small studio eating lots of crisps.
Mark: The social and political issues from 40 years ago are just as, if not more, relevant today. The music is something that we were brought up on and weaned on, so it is ingrained in our psyche. It's second nature to know when something sounds like it should sound. With the more modern recording techniques that are available to us now it can be updated and still retain the original two-tone sound.
John: 2Tone is an attitude and a belief in an all-encompassing community. Black and white unite. The first song I wrote along with our keyboard player Steve was "Skapones A Go Go". I am mainly a lyricist and usually write with the keyboard player Steve. We kind of work off each other.
Steve: Main song writing partner is John Day. He sends the lyrics over then leaves me alone to come up with melodies and arrangements. Very Elton and Bernie!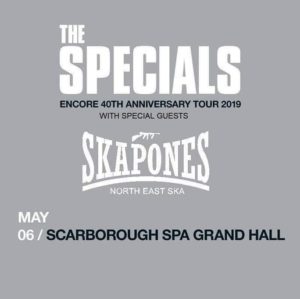 RSS: Tales from the road?
Willo: Tales? Well, we are a pisstaking bunch. Ribbing and joking if we're not shouting at each other. eight, nine (sometimes 10) guys together can be demanding (Keyboard Steve is a farter which makes life difficult LOL.) But it's a great experience and we've had some great team building times, most recently in Poland. I once had a fake handgun planted into my suitcase whilst we were gigging in Germany and realised when I got home I'd been through airport customs. Could have been a nightmare! We gig virtually every week. It's crazy but nice to be in demand as people like what we do. I prefer small compact crowds that are in your face and you can dive into the crowd from the stage, but big gigs are extra special! We played with Madness at the House Of Fun and that was fabulous. We were so well looked after, massive crowd all dancing. Great time. We have two dates supporting The Specials in May and that for me, is the TOPS. Biggest crowd? House Of Fun Fest. Smallest? Any pub. Wildest? Definitely Poland. And York was once a cracker. We've supported lots of the names of the ska & Reggae scene, from the original Jamaican ska stars and the 2Toners, USA bands like The Toasters but we've done gigs in our set with Lynval Golding and Roddy Radiation of The Specials and King Hammond – Loved every minute. As for the USA tour? Phenomenal. We're playing east to west. I'll report back later on that one! I just wanna see Al Capone territory!
Mark: Best person I shared a stage with was Roddy Radiation at the March of the Mods event in York. I spent the whole gig, standing in front of his amp just listening to his guitar work. I can't remember anything else about that gig.
RSS: What's it like to be living the dream of probably every pub ska band ever?
Willo: It is "living the dream" as you put it. Pouring your heart and soul into creating stuff and seeing happy people? Seeing your own vinyl and CDs? A special feeling! What's not to like? – It's a beautiful thing. If one person comes up and says, "You were great," then that's job done. It is fun and once we are in full swing, anything can happen, but I think if the crowd sees us having fun then they'll follow. It's very hard work though as we all hold down jobs, but we made a democratic decision to go with the hard work ethic and with that comes rewards such as great reviews of live and recorded work, a growing fanbase and the support slots with our heroes, The Specials. It's a fabulous thing and we do it cos we love it. Ska music is good time music. All goes hand in hand.
Mark: It's a lot of hard work and effort that people don't see. They just see the two hours that we play on stage. It is worth the effort as the feeling you get when you're on stage is difficult to describe to someone who hasn't done it.
Steve: The "dream" is different things to different people, for me personally the dream is to keep entertaining people and playing/singing to a standard I feel is acceptable for as long as humanly possible…. while people want to hear it, I'll keep trying to play it.
John: It's a love thing baby!
The Skapones reggae/steady/ska songs (that aren't their own.)
Willo: Too Much Too Young(live) by The Specials—Encapsulates the whole 2Tone thing for me, social lyrics, energy and drive. A live recording as that's the best place to experience the 2Tone atmosphere.
Mark: Midnight Ravers by Bob Marley & The Wailers. Or is it Bristol and Miami by The Selecter? or Blank Expression by The Specials? or Here Comes The Major by Bad Manners? I could be here all night! I'll go with the first one.
John: Do Nothing by The Specials and Stand Down Margaret by The Beat
Steve: Favourite tune? Tough one. I'll go with this cracker
The Skapones are:
Willo – Vocals
Mark Wilson -Guitar
Neil Wilson – Bass
Chris Tunney – Drums
Steve Cummings- Vocals/Keys
Stephen Brown- Sax
John Day – Trombone
David McNiff – Trumpet
Andy Wears – Bass/guitar