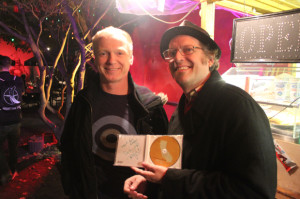 Update: The winner of the "Album Package 2013" give away is: Rodrigo from Santiago (Chile). Our congratulations.
Have you already got more than enough Ska Rocksteady Reggae albums?
If so, don't read on. But my guess is, you could use some more great ones. Especially if some of those are signed by the artists themselves. Correct? Then this might be interesting to you.
Every year (since last year), Reggae Steady Ska gives away one package with cds to one of our readers. In the package are all the albums that have been sent to us over the year from agencies and labels. Or, as in the case of the new album "California" by Dave Hillyard, from the artists themselves.
Have a look at the photo above and you'll see which new albums will be in the package.
Here is the list as of now (additions are likely):
David Hillyard, "California" (signed by Dave Hillyard)
Red Soul Community, "I Never Learn" (signed by the band)
The Stimulators, "Rhythm Fever" (signed by Oliver Stephan)
Boss Capone, "Another 15 Dancefloor Crashers" (promo edition)
Less Than Jake, "See The Light"
Distemper, "Pride, Belief, Love"
Sally Brown, "El sorido del manana … hoy!!!"
And it doesn't end there. We added some releases (not from 2013) that we received from Tony of Liquidator Records to share with you:
Liquidator 10!
The Kinky Coo Coo's – Montjuic Boneyard
Flight 404 – Trip To Moon
Lord Kaya & The Kinky Coo Coo's – Co Tonga Tonga
Jazzbo – Born Blue
Laurel Aitken & Los Skarlatines – TicTac/Ana Maria
Red Soul Community – Pump Reggae
The Oldians – Arts Of Seduction
The Caribians- For A Few Pussies More
Laurel Aitken – Superstar
The Gramophone Allstars – Simbiosi
These are 18 great cds already, don't be surprised if we land at more than 20.
Thanks a ton to Liquidator, Pork Pie, Grover, Rocking Records, Redstar 73, Cherry Red, United Sounds, Starkult Promotion for the continued support. 
How to win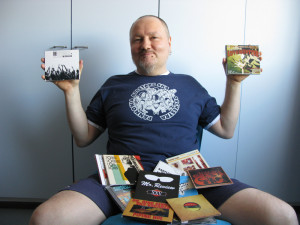 For a chance to win this beautiful album package, simply sign up as an email subscriber to Reggae Steady Ska. I recommend that anyway. We don't deal with email addresses, and the RSS policy is to send out only mails that our subscribers wouldn't want to miss. You can unsubscribe anytime, of course. Further instructions on how to win, will be told via mail. So make sure to add us to your address book.
The winner of this year's giveaway to the email subscribers will be drawn on February 22nd 2014. Are you in? Good luck.