At Easter 2013, London will host the third London International Ska Festival since its reactivation in 2011. Before we give you the low-down  on what to expect this year (in the coming weeks), let's look back at last year's LISF at Islington Academy / Islington Assembly Halls, from 03. to 06. 05. 2012.
Due to work commitments – yes, we do have daytime jobs – your humble reporters could only attend the events on Friday and Saturday. Let's rewind to May 2012, having (only just) managed to get our flights to Heathrow, we check into the hotel and squeeze ourselves into the Friday evening rush hour underground to Angel tube station.
Friday
When we enter the Academy in North London's Islington, we are delighted immediately: In contrast to 2011's premiere, in 2012 the venue is well-packed with punters. The next surprise is already on stage: With their bright green suits, 70ies-style wigs and a really funky sound, LOS GRANADIANS cause a lot of action on the dancefloor, even though they might have been unknown to most people until now. 
The PHOENIX CITY ALL-STARS, festival organiser Sean Flowerdew's new project, have chosen an interesting concept in playing hits from the Two Tone era in the style of classic Jamaican Ska of the 1960s. The gig is spiked with top notch guests. First up is Neol Davies, formerly guitarist and founder of THE SELECTER. He gives us an extended version of the band's theme song. Enter Janet Kumah, who rocked the house with her own band, THE DELEGATORS on the previous night. She sings a really compelling version of "Murder", but  without trying to imitate Pauline Black. Next up are soul singer AJ FRANKLIN (ex-The Chosen Few) and the unique DAVE BARKER, who croons and shouts his way through some of his hits, one highlight being his version of the old Shirelles number "Will You Still Love Me Tomorrow", which has also been released as a 7" single to mark the occasion.
No Ska festival without RICO, who sings "Jungle Beat" and plays "Chang Kai Shek" with the band. Compared to his appearance in 2011, he seems to be in better health again. At 78 he is obviously not as strong anymore, but can rely on a first class band supporting him. And everybody in the house pays tribute to this great legend by doing the famous "Rico, Ricooooh" chant. The old man is visibly moved.
It's nearly 9 pm, about time for the main act, DANDY LIVINGSTONE, to appear. But to everybody's surprise the band leaves the stage and DJ legend GLADDY WAX takes over on turntables again. At 9.40 the astonished audience is told that the man everybody is waiting for suffers from a food poisoning and can therefore not perform. The truth, as it turns out later, is more harmless, even if it does not make any difference to his disappointed fans: Mr Livingstone was gripped by stage fright and so he left the building and disappeared.
Instead the Phoenix City All-Stars return with another surprise guest. The charming RHODA DAKAR makes us "Do the Rocksteady", followed by "A Message To You Rudy", sung by the band's excellent bass player in the absence of Dandy. At 10 pm the show has to end due to the Islington Academy's license.
As most people are far from tired, we go around the block and join the aftershow allniter at the Islington Metalworks. There the delegates of this global Ska congress are treated to fine Red Stripe beer and an indoor barbecue. An armada of DJs (JERRY DAMMERS amongst them) spin discs on three floors and we dance the night away.
Saturday
Tonight's proceedings take place a few hundred metres down the road, at the venerable Islington Assembly Halls. The old town hall has been restored to its former glory beautifully, so we almost want to take off our shoes as we enter.
First up are Scotland's CAPONE & THE BULLETS, playing a good mixture of 60s and 80s Ska. The band already featured at the very first London Ska fest in 1988 and, as always, delivers an energetic set.
They are followed by new kids on the scene, BUSTER SHUFFLE. Those among us who see them for the first time, are knocked off their feet by their blend of Ska and Rock'n'Roll. With the Mike Barson-style piano their sound is reminiscent of early Madness tracks like "Rockin in A b". They go down a storm in London, where the natives understand their irony-ladden lyrics, delivered in the local Cockney accent. Even though Buster Shuffle are on early, they already manage to create an incited atmosphere.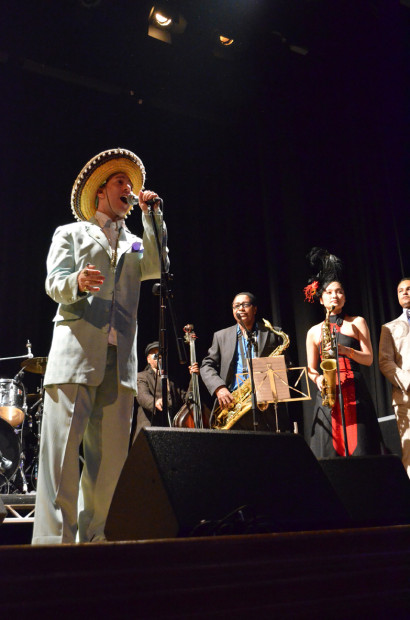 GOLDMASTER ALLSTARS pick up the ball easily. Before they start playing, however, band leader Malcolm Goldmaster pays tribute to the great Lloyd Brevett, who died a few days before. As his late idol, Malcolm operates the double bass and his 11-piece Allstars manage to create a sound that is so immaculately authentic, you would be forgiven for mistaking them for the Skatalites. Soon they are joined by featured guest FREDDIE NOTES, who most people only know for his smash hit, "Montego Bay". It does not take long for him to win over the audience though. His diverse set is entertaining and delivered with a lot of energy and pleasure. At the end the whole audience embraces each other, singing and dreaming their way to the beach of Montego. The dancing is so fierce that the wooden floor bounces up and down as in heavy sea – no, we didn't have too much lager.
This gig cannot be matched, can it? Well, SKA CUBANO can. Hardly ever has the world seen a stage hog like Natty Bo. Together with co-singer Carlos Peña and fired up by sax sensation Miss Megumi, he leads us through a steaming hot show, brimming with musical versatility. The Assembly Halls are boiling over.
The DUALERS cannot really top their predecessors, but their one-hour set, mainly featuring tracks from their new Prince Buster tribute album, is still very well-received and the perfect final to a perfect night. It is hard to imagine any other festival to feature five such high-class bands in a row.
The bottom line
4 days sightseeing in one of the most fascinating cities in the world, 4 nights skanking away to the sounds of a top class acts. What else is there to ask for?
Thanks and respect is due to Sean Flowerdew for having the courage, stamina and nerves to get such a spectacular festival on its feet. Besides all the top acts, the unique atmosphere at the LISF is the real star. At least half of the audience came from abroad. There were Scandinavians and Spaniards, Australians and Brazilians, Mexicans and Northern Americans, all celebrating together. It is easy to meet and make new friends, because everybody here is SKA'D FOR LIFE.
A German version of this article can be found in #11 of Rocking Steady magazine.
Pete, Sven Trapp (photos) & Steve Perkins
Album recommendations of the acts mentioned in this article:
1. Los Granadians – Reggalactico
2. Phoenix City Allstars – Two Tone Gone Ska
3. RICO – Man From Wareika
4. Dandy Livingstone – Suzanne Beware Of The Devil
5. Buster Shuffle – Do Nothing
6. Ska Cubano – Mambo Ska
7. The Dualers – Prince Buster Shakedown
 8. New album by Goldmaster Allstars out on Rocking Records on 1st February: